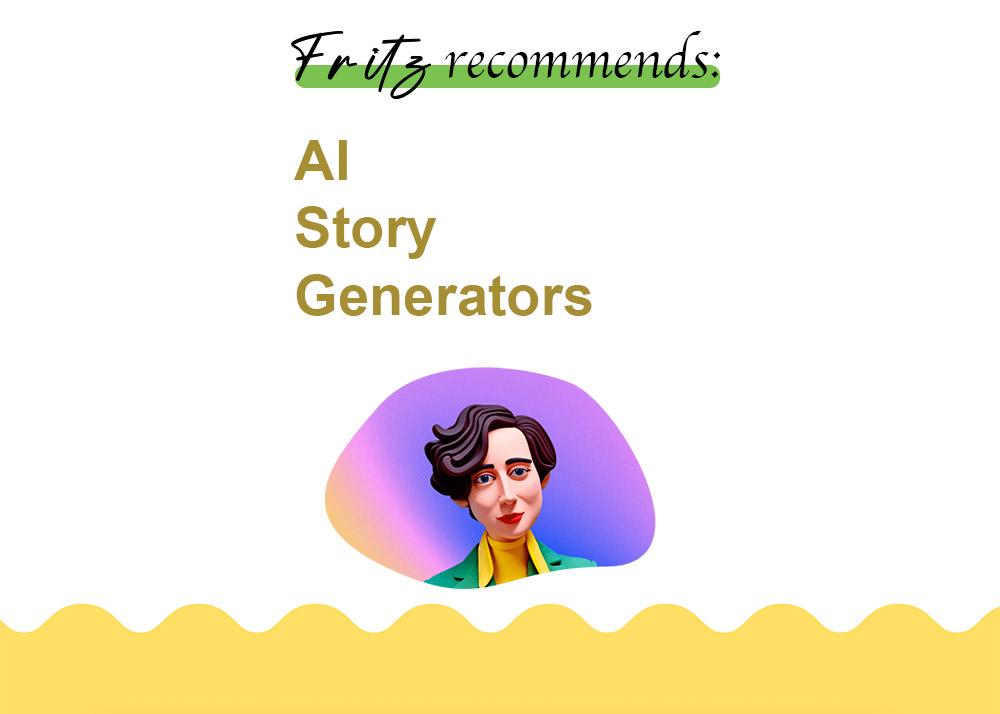 Creativity isn't just about picking up a pen and paper. Sometimes, having a brainstorming tool can assist you in creating stories, characters, and plot lines. And artificial intelligence (AI) is stepping into the limelight, offering innovative tools to spark your imagination.
Whether you're a seasoned writer hitting a wall or a business professional looking to jazz up your presentations, AI story generators can be your ultimate brainstorming and creativity partner.
Today, we'll explore the seven best AI story generators that can supercharge your creative process.
Top Best AI Story Generators
What is an AI Story Generator?
An AI story generator is a software tool powered by machine learning to craft narratives. It takes in prompts or initial sentences and churns out complete stories, dialogues, or even poems. These generators are not just for writers. They're versatile tools that can benefit anyone looking to add a creative flair to their work.
And while you can certainly use something like ChatGPT, there are other options. Let's explore some of the top tools currently available.
What are the Best AI Story Generators?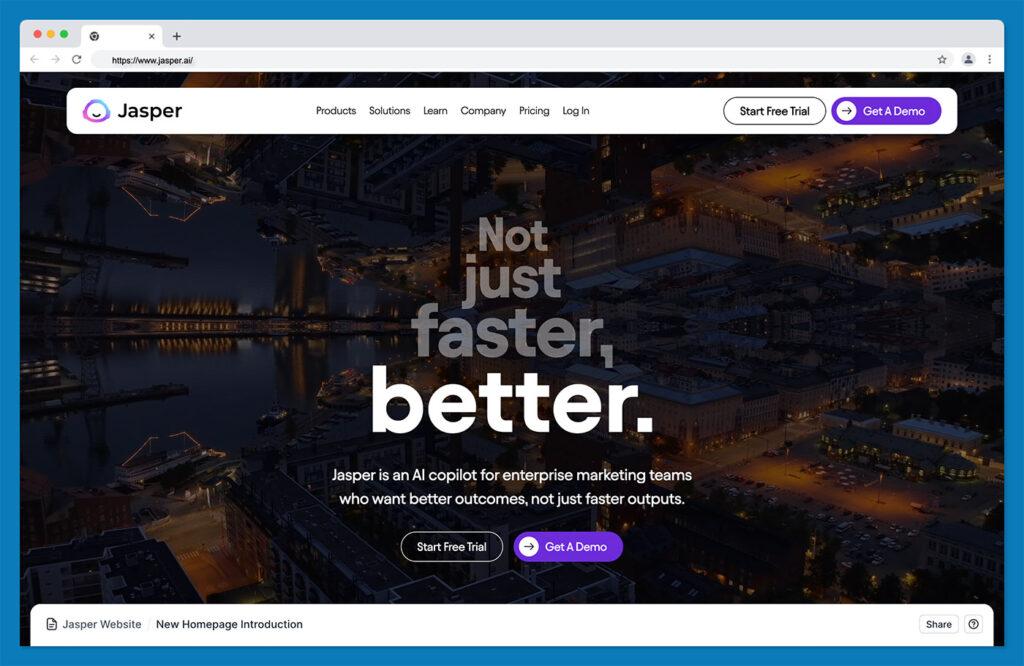 Jasper AI is a cutting-edge content generation platform that leverages advanced natural language processing algorithms to assist in various writing tasks. Whether you're crafting blog posts, social media updates, or even entire ebooks, Jasper AI aims to make the process of story writing as smooth as possible. The platform is designed with user-friendliness in mind, offering an intuitive interface that even beginners can navigate with ease.
Pricing
Jasper AI offers three main pricing tiers to fit various needs:
Creator Plan: Priced at $39/month, this plan is ideal for individual users. It includes 1 seat, 1 Brand Voice, and 50 Knowledge Assets. A 20% discount is available for yearly billing.
Teams Plan: At $99/month, this plan is designed for small to medium-sized teams. It offers 3 seats, 3 Brand Voices, and 150 Knowledge Assets. Yearly billing comes with a 20% discount.
Business Plan: For larger organizations, the Business plan offers custom pricing and features, including API access and advanced analytics.
Each plan is designed to offer value, whether you're a solo creator or part of a larger team. Now, let's delve into the pros and cons.
Pros
User-Friendly Interface: The platform is praised for its ease of use, allowing even those new to AI writing to get started quickly.
Affordable: Users find Jasper AI to be a cost-effective solution that offers a good bang for your buck.
Feature-Rich: With a variety of content formats, templates, and advanced features like "Boss Mode," there's a lot to explore.
Cons
Cancellation Confusion: Make sure your trial cancellation is confirmed to avoid unwanted long-term commitments.
Learning Curve: While user-friendly, the platform does require some time to fully understand its capabilities.
Who is this best for?
Jasper AI can benefit a wide range of users, from freelance writers and content marketers to small business owners looking to ramp up their content strategy. However, it may not be the best fit for those who are not tech-savvy or those who prefer a more straightforward, no-frills writing assistant.
Further reading: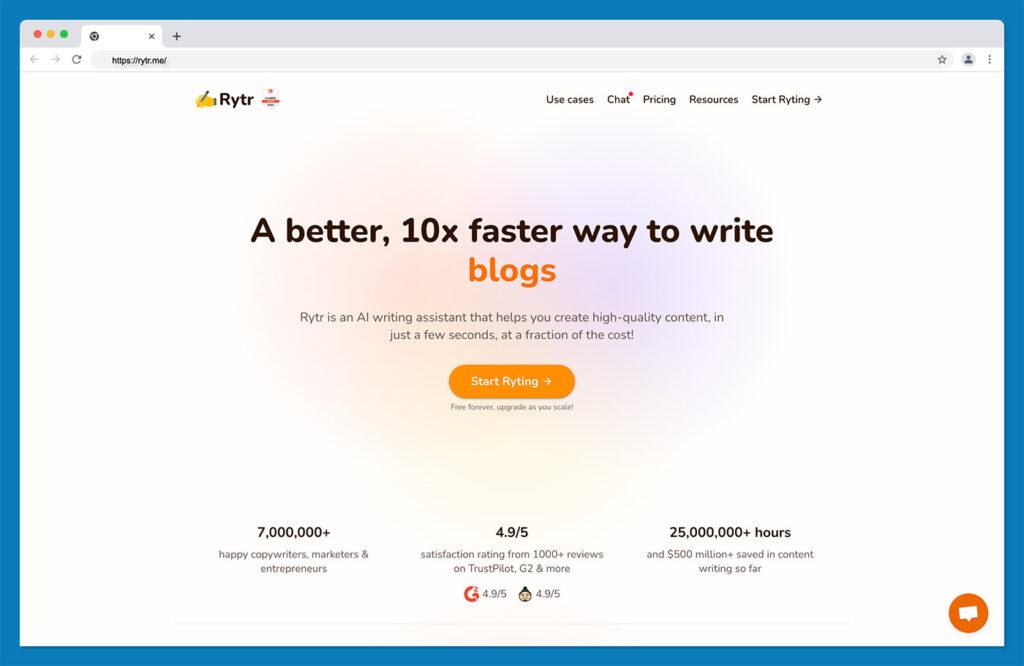 Rytr is an AI writing assistant that's designed to make your content creation process a breeze. With support for over 40 use-cases and 30 languages, this platform is all about versatility. Whether you're drafting emails, blog posts, or business pitches, Rytr aims to deliver high-quality content that resonates with your audience. It even comes with a built-in plagiarism checker to ensure the originality of your work.
Pricing
When it comes to pricing, Rytr offers a tiered approach.
You can start with a free plan that allows up to 10,000 characters per month.
If you need more, there's a Saver plan at $9 per month and an Unlimited plan at $29 per month.
Each paid plan of this AI story writer comes with additional perks like access to a premium community and priority support.
Pros
Versatile with over 40 use-cases
Supports more than 30 languages
Built-in plagiarism checker
Robust project management features
Browser extension for added convenience
Cons
Free plan has a 10,000 character limit
No real-time collaboration features
Who is this best for?
Rytr is a great fit for both individual content creators and businesses. Its range of features and use-cases make it a versatile tool for anyone looking to streamline their writing process. If you're juggling multiple projects or need to produce content in different languages, Rytr has got you covered.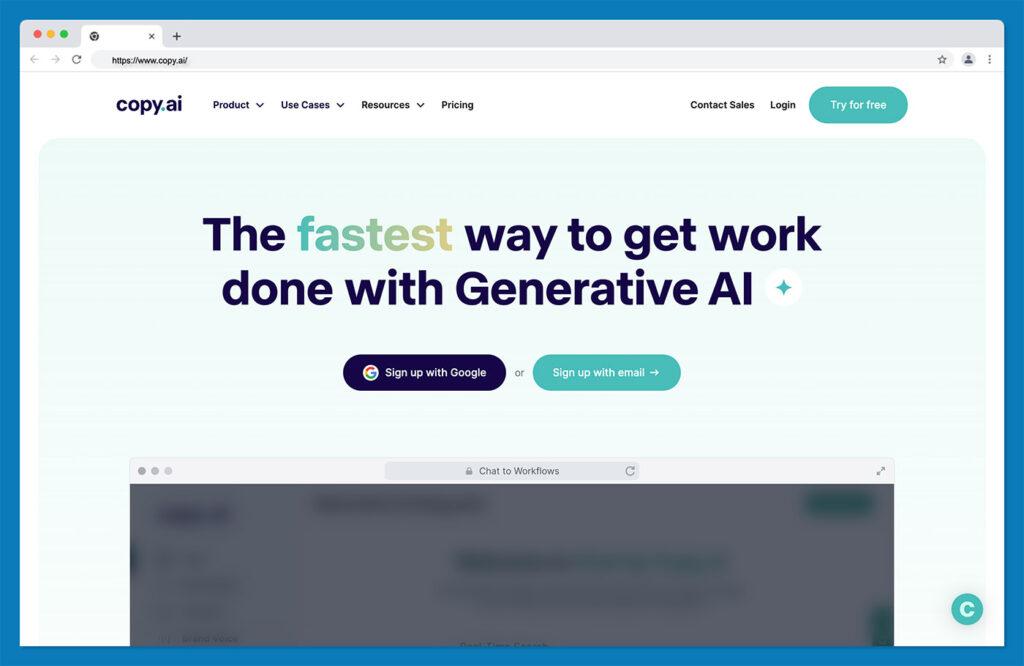 Copy.ai is a versatile AI copywriting platform that caters to a variety of content needs. Whether you're an individual just starting with AI solutions or a large organization ready to deploy generative AI at scale, Copy.ai has got you covered.
The platform offers a range of features, including 'Workflows' for automating processes and campaigns, and 'Brand Voice' for maintaining a consistent brand identity across all your content.
Pricing
Copy.ai offers multiple pricing plans to suit different needs:
Free Plan: Ideal for individuals just starting with AI-powered solutions. It offers 1 seat, 2,000 words in chat, and 200 bonus credits. No credit card required.
Pro Plan: Priced at $36/month (billed annually at $432), this plan is designed for entrepreneurs or small teams. It offers 5 seats, unlimited words in chat, and 500 workflow credits.
Team Plan: For growing teams, this plan costs $186/month (billed annually at $2,232). It provides 20 seats, unlimited words in chat, and 3,000 workflow credits.
Growth Plan: Aimed at businesses, this plan is priced at $1,000/month (billed annually at $12,000). It offers 75 seats, unlimited words in chat, and 20,000 workflow credits.
Scale Plan: For large organizations, this plan costs $3,000/month (billed annually at $36,000). It provides 200 seats, unlimited words in chat, and 75,000 workflow credits.
Pros
Versatile content creation options for generating story ideas, fleshing out compelling stories, or improving your marketing.
'Brand Voice' feature for consistent brand identity
Workflows for bulk operations
Strong focus on data security with SOC II compliance
Access to top-notch language models for content creation
Cons
No mention of real-time collaboration features
Who is this best for?
Copy.ai is a robust platform that's well-suited for a wide range of users—from freelancers and small business owners to large enterprises. If you're looking to streamline your content creation process and maintain a consistent brand voice, Copy.ai could be the perfect fit for you.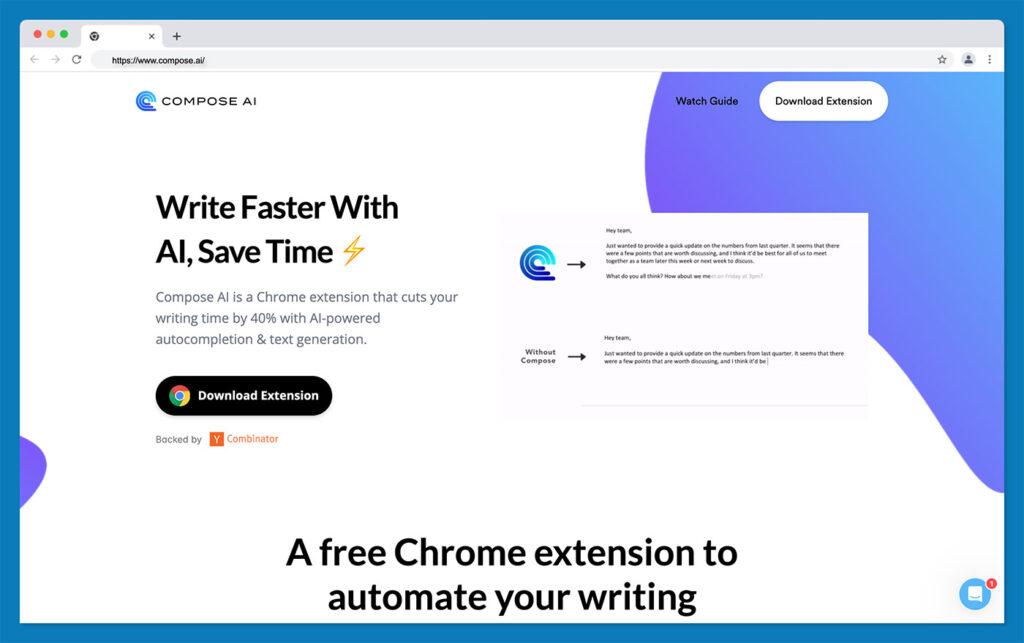 Compose.ai is an AI Chrome extension that aims to revolutionize your writing process. The tool's primary goal is to reduce the time you spend typing by up to 40% through its intelligent autocompletion and text generation features. If you often find yourself typing the same phrases or sentences, Compose.ai can be a real time-saver.
Pricing
While Compose.ai offers a free version of its Chrome extension, there's also a premium offering with additional features. The website doesn't disclose the cost of the premium version, but it does highlight that the free version is quite comprehensive and offers some amount of customization.
Pros
Time-saving AI autocompletion
Context-sensitive suggestions that adapt to your writing style
Compatibility with multiple platforms, including email and productivity apps like Slack, Notion, and Coda
A strong commitment to user privacy
Cons
Currently not available on the Chrome Web Store due to a DMCA issue
Exclusive to the Chrome browser, limiting its reach
Who is this best for?
If you're a professional who spends a large chunk of your day typing, Compose.ai could be a game-changer for you. This AI technology is especially useful for Chrome users and those who want an AI tool that can adapt to their unique writing style.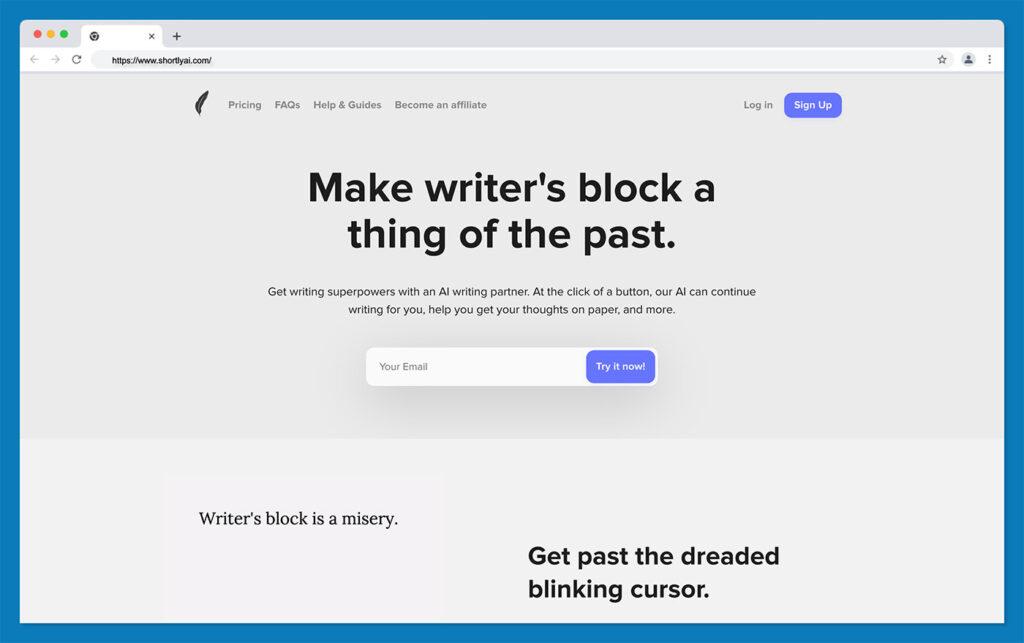 ShortlyAI is a writing assistant that uses OpenAI's GPT-3 to help you write faster and more efficiently. The platform is designed to be your writing partner, aiming to eliminate writer's block and enhance your creativity. With a clean, distraction-free interface, ShortlyAI offers a conducive environment for all types of writing, from generating full blog posts as marketers to creating engaging stories as fiction writers.
Pricing
ShortlyAI offers two pricing plans to cater to different needs:
The Monthly Plan is priced at $79 per month,
Annual Plan offers a bit of a discount at $65 per month, billed annually
Both plans come with powerful commands to accelerate your writing and continuous updates to improve the AI's capabilities over time.
Pros
Uses OpenAI's GPT-3, one of the world's most advanced neural-network-powered language models
Offers a distraction-free writing environment
No credit system or writing limits, offering you the freedom to write as much as you want
AI-generated content is original and passes common plagiarism checkers
Cons
Pricing can be on the higher side for some users
Recently acquired by Conversion.ai, which may lead to changes in the platform
Who is this best for?
ShortlyAI is an excellent choice for writers who are looking for a robust and intelligent writing assistant. Whether you're a professional writer, a student, or someone who just wants to improve their writing, ShortlyAI has something to offer.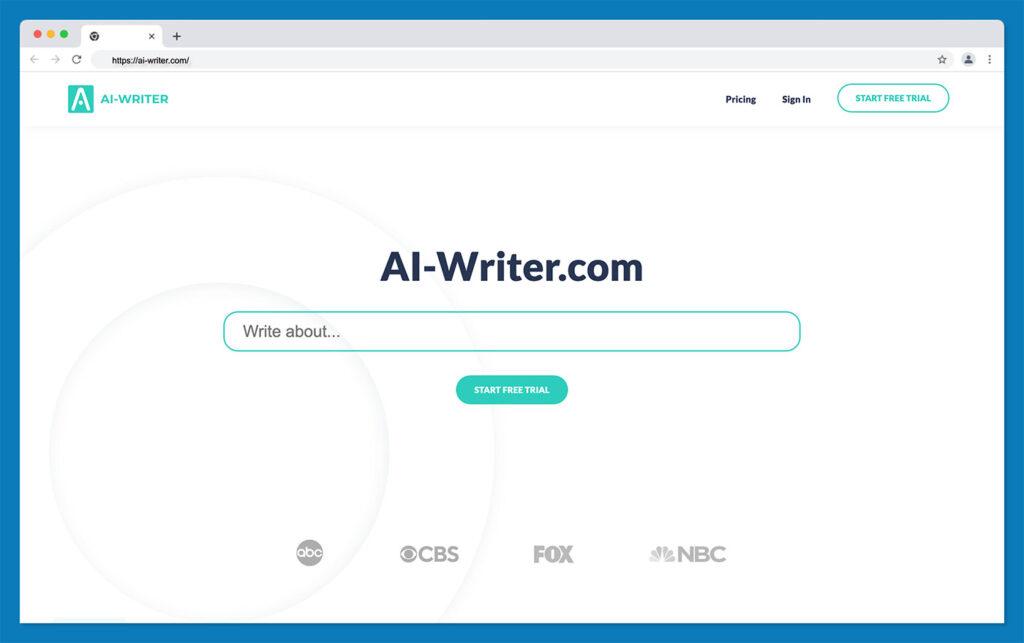 AI-Writer.com is more than just a text generator — it's a comprehensive platform designed to assist you in creating high-quality, SEO-optimized content. What sets it apart is its focus on verifiability and up-to-date information. The platform not only generates articles but also provides a list of citations for each piece it writes. This feature is particularly useful for those who want to ensure the accuracy of the information they're publishing.
Pricing
AI-Writer.com offers three pricing tiers to cater to different needs:
Basic Plan ($29/month): Aimed at solopreneurs, bloggers, and startups, this plan allows up to 40 articles per month. It includes features like an AI text generator, SEO editor, text rewording, and more. You can have one user and write up to 5,000 words per article. A yearly subscription gives you two months free.
Standard Plan ($49/month): This is for freelancers who are churning out a significant amount of content each month. It allows up to 120 articles, supports three users, and includes all the features of the Basic Plan. Yearly subscription also comes with two months free.
Power Plan ($375/month): This is the heavy-duty option for those with a high demand for fresh content. It allows up to 1,000 articles, supports 10 users, and includes all the features available in the other plans. A yearly subscription will also net you two months free.
Pros
Verifiable content with citations
SEO-optimized writing
Multiple pricing options to suit different needs
Up-to-date information
User-friendly interface
Cons
May be pricey for some users
Limited to 5,000 words per article across all plans
Who is this best for?
AI-Writer.com is ideal for freelancers, content agencies, and businesses that prioritize the accuracy and SEO-optimization of their articles. If you're someone who values verifiable information and wants to stay ahead in the SEO game, this platform is a solid choice but it might not be the best fit for solely creative writers.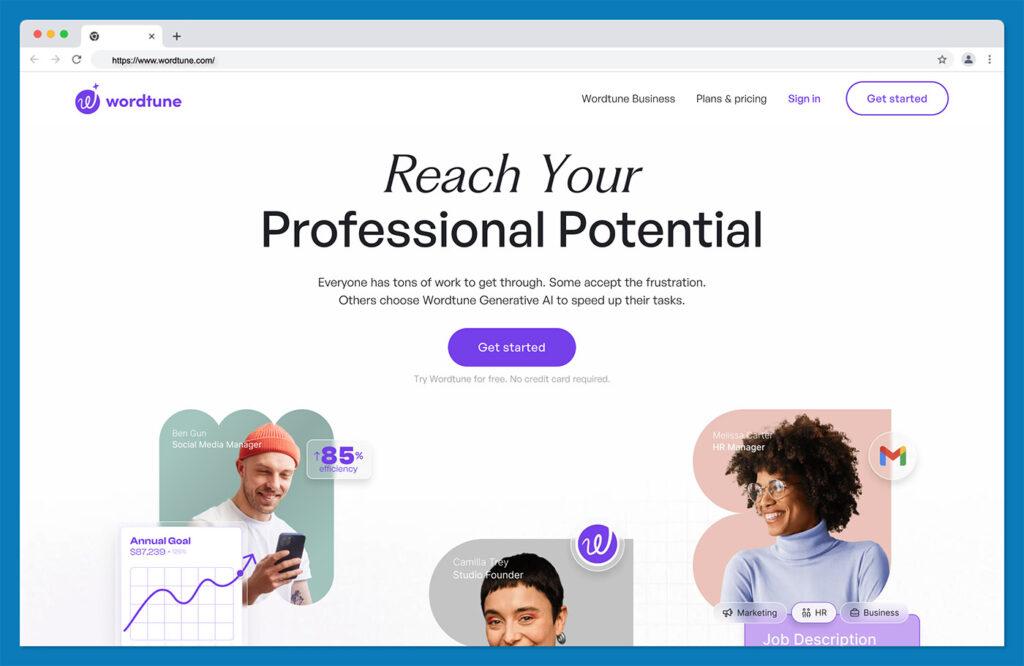 Meet Wordtune, an AI-powered writing assistant that's designed to elevate your writing game. Whether you're drafting an email, crafting a social media post, or working on an academic paper, Wordtune aims to be your go-to tool for refining and enhancing your text. The platform offers a range of features like text rewrites, AI prompts, and even article summarization.
Pricing
When it comes to pricing, Wordtune offers a variety of options to suit different needs and budgets:
Free Plan: Ideal for casual users, this plan offers 10 rewrites and spices a day, 3 AI prompts, 3 summaries, and unlimited text corrections.
Plus Plan: Priced at $9.99 per month, this plan is perfect for regular writers. It includes 30 rewrites and spices, 5 AI prompts, 5 summaries, and unlimited text corrections and recommendations.
Unlimited Plan: For the pros out there, this plan costs $14.99 per month and offers unlimited everything—rewrites, prompts, summaries, and text corrections.
Business Plan: Custom-priced for teams, this plan includes all the features of the Unlimited Plan, plus additional security and support features.
Pros
Versatile range of features for different writing needs
User-friendly interface that integrates well with various platforms
Offers a free plan for users to test the waters
Provides specialized plans for both individuals and teams
Cons
No refund policy, so you need to be sure before committing to a paid plan.
Who is this best for?
Wordtune is a versatile tool that caters to a wide audience. If you're a casual writer looking to improve your emails or short stories, the Free Plan is a great starting point. For freelance writers, bloggers, or content creators who need more robust features, the Plus or Unlimited Plans would be more fitting.
Conclusion
From Jasper AI's robust features and flexible pricing to Rytr's budget-friendly options, each tool brings something unique to the table.
Writing as a profession is evolving somewhat, and these AI tools are at the forefront of this revolution. They're not just about correcting grammar or suggesting synonyms — they're about understanding context, tone, and even the nuances that make your writing uniquely yours. It's like having a personal editor, a brainstorming partner, and a data analyst all rolled into one nifty package.
Choosing the right tool isn't just about features or pricing. It's about finding a platform that aligns with your specific needs, whether you're a solo entrepreneur, a content creator, a professional writer, or a business looking to scale up its content strategy. Each platform offers a range of plans and features designed to cater to different user needs, making it easier than ever to find a tool that fits like a glove.
With these AI tools at your fingertips, there's no telling what you might accomplish. Good luck!
Further reading: