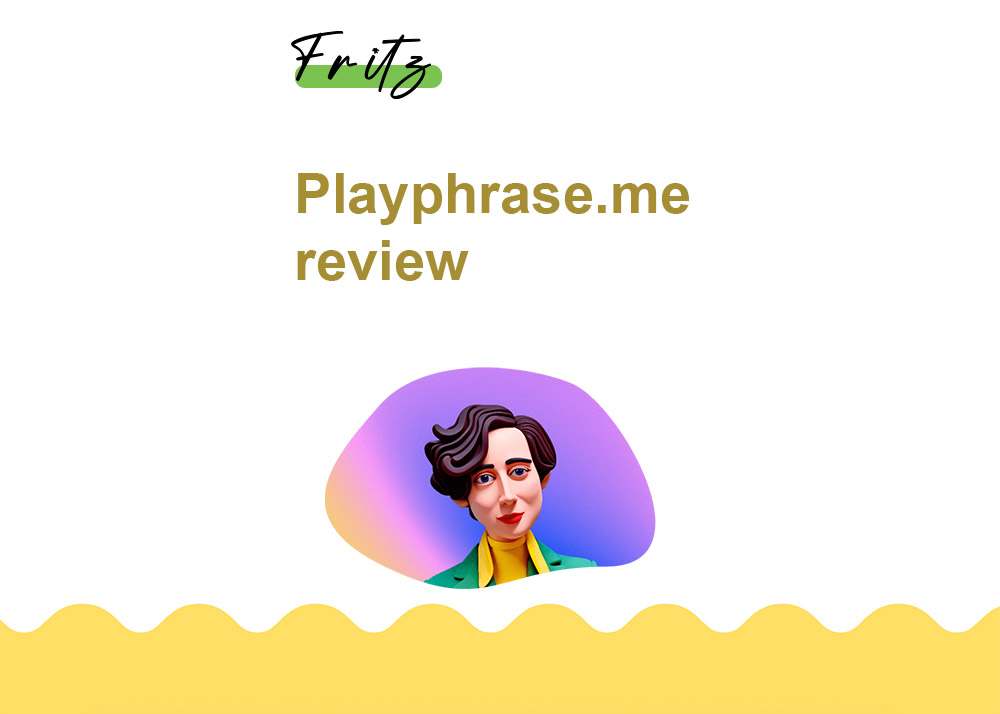 How often have you thought about a movie scene but couldn't remember the movie name? Now there's artificial intelligence to the rescue.
Today I will review Playphrase.me and see how it can help you find answers to movie names you've been looking for.
Quick verdict
Playphrase.me is a search engine that uses AI to browse through clips from movies and TV shows based on the text prompt you enter. You can enter a dialog you remember from a movie and it will play out that scene for you.
If you're out of ideas, it also lets you go through the most common phrases to search for. And it will fetch results within a second.
This has changed the horizons of the world of media exploration. Playphrase.me has an extensive library of movies and TV shows, and its ability to search is super fast and efficient. And it also lets you download the clips you like.
Research Methodology
My research methodology for this article was playing with Playphrase.me, which I loved! I've evaluated its result timings, sharing options, ease of use, and price options. I have searched for some very memorable and some very forgettable dialogs on this tool and it has always returned accurate results.
I entered different phrases from movies as well as TV shows and checked how many results it offered for each phrase. I used Playphrase.me on different devices to see how it performs on various platforms.
I also used different networks to check its speed on a slow network. I'll discuss my findings in this article.
What is Playphrase.me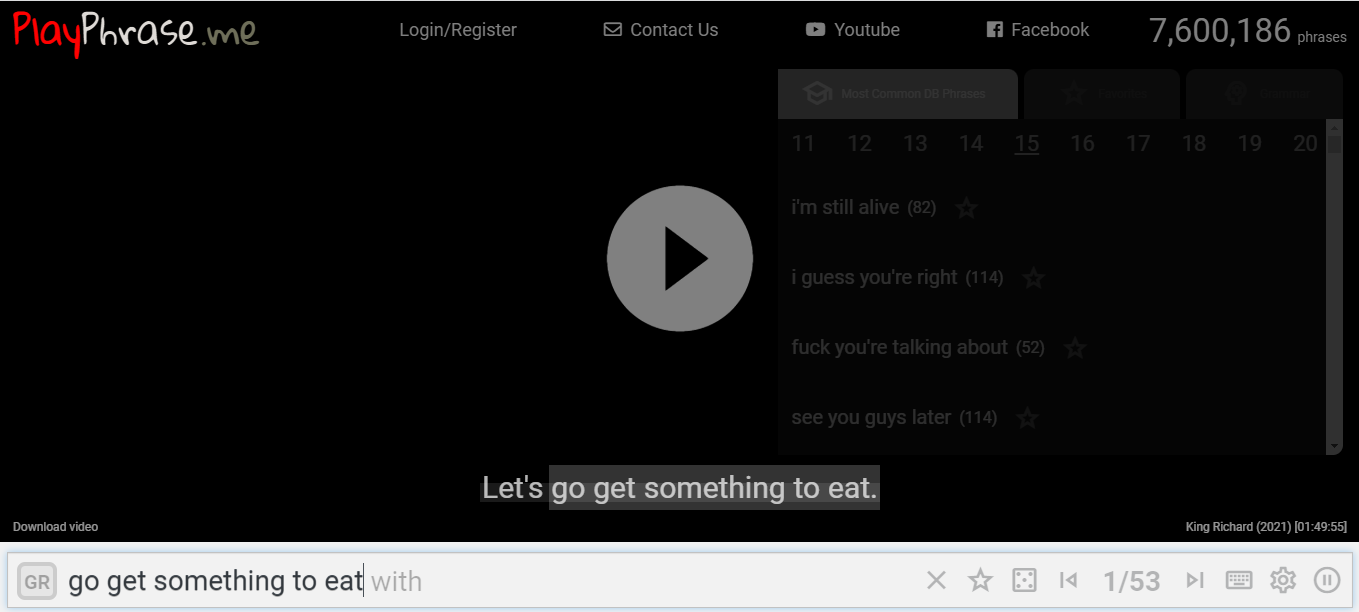 It's a rather new concept – Playphrase.me is a tool that helps you find the right scene from a movie or TV show. It runs on artificial intelligence and scans through an extensive library of videos to search for that one particular scene you were looking for.
What you have to do is enter a phrase, such as a dialog from a movie, and it returns the exact scene or scenes where that dialog was spoken. It works with English movies and TV shows, which means it can become an excellent tool to learn this language.
If you're learning English and you want to know how a particular phrase is used in a sentence, you can enter it in the prompt and then see how it's being spoken in movies and TV shows. It's an innovative way to learn English.
While it's great for movie buffs, its primary purpose was to learn language. This is why it offers grammar options, which I will discuss later. I tested this tool with over a hundred dialogs and it returned the right results each time.
The company claims that they're growing at the rate of 2,000-5,000 phrases per day, which means you'll definitely find results for your phrase. Their database currently has 7,600,186 phrases, as I'm writing this article.
For now, they have clips in English only but they plan to add more languages, including Spanish, German, Italian, and French. They also plan to add Japanese later on. They have generated over 2 million phrases from these languages and will launch them soon.
How to use Playphrase.me
To use this tool, just open playphrase.me in your preferred browser. In the text box, type the phrase or dialog you're looking for. It will show you clips that are related to your phrase. You can click on the screen and it will display the most common phrases in their database.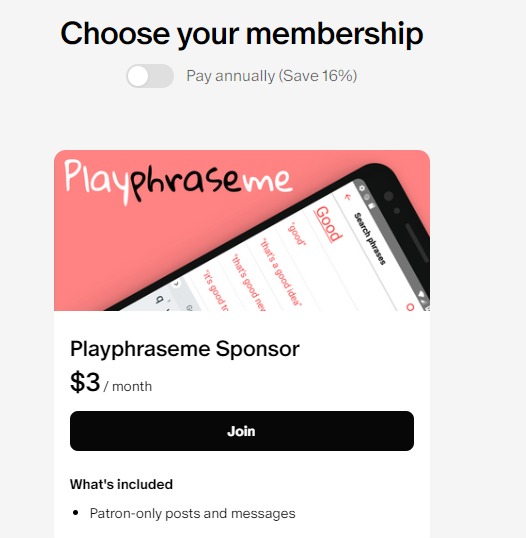 While you can search for a phrase without registering on your website, your search will be limited to just 5 phrases per search. To register on their website, you'll have to sponsor their project on Patreon.
It costs just $3/month to become a sponsor. You can also select their annual plan which costs $2.52/month. With that payment, you can access as many phrases per search. Other than that, it's pretty much the same for free and paid users as they both can download their favorite clips.
If you want to learn English, Playphrase.me will be a great tool as it offers a fun and efficient learning experience where you can see native speakers use some common and some not-so-common phrases in their speech.
I tested Playphrase.me on Windows desktop, Android, and iOS. It gave consistent results on all these platforms. However, when I switched to a slower network, its results became slower, which was expected.
Free vs Paid Use
Free and Paid accounts on Playprase.me aren't very different. The only difference is that with a free account, you'll get only 5 clips per search.
So if you're looking for a particular scene and it doesn't show up in the first 5 scenes it displays, you'll be lost.
This means if you want to access the service for free, you can. Play around on their platform because it's fun to use. You can even download your favorite clips and watch them when you're offline.
What you get by becoming a sponsor on Patreon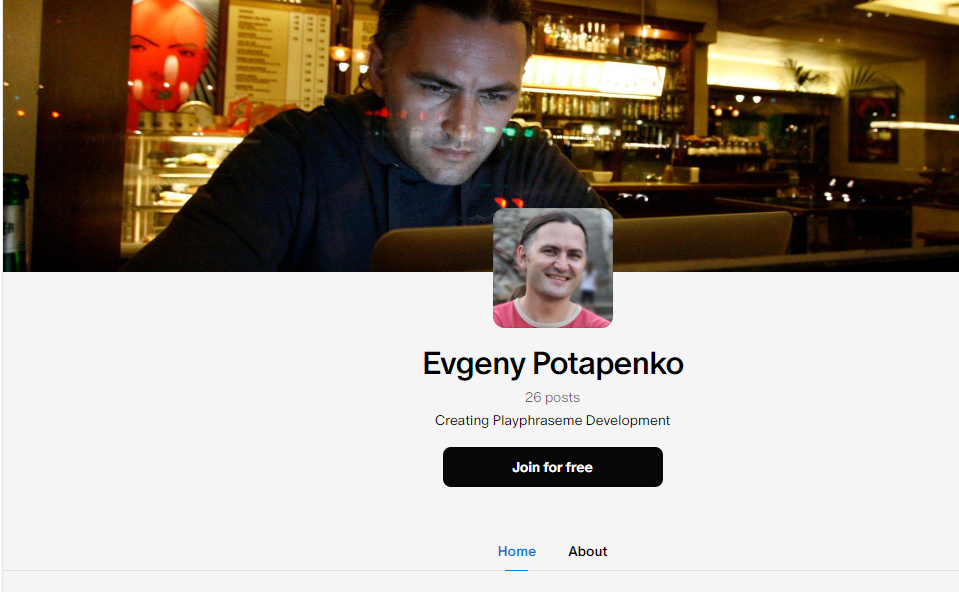 The Patron account for Playphrase.me is in the name of its developer, Evgeny Potapenko. When you become a sponsor, you can access more than 5 clips per search phrase on Playphrase.me. Apart from that, you also get patron-only posts and messages by Potapenko.
Paid users also get to access special servers that offer better speeds.
Who is Playphrase.me best for
While Playphrase.me can be used by anyone, it's best for you if you are a:
1. Language student
English is a language that keeps evolving and new slang and casual phrases come up every day. If you're feeling stuck with a particular phrase, you can enter it in the text prompt and the tool will play out a scene for you with that phrase. By watching these scenes, you can learn how to use it in a sentence and speak like a native speaker.
2. Movie buff
If you're a fan of movies or TV series, this would be the best tool for you. Thinking about a dialog from a movie you watched but can't remember its name? Just enter the dialog into the text prompt and it will play out that scene for you and display the movie name.
3. Content creator
Whether you're a YouTuber or any other content creator, you might be looking for movie scenes to add to your video to keep it fresh and entertaining. All you have to do is enter the specific dialog you're looking for into the text prompt box and get the clip to be added to your video.
4. Memer
If you're a memer and enjoy making video memes, you'd be looking for specific meme templates. With Playphrase.me, you can get the exact dialog you're looking for. And since the tool lets you download the scene you're watching, you can create a meme with it in no time.
The social media page of Playphrase.me says that the purpose of this service is to learn English using TV series. But there are several other use cases as well. It's a fun tool to play with so I recommend opening and trying it at least once.
Is It Legal to Use PlayPhrase.me?
Using Playphrase.me is legal. However, when you download its content, it might be copyright protected. Before you use its content in your videos or presentations, it's best to check the copyright laws to be on the safe side.
Playphrase.me Alternatives
Let's discuss some alternatives to Playprase.me
Yarn.co is pretty similar in functionality to Playphrase.me but has a different interface. It is free to use and displays clips related to your search. You can also download the clips you want.
It doesn't automatically play all the clips, though. You can look at the thumbnails and decide which ones you want to play. It doesn't limit your search to 5 clips per search, which is why it's somewhat superior to Playphrase.me for movie buffs. However, if you're an English learner, you'll find more options in Playphrase.me.
Morbotron searches for your prompt but only in the Futurama universe. And it returns screenshots from the episodes in which that phrase occurs. It's not like Playphrase.me but hey, if you're specifically looking for Futurama scenes, this might work.
Clash.me is an audio experiment. It will not return the scene you're looking for. But it will create a song-like output by taking individual words from your phrase and playing videos in which those words appear. It's a bit like Playphrase.me in a sense but not quite.
Playphrase.me hacks
If you love Playphrase.me, let me show you some shortcuts (a.k.a hacks) that will make it easier for you to get the desired results.
When you enter the phrase in the prompt box, it starts playing clips back to back.
Click on the video to stop or restart the playback.
If you hover the pointer on the video, you'll see some most common database phrases. Each phrase is a link and you can click on it to make the system search for it.
The number shown next to the common phrases is the times it occurred in their database.
To stop the currently playing clip, you can press Esc on your keyboard.
To pause/resume the video, you can click on the screen on press the Enter/Space key.
If you want to jump through the clips, use the Up/Down arrow keys on your keyboard.
To navigate between words, use the Left/Right arrow keys on your keyboard.
The dice symbol on the phrase text box will generate a random clip for you.
If you want to turn subtitles on/off, you can go to the settings button given in the prompt box.
There are special grammar hacks for English students.
For example, if you prefix your phrase with "gr: " or click the disabled GR button on the prompt box, it will show variations with simple verb tenses, perfect verb tenses, continuous verb tenses, and perfect continuous verb tenses. These options make it an excellent tool for English learners. If you don't know what these verb tenses are, there is a short tutorial in tabular format on the Playphrase.me website.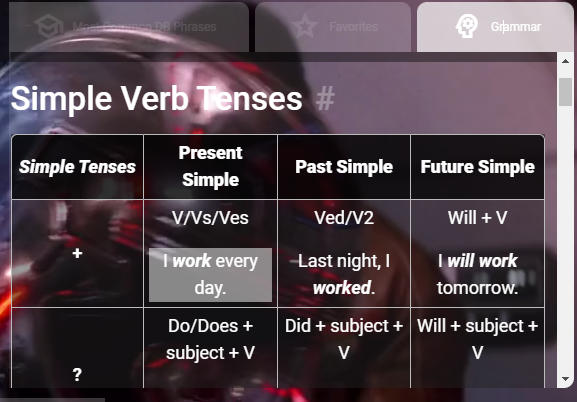 Other than these hacks, there are some other useful titbits as well. For example, you can click on the star on the prompt box to mark your favorite phrases. However, this feature is available only to sponsored users.
Summary
Playphrase.me is a unique tool for English learning. You can enter a phrase and learn how it's used in a sentence.
While it is limited to English for now, the developers are planning to include four more languages (Spanish, Italian, French, and German) in the coming month and Japanese later on.
This tool was intended to be used by English learners, but it's also great for movie and TV show buffs. Whether you're a movie fan or a content creator, Playphrase.me is going to be an excellent application for you.
Playphrase.me
Rating:
3.5
- Review by
Fritz.