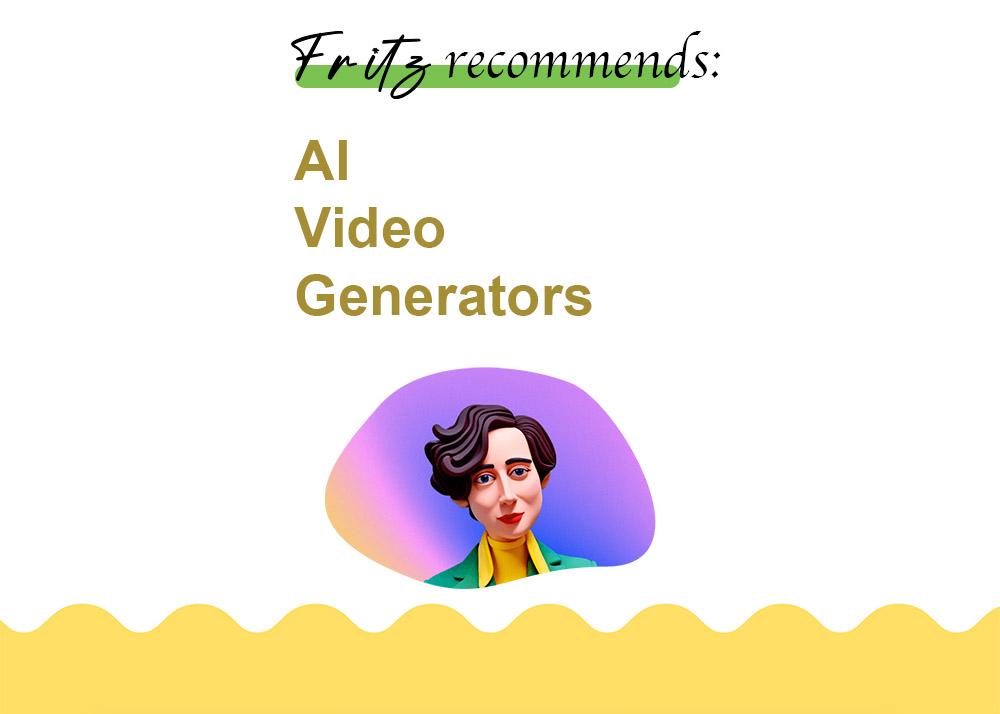 This article reviews the top AI-powered tools for generating, editing and improving videos.
I've tested most well-known (and some not so well-known) platforms out there in order to make this list of my top favorites. My goal is to make it easy for you to find the right video generator for your needs.
Best AI Video Generators – Summary
Synthesia had the most realistic avatars in this comparison, largely due to the detailed gestures, timely lip syncing and realistic voices. The 140 avatars look lifelike, speak 120+ languages and could be well-suited for content creation for your business, particularly training videos, product demos and marketing videos.
Runway boasts an impressive set of tools for high-quality text to video generation. Some features are quite advanced, which is great for getting just the right look for your video. While the platform has some learning curve, the well-designed user interface and informative tutorials makes it possible to quickly become proficient with the basics.
OpusClip specializes in repurposing long-form videos into engaging short clips optimized for social media platforms. It's well-suited for video podcasts, educational and commentary videos, and similar content. The ease of use and the automatic generation of clips make it a time-saving tool for content creators.
What is an AI video generator?
AI video generators are tools that help you make, edit and improve videos using the power of AI. The AI tools for video in this list fall into one of four categories:
Animated avatars: Text-to-video generators that make videos with talking AI avatars. Useful for making training videos, presentations, and more.
Text-to-video generators: Video makers that allow you to enter a prompt and get a brand new video as output, similar to what AI image generators like Midjourney and DALL-E do for pictures.
AI video editors: Video editing tools that use AI features to help you quickly edit or repurpose your videos.
Slideshow creators: Platforms that use a written prompt or script to generate a complete video with stock footage and realistic voiceovers.
How I tested these AI tools?
For deciding which tools to include in this list I looked particularly at the usefulness of the AI features they offered, the quality of video outputs and level of user friendliness.
I tested each tool with the following approach:
Using templates (wherever possible), as well as starting from scratch with my own uploaded content
Using the libraries of stock videos and images where available
Editing the video using the platform's own interface
Testing different voices and narration settings (where possible)
Testing the export functionality and quality for the finished videos
When to Use an AI Video Generator?
AI video generators are great for making your content creation with video more effective. Which tools to use largely depends on your use case. If you're looking to create explainer videos, product demos, and the like for your business creating animated avatars serve as a solid and scalable alternative to traditional filming.
Text-to-video generators, apart from being a fantastic avenue to explore the latest in AI technology, empower you to rapidly create stunning clips for content marketing or social media posts. Other platforms specialize in repurposing longe-form content into engaging short-form, which could help you double down on your existing content.
Why Use An AI Video Generator?
Producing video can be an incredibly time-consuming process. Planning, filming, and editing usually entail a slow process requiring equipment, people, and coordination.
Artificial intelligence has ways of making some, if not all, of these steps swift and easy, and there is a range of tools on the market to choose from.
The right I video creation tool can be an amazing asset, helping you produce engaging YouTube videos, taking the legwork out of video editing or allowing you to easily repurpose your video content across multiple social media channels in a breeze.
Comparison Table
| Platform | Type | Pricing (cheapest plan) | Amount of video generation (cheapest plan) | Best for |
| --- | --- | --- | --- | --- |
| Synthesia | Animated avatars | 30$/month | 10 minutes/month | Most lifelike avatars |
| HeyGen | Animated avatars | 29$/month | 15 minutes/month | Most customisable avatars |
| Elai.io | Animated avatars | 29$/month | 15 minutes/month | Transforming written content to narrated videos |
| Runway | Text-to-video generators | 15$/month | 625 credits/month | Fully fledged studio for text-to-video |
| Pika Labs | Text-to-video generators | Free (no paid plan available) | 5 generations every 10 minutes | Free yet high-quality text-to-video |
| Genmo | Text-to-video generators | 10$/month | 1000 daily fuel | Affordable and powerful text-to-video |
| OpusClip | AI video editors | 19$/month | 200 minutes/month | Repurposing long-form videos |
| Fliki | Slideshow creators | 28$/month | 15 minutes/month | Transforming blog posts into videos |
What are the best AI Video Generators for 2023?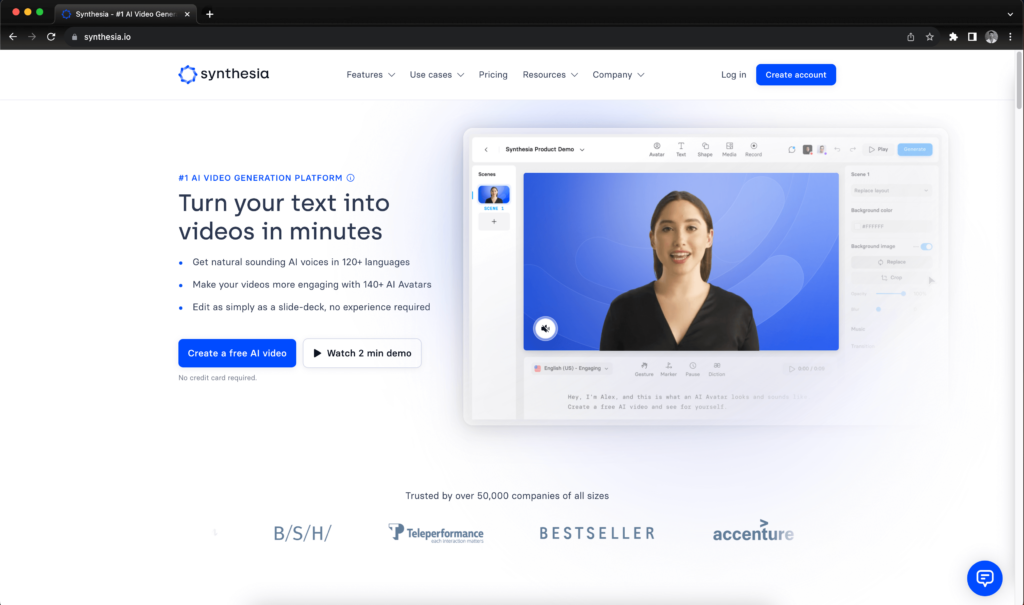 Synthesia is a popular platform for generating animated, talking avatar videos, reportedly used by over 50,000 teams worldwide.
Synthesia stands out among other animated avatar generators for its ability to create lifelike avatars. A key advantage lays in the micro-gestures Synthesia's avatars are able to do, such as nodding and raising eyebrows. Additionally, the lip sync is great, further giving the avatar a realistic look.
Another notable feature about Synthesia is that it has a huge gallery of 140+ realistic AI avatars to choose from. You simply select your avatar of choice and type in the text you want. The platform supports more than 120 languages, with different accents and styles of narration. Synthesia's video templates are easily modifiable to suit your business, making it straightforward and scalable to produce AI avatar videos that fit your brand. Changing the background, fonts, transitions, and adding a soundtrack are all easily done within the user interface.
Pricing
Personal: $22.50/month, 120 mins video/year
Enterprise: Custom pricing
Pros
Excellent for fast, professional and on-brand talking avatars to use in your business and marketing
140+ avatars to choose from and many supported languages and accents
Cons
Very limited trial feature, lets you generate only one demo video using your own video script
Who is it best for
Businesses seeking to use animated avatars in their business, such as for training videos, product demos and marketing.
What we think of Synthesia?
Synthesia does a great job at what it's intended to do, creating professional videos with avatars in a way that makes it easy to make content for your business. The customisable templates, combined with the lifelike avatars and the strong text-to-speech functionality embedded in the platform, makes it one of the best platforms for this use-case.
It should be mentioned that even though Synthesia does great at generating highly realistic avatar videos, the AI generated aspect of it still shines somewhat through for a discerning eye.
This has less to do with Synthesia in particular and more an observation of where AI-generated video technology currently stands. Given the rapid advancements in this space over recent months, it's likely that such videos will soon become indistinguishable from clips of regular people talking.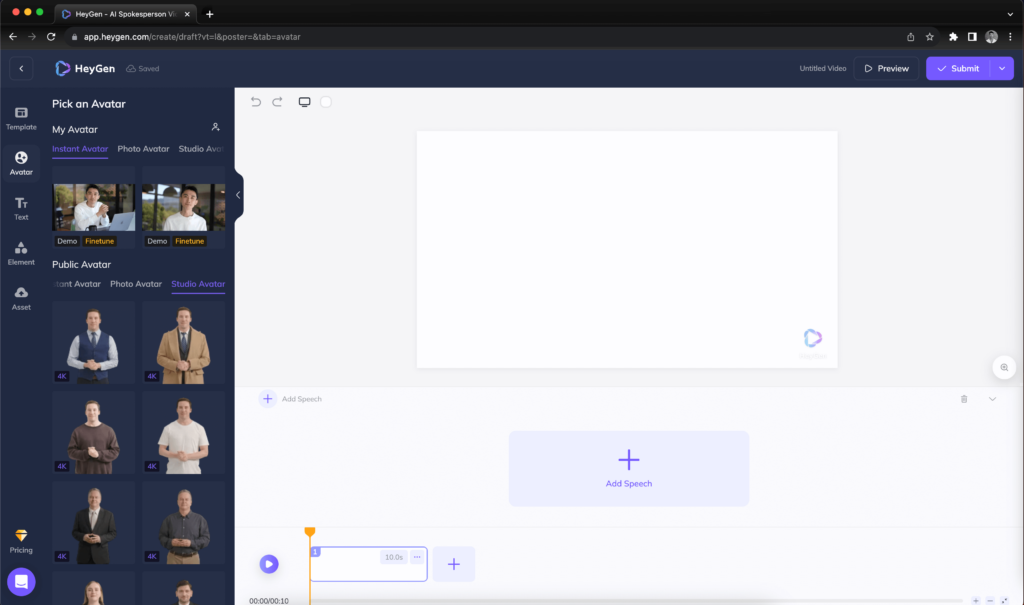 HeyGen has grown fast in the AI video generation space, currently boasting over 7 million monthly website visitors. The platform is a video production studio for animated avatar creation, letting you create avatars with realistic voices that can be used standalone or within a customizable background template.
The platform has 130+ pre-existing avatars, but what makes it stand out against similar platforms is its capabilities for creating personalized avatars, for which it has three modes:
Photo Avatar: Easily upload any photo, even a generated image from platforms like Midjourney, to create a simple animated avatar.
Instant Avatar: Upload a 2-minute clip of yourself talking, and HeyGen will transform this footage into a realistic avatar.
Studio Avatar: Upload 5-10 minutes of high-quality footage to create a high-resolution 4k avatar.
The personalization aspect is further augmented with some really neat additional features:
Face swapping: enables you to imprint your face (or a face from any photo) on any avatar from its gallery.
Generative outfit: allows the creation of new clothing for your avatar with simple prompts, perfect for content creators seeking contextual or varied attire for their avatars.
HeyGen also has a pretty amazing video translate feature that retains your own voice; it lets you translate a video of someone speaking (could be an avatar or just a regular video), and it uses AI voice cloning and lip syncing to make it all sound natural.
Pricing
Free: 1 free credit
Creator: 48$ for 30 credits/month
Business: 144$ for 60 credits/month
Enterprise: Custom pricing
Pros
Exceptional options for crafting a personalized avatar clone.
Face swapping and generative outfit features enhance avatar personalization.
Video translate feature that offers natural-looking and sounding translations.
Cons
The cost can escalate quickly as various generative features need credits.
Who is it best for
Companies and content creators looking to create a personalized avatar for use in their business and marketing.
What we think of HeyGen?
HeyGen's features for making your own avatar based on uploaded footage, combined with natural sounding voices (powered by a leader in the text-to-speech space, ElevenLabs) make a powerful case for HeyGen as a choice for anyone looking to make an avatar clone of themselves to use for content creation purposes.
The free tier gives you just enough credits to test out the core functionality of testing pre-existing animated avatars a couple of times, before you need to upgrade to a paid plan.
Though Synthesia offers better realism with its pre-made avatars (due to their micro-gestures making them more lifelike), HeyGen's personalized avatar creation might align more closely with creators or businesses seeking something more unique to their brand.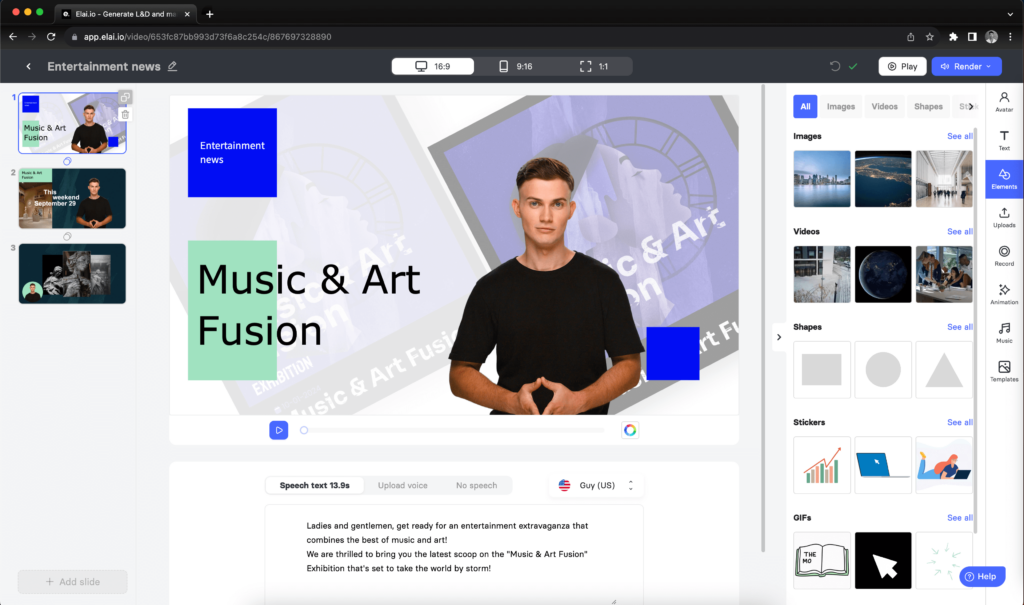 Elai.io is a tool that blends video generation with animated avatars, as well as the ability to transform written content into narrated videos (with or without avatars).
Out of the box, it's not as advanced when it comes to avatar creation and customisation as other comparable platforms in this comparison, namely Synthesia and Heygen. It does services for custom avatar and voice cloning, but at an additional cost. However, Elai.io is more versatile than these platform in that it has a good capabilities for creating other kinds of presentations from your written content as well, all in a beginner friendly interface.
The use-case for creating slideshow-type presentations with Elai.io are similar to that of Fliki, but the video creation process is more hands-on, as it doesn't auto-select images or video clips to use. This can definitely be an advantage in terms of the quality and tailored look of your videos, but perhaps not quite as efficient. The platform lets you edit and arrange all visual elements of the video by scene, and the user interface is surprisingly intuitive.
Pricing
Free: 1 minute credit
Basic: 29$ for 15 video minutes/month
Advanced: 125$ for 50 video minutes/month
Enterprise: Custom pricing
Pros
Quite realistic avatars with good lip syncing
Intuitive video creation for presentations tailored to your brand
Cons
Custom avatars and voice cloning are not out-of-the-box features, requiring an additional cost which can be quite pricey.
Less possible automation in the creation process compared to platforms like Fliki
Who is it best for
Elai.io fits well for those seeking a both to created animated high quality avatar videos as well as slideshow-type presentations, all in the same platform.
What we think of Elai.io?
Elai.io combines some of the strong sides of platforms for creating realistic avatars with high-quality voice narration, with a broader range of time-saving features for creating presentations.
Albeit Elai.io stands as a viable choice for those looking for everything under one platform, there are better platforms when it comes to the specific tasks of animated avatar creation or automated presentations.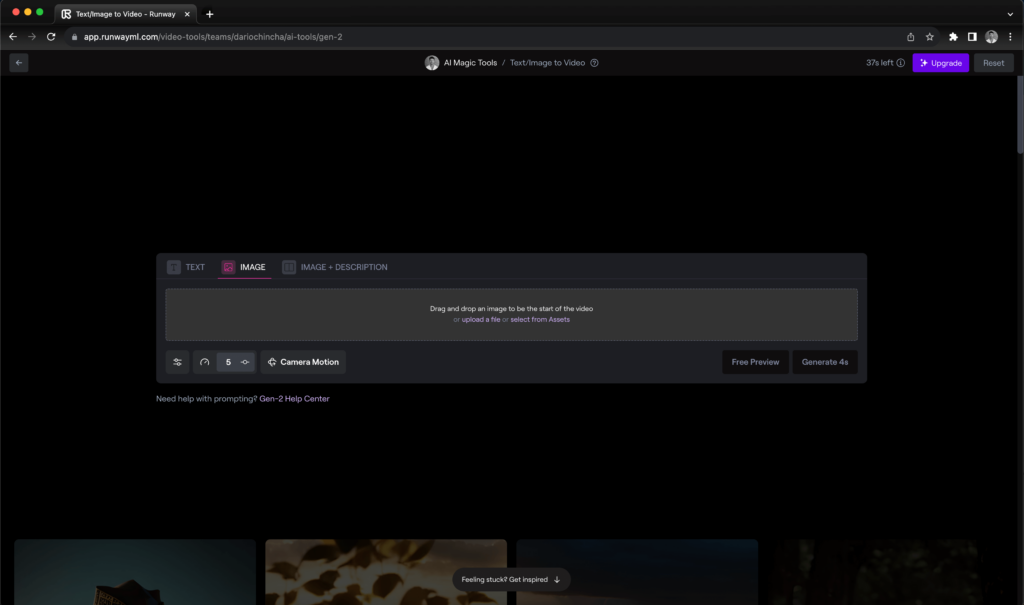 Runway could be called an established platform in the space of text-to-video generation, having released their Gen-1 text-to-video model as early as in March (which is a long time compared to competitors which have literally only been around for weeks). The platform has quickly garnered popularity and is now getting nearly 8 million monthly visitors to its website. Within its impressive suite of AI tools for content creation, the Gen-1 and Gen-2 models for text-to-video stand out.
While Gen-1 required a video for creating new videos, Gen-2 can realistically and consistently synthesize new videos from purely text. Gen-1 and Gen-2 offer four ways to generate videos:
Video to video: Change the style of a video using text or image
Text to video: Generate new video from text prompt
Image to video: Animate an image without providing further instructions
Text + image to video: Create a new video from a reference image, guiding the creation with a prompt
The video creation modes also offers a lot of configuration options to help you get just the result you want, such as motion intensity, scales for consistency against reference images, upscaling, camera motion, and much more.
Pricing
Basic: Free for 125 credits/month
Standard: 15$ for 625 credits/month
Pro: 35$ for 2,250 credits/month
Unlimited: 95$ for unlimited video generations
Enterprise: custom pricing
Pros
Impressive, high-quality generated videos
Easy to use interface, complemented by informative video tutorials
Ample configuration options to get the desired look
Available on iOS in addition to its runwayml.com web app
Cons
Struggles with accurate rendering of faces and hands (a common issue for still image generators as well)
Definitely has a learning curve to use the platform's to its full potential
Who is it best for
Runway is a solid choice for content creators wanting top-tier videos. It's suitable for a variety of creators, particularly film makers, artists, or just anyone wanting to experiment with generative AI for video. While it doesn't provide production-ready video content similar to some other platforms, its performance for text-to-video generation is undeniable.
What we think of Runway?
Runway's ability to render realistic videos coupled with a clean user interface places it a cut above the rest in our text-to-video platform comparison. Although initial prompt didn't always yield the result I was looking for, a little tinkering with configurations significantly improved the outputs.
Runway's suite also encompasses over a dozen other AI tools for both image and video generation and editing, which makes it not just the best text to video generation platform in this comparison, but more generally a versatile platform for scalable content creation.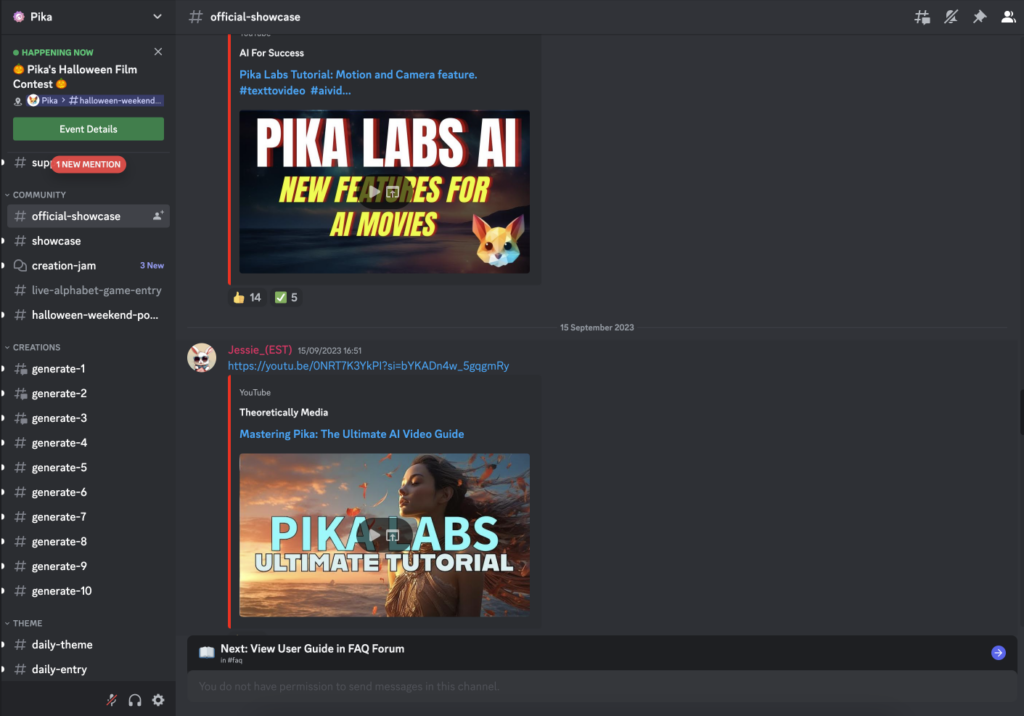 Pika Labs emerged in the video generation in July 2023, quickly gaining traction as an alternative to Runway. The platform is still in Beta and is fully operated via Discord, using the /create command to transform text or images into vivid videos.
Pika Labs gives users a fair degree of customization options. These are the basic ones:
Guidance Scale: Dictate how closely the video should adhere to your prompt.
Aspect Ratio: Options include 16:9, 1:1, 4:5, and others.
Seed: Ensure consistency across video generations.
Motion: Control the level of movement in the video.
Camera: Direct the camera's movements.
The platform also offers an additional layer of creativity by letting you use images together with your text prompt, turning static images into animated visuals. In my testing, I used a pre-generated image from Midjourney as the reference image, which resulted in a polished and cinematic clip.
A unique feature of the Pika Labs is the /encrypt_text command, which subtly embeds a text (up to 20 characters) within the video, akin to a subliminal message.
Pricing
Currently, Pika Labs is free during its Beta phase, allowing 5 generations every 10 minutes. However, I expect this to change as the platform evolves and moves out of Beta.
Pros
High-quality with decent level of customisation
For the time being, it is completely free to use
Cons
The Discord-based operation has a learning curve, especially for those unfamiliar with command-based video generation
There's a 3-second video generation limit which feels somewhat restrictive, though it's possible to extend videos by leveraging the last frame as a starting point for the next video.
Who is it best for
Pika Labs is best for content creators seeking a free, yet powerful, platform for text-to-video generation, especially those who are used to Discord.
What we think of Pika Labs?
Pika Labs makes high quality text-to-video, offering a broad range of configuration options and is currently free. The platform runs on Discord and uses commands which can be somewhat unintuitive and has a bit of a learning curve.
The 3-second limit on videos was a bit annoying, although there exists a somewhat tedious technique to extend video length (tutorial available on YouTube), which requires to stitch videos together in an external video editor.
It was easiest for me to get good results when using a reference image along with a text prompt, but I'm sure with more tweaking, great results can be achieved using text-only prompts as well. In conclusion, Pika Labs is a great place to get started experimenting with AI generated video and learning how to tune prompts to get impressive results.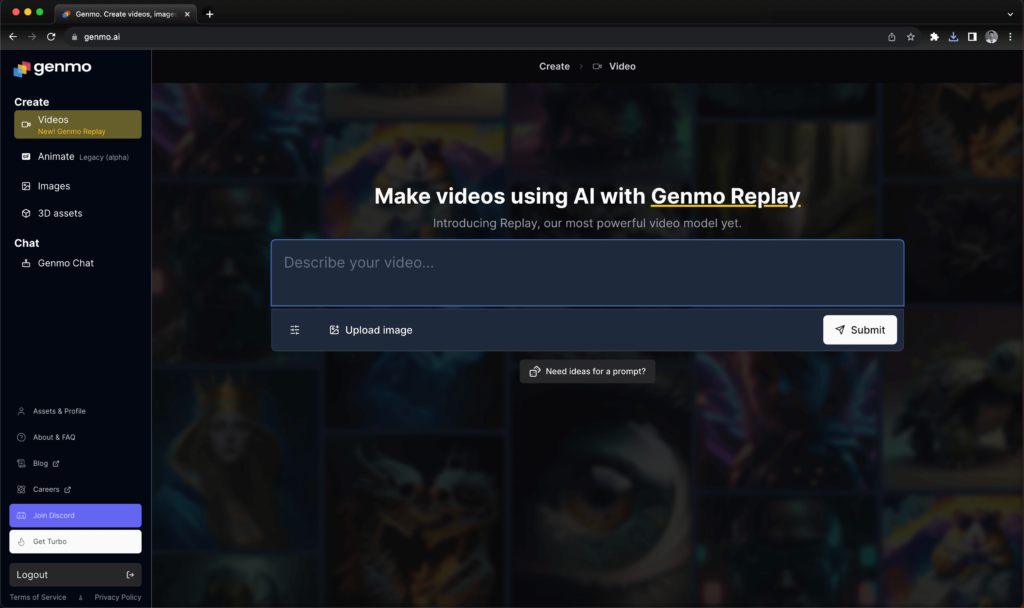 Genmo pioneered image-to-video with its model Alpha earlier this year, allowing users to create dynamic videos from still image. The company further stepped up the game when, in the end of September, it launched Replay, a model able to synthesize impressive videos purely from text prompts.
Genmo is web-based and offers a user-friendly interface for generating videos. Here are some of the basic controls available:
Aspect Ratio: Tailor the dimensions of your video to fit various platforms.
Duration: Control the length of the generated video.
Motion Intensity: Adjust the level of movement within the video.
Preserve (for image to video): How closely the video resembles the uploaded image
A standout feature is the live preview, letting users observe the rendering process and a get a clear idea on what the final video will look like. Another feature I liked was the ability to submit up to 3 renderings at once; this is useful as the output of a prompt for video generation is always going to be somewhat unpredictable, and might require multiple renderings to get the desired result.
By default videos have a watermark, which can be disabled by upgrading to Turbo, which also gives you a 10x boost in "fuel" (credits for video generations) compared to the free plan.
Like the other text-to-video generators in this comparion, Runway and Pika Labs, Genmo offers the ability to upload a reference image and get a video in a similar style.
Pricing
Free: 100 daily fuel
Turbo mode: 10$/month for 1000 daily fuel
Pros
High-quality videos at a very reasonable price
User-friendly interface making it easy to tweak basic settings for the video generation
Cons
Restriction on video length, has to be 2, 4 or 6 seconds
Lacks the granular control over settings of some higher priced platforms like Runway
Who is it best for
Content creators looking for a high value-for-money platform for text-to-video generation, either to experiment with or use in their business.
What we think of Genmo?
Genmo impressed me by the quality of the generated videos, both when starting from mere text prompts as well as when using text + image as the base. Unsurprisingly, results got notably better as I tinkered with the settings, and did multiple renderings.
The free tier offers more than enough credits to experiment and evaluate if you want to upgrade (and the Turbo version is very reasonably priced as well).
All in all, Genmo should be a strong contender for those wanting to use AI generated video in their business, or just for experimentation purposes.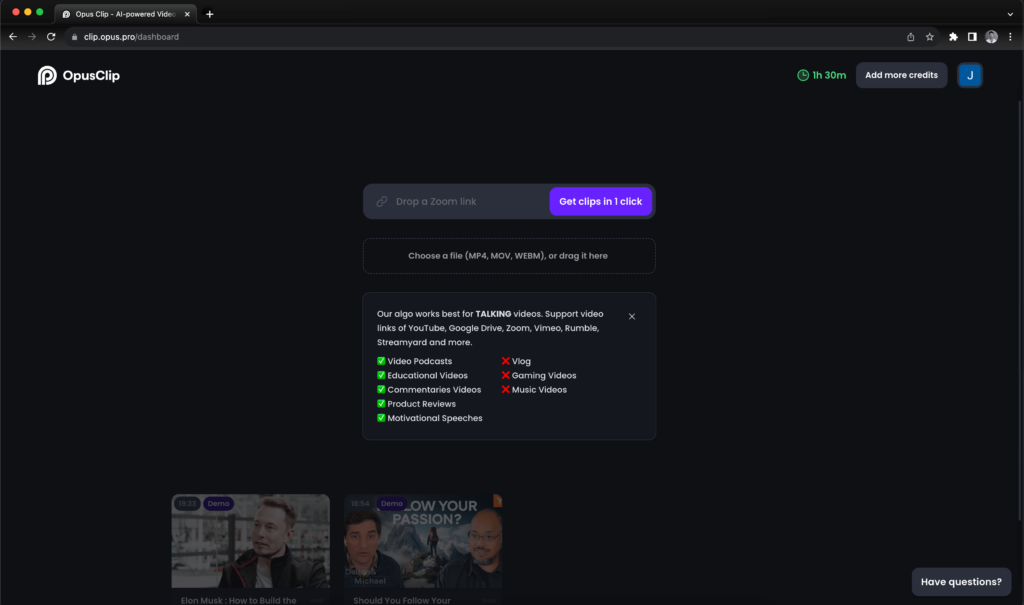 OpusClip is tailored for effortlessly converting your long-form videos into engaging shorts. Repurposing existing content is a smart business strategy as it allows for maximizing the value of already invested resources. Since it's highly automated and use friendly, the platforms enables even people with little or no video editing experience to create professional-grade shorts.
Uploading a file on OpusClip is uncomplicated, with a variety of formats supported or direct links from Google Drive or YouTube. The platform performs well with talking videos as it leverages the video transcript for editing, aligning well with:
Video Podcasts
Educational Videos
Commentary Videos
Product Reviews
Motivational Speeches
However, it might not be the first choice for Vlogs, Gaming Videos, or Music Videos.
By indicating the type of video uploaded, you can help optimize the processing. Generation can take a while for lengthy videos like a 1-hour+ podcast. You have the choice to preset your preferred clip length or set it to auto, with a waiting page keeping you updated on the generation status.
In my test, OpusClip did a good job dividing the video, although the auto-gen titles look very much AI. Each newly created video is assigned a virality score from 0-100, hinting at its potential to go viral on platforms like Shorts/Reels/TikTok, which can be a useful indicator for social media engagement.
A useful and well-executed feature on the generated shorts are the engaging subtitles that animate with each spoken word. Additionally, emojis occasionally appear with sentiments in the talk – a heart emoji when someone said the word love, for instance, which added a nice touch without being distracting.
The original video displays the interviewer and interviewee side by side, and OpusClip adeptly adapts this to a portrait-mode video, which appears totally natural.
Pricing
Free: 60 upload minutes / month
Essential: $19 for 200 upload minutes / month (~80 HD clips)
Pros
Effortless repurposing of long-form video
Generated clips are optimised for specific social media platforms for easy shareability
Cons
Somewhat limited customisation possibilities
Can get expensive if you have a lot of content
Who is it best for
OpusClip is ideal for content creators and businesses aiming to effortlessly repurpose long-form content into engaging short clips for social media.
What we think of OpusClip?
OpusClip impressed me with how easy it turns long videos into engaging shorts. It's algorithm is smart at breaking down videos into different topics, and the virality score for each clip makes it easier to prioritise which shorts to use.
The 7-day trial offers 90 minutes of free credits, letting you try out the platform; the only things you won't be able to access without upgrading are the Fast Queue and Auto Post features.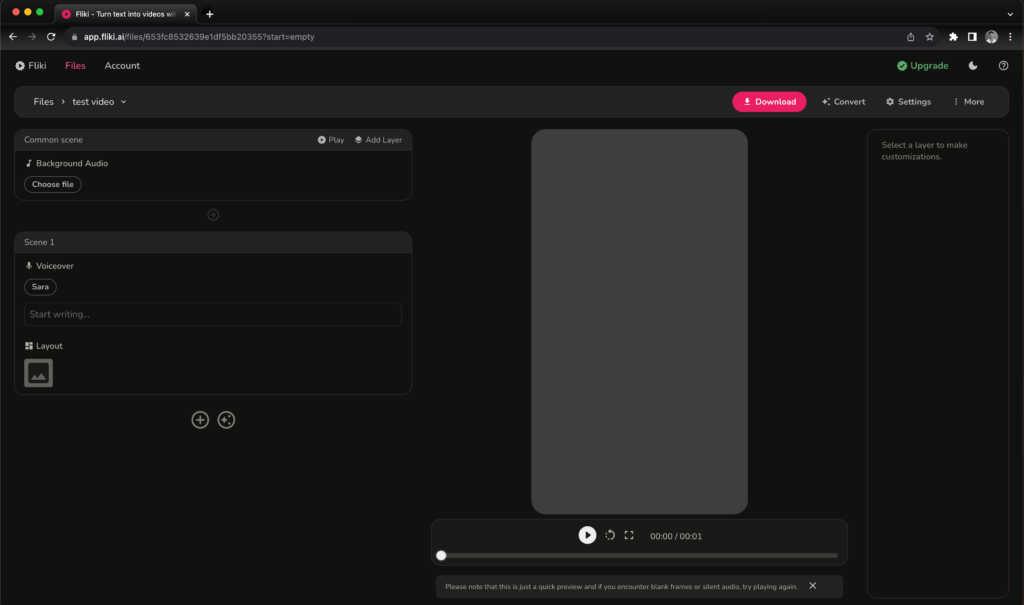 Fliki is a useful AI tool for turning your written content into shareable slideshow-type videos, coupled with high-quality voice narration. It has an AI-powered "convert" function which lets you easily turn a variety of written content into videos:
Ideas
Blogs
PowerPoint presentations
Tweets
It generates a video from your uploaded content and automatically selects videos and images to match the context of the text. If you often need to make this type of video presentations in your job or for your business, Fliki could potentially be a big time saver.
There's a good degree of customisation possible for the presentations you generate, apart from just switching out the videos and images (you can upload your own or use any of Fliki's large database of royalty-free stock footage and pictures). For example, Fliki gives you granular control over the audio layer, with music/sounds separated from the voice layer. When it comes to voices, it's easy to add in realistic sounding voices, which you can also adjust for things like tune, pauses and pronounciation.
Pricing
Free: 5 minutes of credits / month
Standard: 28$ for 180 minutes of credits / month
Premium: 88$ for 600 minutes of credits / month
Pros
Efficiently converts various types of written content into easily shareable slideshow-videos
Comprehensive features for editing the content and the voice narration
Cons
The auto-pick media function misses the mark sometimes, requiring manual selection to get a good result
Who is it best for
Fliki caters to marketing professionals and content creators seeking to repurpose existing text content into engaging videos, specifically slideshow-type videos.
What we think of Fliki?
The presentations generated by Fliki do not (yet) look as good as a carefully crafter presentation someone has put together the traditional way. The editing and particularly the stock footage gives it a bit of a generic feel. However, it does a decent job of giving context to the text, and could be useful if you need to make such presentations at scale, such as for a faceless YouTube channel.
While the platform can seem less impressive than other platforms in this comparison, as it essentially just creates a slideshow presentation, it could still potentially be a big time-saver if you often need to make presentations of this format.
FAQ
What is the most realistic AI Video Generator
In terms of the most realistic AI Video Generator, Synthesia takes the crown for animated avatars, thanks to its detailed gestures and lifelike voices. For text-to-video generation, Runway offers advanced features that produce high-quality and realistic videos.
What is the best free AI Video Generator
Pika Labs stands out as the best free AI Video Generator. Even though it's still in Beta and operates via Discord, the platform offers a high degree of customization and produces quality videos.
What is the best AI repurposing tool for video?
OpusClip stands out as the best AI tool for repurposing long-form videos into engaging short clips optimized for social media. Its user-friendly design and automated features make it a time-saving asset for content creators.
What are the disadvantages of AI video generation?
The primary concerns surrounding AI video generation include the potential for deepfake creation, which poses ethical challenges, and the fear of automation replacing human jobs, although it's noted that AI advancements could also spawn new job opportunities.
Conclusion
AI-driven video generators are shaping the future of content creation, offering specialized platforms for diverse use cases, such as animated avatars, text-to-video, and video editing. As this technology evolves, we can expect even more types of platforms to emerge in the future. These platforms vary in user interface, pricing, and functionality, yet all leverage AI to enhance and simplify video production.
When applied in the right use-cases and used effectively, they can produce high-quality, scalable content. Their user-friendly designs also make this advanced technology increasingly accessible to content creators and businesses.