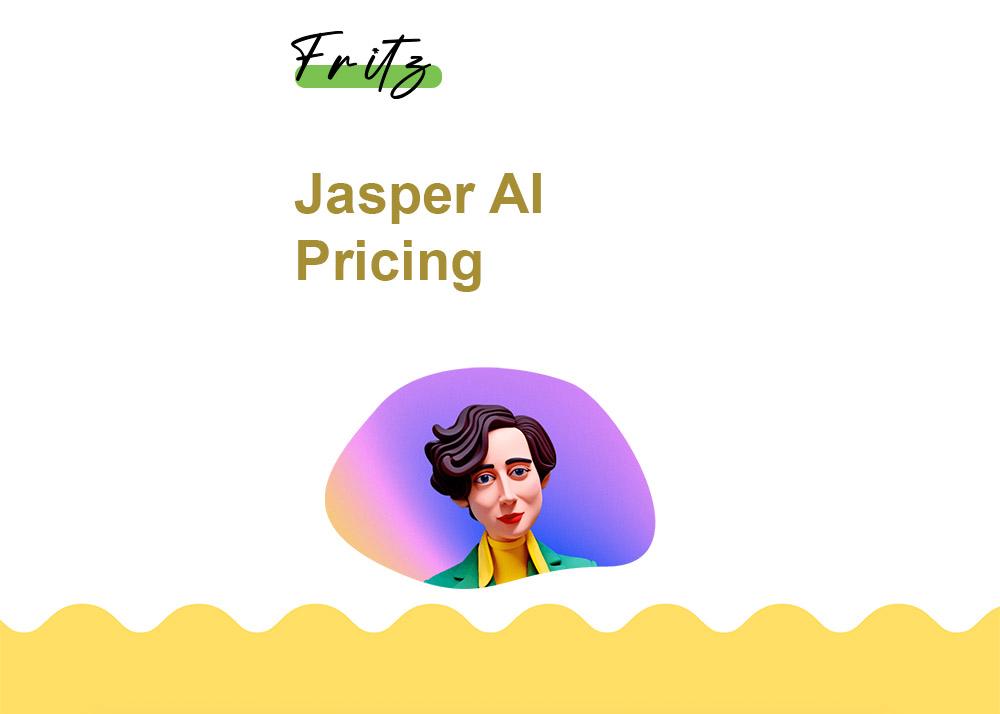 Jasper AI Pricing Plans
Creator – $49/month
Teams – $125/month
Business – Custom
Jasper AI stands out as a real tool for efficiency, transforming the way we think about content generation. With its advanced features and user-friendly interface, Jasper AI promises to streamline the content creation process, making it easy-to-use for marketers, bloggers, and writers alike.
But, as with any cutting-edge tool, the question on everyone's lips is, "How much does it cost?"
In this article, we'll dive into the Jasper AI pricing structure, giving you a clear picture of what to expect when you decide to bring this AI-powered assistant into your workflow.
If you want to know more about how we felt about the AI content writing tool, please check out our full Jasper AI review.
Jasper AI Pricing: Summary
Diving into the world of AI-powered content creation, Jasper AI emerges as a noteworthy tool with a pricing structure designed to cater to a wide array of needs. Here's a quick recap to help you decide if Jasper AI fits your budget and content strategy:
Creator: Starting at $49 per month, this plan is a match for individuals or small businesses focused on crafting short-form content.
Teams: Priced at $125 per month, it's tailored for those who require the finesse of long-form content creation, offering greater command over the AI's output.
Business: Custom pricing applies here, targeting larger teams or enterprises that need a bespoke package with premium features and support.
Jasper AI's pricing reflects its positioning as a premium offering in the AI writing assistant market. It's not the cheapest, but it's packed with features that justify the investment, especially for those who value quality and efficiency in their content production process.
When considering Jasper AI, it's not just about the monthly subscription fee. Keep an eye out for additional costs that may arise, such as overage fees for exceeding your plan's word limit or optional services that could enhance your experience.
How Much Is Jasper AI?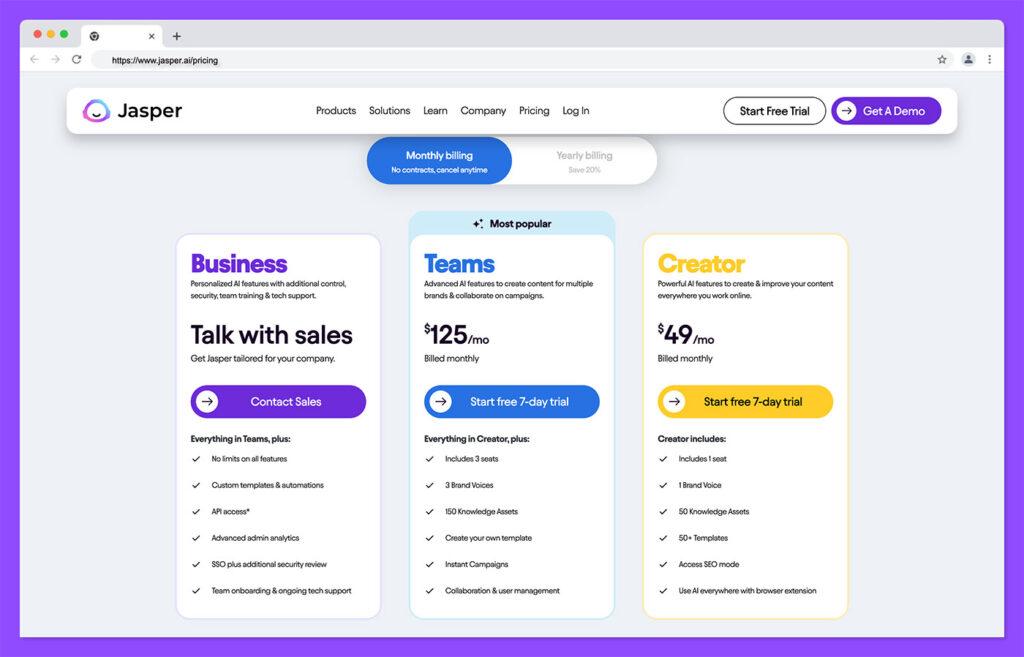 When it comes to AI writing assistants, Jasper AI offers a variety of pricing plans tailored to different needs and scales of use. Whether you're a solo content creator or a business looking for team collaboration and advanced features, Jasper AI has got you covered. Let's dive into the details of their pricing structure.
Jasper AI Plans Comparison
Jasper AI's pricing plans are designed to cater to a broad spectrum of users, from individual creators to large teams requiring extensive AI assistance. Each plan comes with its own set of features and capabilities, ensuring that there's a fit for every type of user.
Here's a closer look at what each plan has to offer.
Creator Plan ($49/month)
The Creator plan is perfect for individual users who need powerful AI features to assist with content creation across various online platforms. Priced at $49 per month, it includes:
10,000 words generated by AI: A generous allowance to get your content projects off the ground.
1 user login: Ideal for solo entrepreneurs or individual content creators.
1 Brand Voice: Customize Jasper to write in a style that resonates with your brand's voice.
50 Knowledge Assets: Teach Jasper about your business, products, and audience for more accurate content.
50+ Templates: Access a wide range of skills for creating everything from engaging headlines to SEO-optimized blog posts.
Browser Extension: Use Jasper directly in your Chrome or Edge browser for seamless content creation.
Teams Plan ($125/month)
For small teams looking to collaborate on content and manage multiple brands, the Teams plan is a great fit at $125 per month. It includes everything in the Creator plan, plus:
3 user logins: Get your team on board with additional logins.
3 Brand Voices: Multiple brand voices to cater to different segments or products.
150 Knowledge Assets: More capacity to upload business-related content for Jasper to learn from.
Dynamic Templates and Instant Campaigns: Create custom templates and turn briefs into full-fledged marketing assets.
Collaboration & User Management: Control document access and manage content workflow efficiently.
Business Plan (Custom Pricing)
For larger businesses that require no limits on features and seek personalized AI capabilities, the Business plan is the way to go. You'll need to contact sales for custom pricing, but here's what you can expect:
Unlimited use of all features: From words generated to brand voices and campaigns, there are no caps.
Custom Templates & Automations: Tailored solutions to fit your business needs.
API Access: Integrate Jasper with your systems for streamlined operations.
Advanced Admin Analytics: Get insights into usage and campaign performance.
SSO and Additional Security: Enhanced security features for peace of mind.
Team Onboarding & Tech Support: Dedicated support to help you make the most of Jasper AI.
Save 20% on Jasper AI
When browsing through Jasper AI's pricing page, you'll notice the figures are based on a month-to-month subscription model.
This means you have the freedom to cancel anytime without any long-term commitments—quite the flexible arrangement, wouldn't you say?
Jasper AI Prices: Monthly vs Annual Costs
However, if you're looking to weave Jasper AI into the fabric of your content strategy for the long haul, there's a savvy way to save. By choosing the annual payment option, you can pocket a cool 20% savings across all plans. It's important to note that this discount applies as long as you maintain the annual subscription model.
Here's a quick breakdown of the savings you can expect:
| Jasper AI Pricing Plans | Creator | Teams | Business |
| --- | --- | --- | --- |
| Monthly | $49 | $125 | Custom |
| 1-Year $/month | $39 | $99 | Custom |
| Savings | 20% | 20% | – |
Jasper AI vs Competitor Pricing
Jasper AI might seem a bit pricier at first glance, but when you dive into the value offered within their plans, the pricing is justified. Their plans are packed with features that cater to a range of content creation needs, making it a solid choice for those who need robust AI writing assistance.
Looking at the competition, Copy.ai offers a Solo Plan at $49 per month, which is a good fit for individuals or small businesses. Writesonic steps in with a competitive edge, offering their Freelancer Plan at $16 per month when billed annually, along with the promise of unlimited words under their fair usage policy.
Writesonic also scales up with their Small Team and Enterprise plans, providing options for higher word counts and additional features, starting at $33 per month. These plans are tailored for teams that require more extensive content generation capabilities.
ChatGPT, on the other hand, operates differently. It's a free service that anyone can use, and for those who need more from the platform, there's a $20 per month subscription available. It's not a direct competitor to Jasper AI or Writesonic, but it's a significant player in the space for those looking for a conversational AI experience.
Jasper AI positions itself as a comprehensive solution with a price point that reflects its extensive feature set. Writesonic and Copy.ai offer more flexible pricing structures that can appeal to users with varying needs and budgets. ChatGPT offers a unique angle on conversational AI, with a free entry point that's attractive for casual or trial use, and a reasonable monthly fee for expanded capabilities.
Additional Jasper AI Costs
Jasper AI, like many SaaS platforms, offers a tiered pricing structure that caters to different user needs, from individual creators to large businesses. While the base subscription provides a wealth of features, there are additional costs and considerations that users should be aware of.
Overage Words: Each plan comes with a limit on the number of words you can generate each month. If you exceed this limit, you'll need to pay for the additional words.
Additional Users: The base plans include a certain number of user seats. If you have a team and need more people to access Jasper.ai, you'll have to pay extra for additional user seats.
API Access: If you're looking to integrate Jasper.ai's capabilities into your own app or service, you'll need access to their API. This feature is not included in the standard plans and requires a custom price that you'll need to discuss with their sales team.
Jasper Art: If you want to generate art and images using AI, Jasper offers this feature. It's included in all plans, but if you exceed the provided number of generated images, you will need to pay an extra fee.
SEO Mode: For content optimization, Jasper.ai offers an SEO mode in collaboration with SurferSEO. If you want to use this feature to score your content and get keyword optimization suggestions, you may need to have a separate SurferSEO subscription.
Grammarly Integration: Offers a free basic version with limited features, and paid plans that provide more advanced writing suggestions and plagiarism checks. The premium plans can range from a monthly subscription to an annual one, with the latter offering savings over the long term.
Copyscape Integration: Operates on a pay-as-you-go model where you purchase credits that are used to check for plagiarism. The cost per search can vary depending on the length of the content and the number of searches you need to perform.
It's important for users to carefully review the details of each plan and consider their specific needs to understand the full scope of potential costs. Jasper AI's pricing is competitive, but the additional features and potential overage charges can add up, so it's crucial to choose a plan that aligns with your content creation requirements and budget.
FAQs
Why is Jasper AI so expensive?
Jasper AI positions itself as a premium AI writing assistant, offering a suite of advanced features like SEO optimization, brand voice customization, and a vast template library. The pricing reflects the comprehensive nature of the tool, designed to cater to businesses and individuals who require high-quality content generation with minimal effort.
Can I Use Jasper AI for Free?
Jasper AI offers a 7-day free trial that allows you to test out the features before committing to a subscription. This trial period is a great opportunity to evaluate whether Jasper AI meets your content creation needs.
What are some Free Jasper AI Alternatives?
For those looking for no-cost alternatives to Jasper AI, there are several options available. Tools like OpenAI's ChatGPT, which I'm a part of, can provide content generation capabilities. Other free writing aids include Grammarly for basic writing assistance and Hemingway Editor for improving readability.
Is Jasper Art worth it?
Jasper Art is a feature that generates visual content, and its value depends on your specific needs. If you require quick, AI-generated images for ads, thumbnails, or illustrations, Jasper Art can be a significant time-saver and creativity booster, potentially justifying the cost for those who frequently need original visual content.