Formerly known as Jarvis.ai, Jasper.ai is an artificial intelligence (AI) program that produces and optimizes high quality text without intensive human input. This makes it a faster option for generating and optimizing targeted text than doing so by yourself from scratch.
Since it was launched in 2021, Jasper.ai has become highly popular in the field of generative AI for business communication. By using deep learning, Jasper.ai determines the use of proper grammar, vocabulary, and syntax in order to produce and enhance different types of texts for its users.
The texts that Jasper writes and improves bears the intelligence of a human writer with a focus on eliciting interest and conversions from their audience. The simplicity of the tool and its ease of use further adds to its sought after status in the generative AI space.
Interested to know about what is Jasper.ai and what it can do for your writing requirements? Here is a quick guide to help you learn more about this marvel of generative AI.
Quick Summary:
Jasper.ai is an AI-based program that writes and optimizes different types of texts for business communication.
Jasper.ai can produce segments of texts through simple prompts or refine existing texts to improve their quality.
Jasper.ai can develop texts such as blog posts, emails, product descriptions, ad copy, and social media posts.
Jasper.ai is available in the form of a web-based graphical user interface (GUI).
Jasper.ai uses the Generative Pre-trained Transformer 3 (GPT-3) program that is developed by OpenAI, a popular AI research lab.
Jasper.ai is available in over 25 languages.
Jasper.ai can also generate AI-based artwork to use within your text content, this service is offered separately.
Jasper.ai is available for commercial use through two different types of monthly subscriptions as well as a customized business subscription.
What is Jasper.ai and How Does It Work?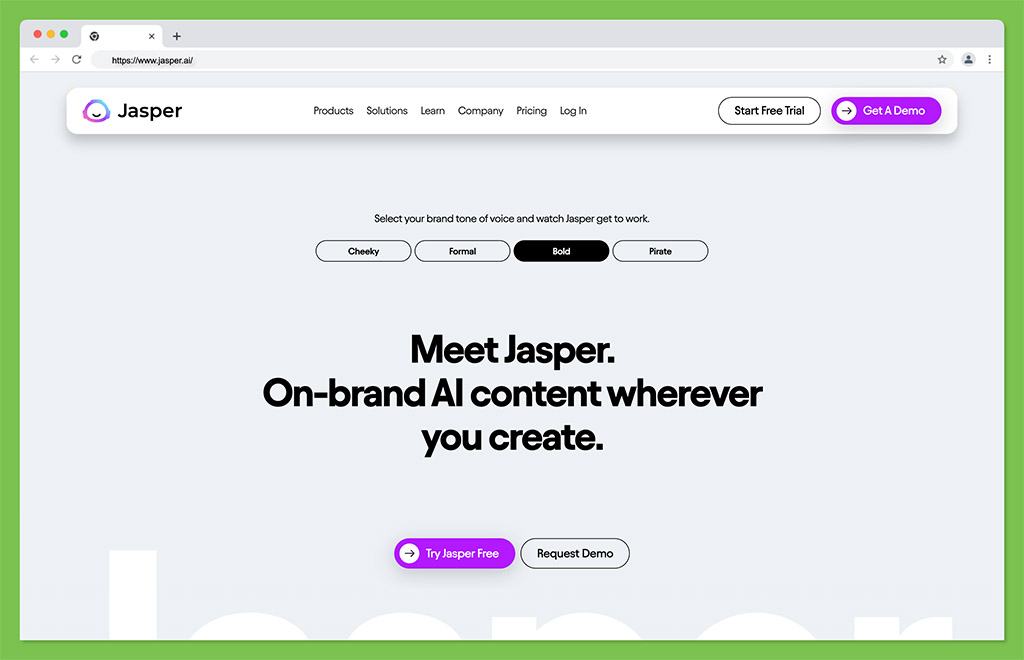 Jasper.ai is an AI program that uses deep learning to understand proper grammar and syntax before replicating it in its text generation and optimization tasks. This leads Jasper.ai to develop and refine texts with human-like precision, command, and grasp over natural language.
In order to achieve this feat, Jasper.ai uses the GPT-3 model from OpenAI, which has been trained on an astounding 175 billion parameters.
These parameters use references from literature, articles, research materials, as well as Wikipedia. By using this vast data, GPT-3 is able to emulate the same finesse at natural writing that is exhibited by human writers over a wide variety of fields.
This is important when it comes to using the AIDA framework to increase audience interaction. These breakthroughs can add significant value in blog articles, and in general content marketing as well.
If you are a content writer that's responsible for identifying the right blog post topic, conducting blog post outline work, and bullet points, and the general content writing, then it is likely that Jasper commands your attention.
Jasper.ai boasts of having read 10 percent of the internet in 2019 to understand common references, slang, and writing styles. This adds another layer of proficiency to the platform as well as its content generation capabilities.
Why Does Jasper.ai Use GPT-3?
GPT-3 works by understanding simple instruction prompts and generating text by using its extensive training data, as well as its ability to properly guess what the next word in a sentence should be. This allows it to follow its goal of producing text that has a human-like flow of speech and reading to it.
GPT-3 is available in four preset models that vary in terms of the speed at which they generate the text and the quality in which they produce the text.
But you can also finetune the GPT-3 models to fit your own needs and find the ideal balance between swiftness and precision
GPT-3 is accessible through its developer OpenAI as an API only. This means that the program does not have a GUI or front-end program that could allow everyday users to access it.
In order to utilize the program, users either need to have the knowledge of coding and development or the ability to access it through an external application that connects to it.
That is where Jasper.ai comes into the picture. By using a fine tuned model of GPT-3 through its API and making it available in a point-and-click interface, Jasper.ai harnesses the power of GPT-3 for everyday users to benefit from it. This makes Jasper.ai a portal to use GPT-3, but one that carries additional benefits with it.
After understanding what is Jasper.ai and how does it work, you can learn what exactly the program offers and how it uses one of the best generative AI technologies that are currently available for commercial users. From there, you can determine its usage for your own needs.
Jasper AI Pricing
The Jasper team makes Jasper.ai available through the platform's own website as a GUI. The interface is original, but still quite similar to a WordPress dashboard or a Google Docs editing window, which makes it familiar and easy to operate. You can also use the Jasper.ai Google Chrome browser extension in order to generate or optimize content on the go.
Before you start incorporating it into your workflow for writing or optimizing your digital marketing content, you need to choose one of the three subscription plans that Jasper.ai offers.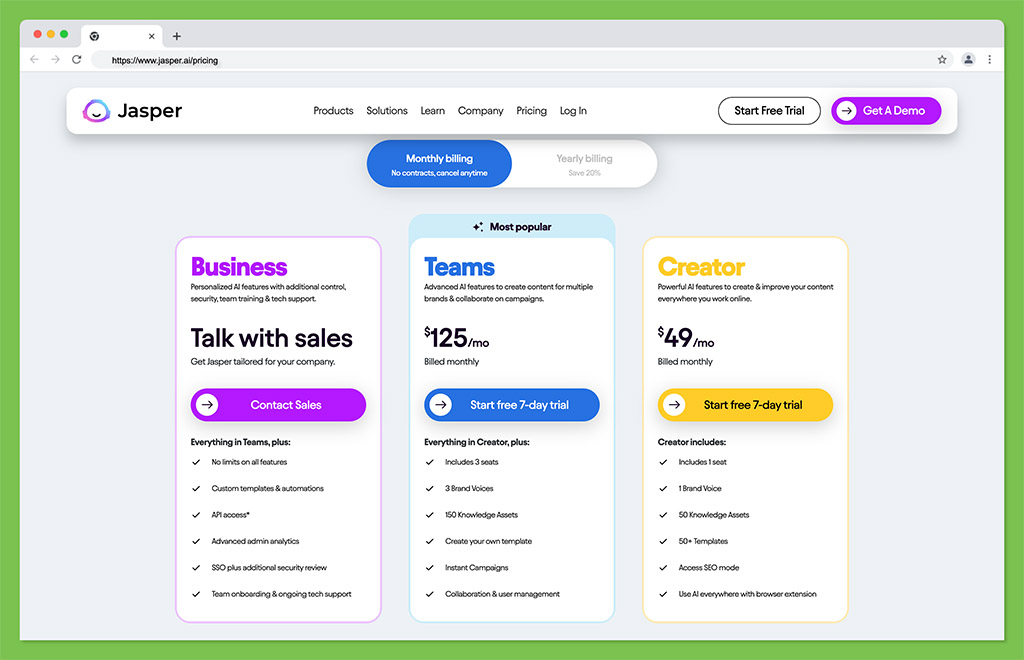 This includes the following Jasper AI pricing plans, where choosing annual billing gives you a flat 17 percent discount on the pricing.
Starter Plan
This intro or foundation-level plan allows you to generate and optimize short-form content such as ad copy, product descriptions, and social media posts. You can choose between templates to give Jasper.ai a quick background of what you want to write. With this intro plan, you can also share business or personal details as a brief. You can then choose a tone of voice or even a celebrity impression to have Jasper.ai generate the content for you.
Packages start from $29/month for 20,000 words per month. This plan goes all the way up to $399/month for 320,000 words per month.
Boss Mode Plan
This mid-tier plan has everything from the Starter plan, while also offering you the ability to create long-form documents from scratch through simple outlines. This gives you the power to create original and high blog posts through AI, while also having access to refinement tools such as search engine optimization (SEO) integrations. This way, you can also optimize your long-form content and even enhance it with additional content.
Packages begin from $59/month for 50,000 words per month. This can go up to $600/month for 700,000 words per month.
Business Plan
This enterprise plan has everything from Boss Mode, while also allowing you to benefit from custom packages, billing options, and elevated support to integrate Jasper.ai copywriting tool within your operations. This makes it a better option for large businesses or corporations with larger ongoing content generation and optimization requirements. This plan also includes dedicated training sessions on the ai copywriting tool for users.
The pricing options are personalized according to your needs, which you can determine after a detailed consultation with a Jasper.ai account specialist.
In order to determine what is Jasper.ai able to do for you, you can sign-up for the platform for a 5-day free trial of 10,000 credits. This Jasper.ai trial offer requires your payment details, but you don't have to pay for the platform if you don't feel satisfied with it and cancel your trial before the payment date.
Jasper Art
Jasper Art is a standalone service that utilizes AI capabilities for image generation through text prompts. The service has only launched recently, which is why Jasper.ai is offering it at the introductory price of $20/month for unlimited image generations.
Jasper.ai also comes with a Grammarly integration that lets you ensure that your content is grammatically correct and has a natural flow to it.
Is Jasper.ai Content Original?
By using GPT-3 for its content generation and optimization processes, Jasper.ai makes sure that it is not copying entire sentences through the internet or digital media. Instead, it goes by a word-by-word approach and creates wholly original content through the briefs and outlines that you provide to it as your instructions.
To add strength to this claim of originality, Jasper.ai comes with an optional Copyscape integration with a 20 percent discount on Copyscape's retail price. This makes sure that you can use this credible plagiarism checking service to determine if your Jasper.ai content is original or not.
Is Jasper.ai Content SEO-Friendly?
In addition to writing original content, developing SEO-friendly content is another factor that may plague your mind with using an AI tool. To keep you satisfied on this front, Jasper.ai partners with Surfer SEO to give you optimization tools right in the content generation dashboard.
By using this tool, you can determine if you are using SEO best practices such as the right keywords, outlines, and text-to-image ratio in order to generate content that is search engine-friendly. This provides you with the assurance that your content is ready to fulfill your outreach goals as much as it caters to your marketing requirements.
Is Jasper.ai Worth it?
After learning more about what is Jasper.ai, it is easy to determine that this highly advanced AI tool is worth the hype that surrounds it. The Jasper.ai team claims that you can get a return of investment (ROI) of around 400 percent. But the proof is in the pudding at how well the platform is able to cater to your needs, which calls for you to give it a try yourself for a firsthand experience of this program.
Please note that Jasper.AI has mixed reviews on Trustpilot. These reviews talk about payment issues, rebilling, and further frustrations around the product itself.
At the same time, Jasper does offer a money-back guarantee and so if you are not pleased with the product, you can reach out to hey@jasper.ai to obtain your money back.
It is also important to remember that even though Jasper.ai is highly capable at achieving what it claims, generative AI still remains a developing technology that may have its highs and lows during your usage. With that being said, Jasper's content generation, revision, and optimization features more than make up for it at every other step.
To see if Jasper is worth the hype according to your own personal and professional assessment, you can sign-up with the service for its free trial. This makes it easy for you to see how it uses its deep learning and content generation capabilities to develop and enhance different types of text for you.
Find out if different aspects like the sentence expander and other aspects can help you with your Facebook ad headline and other elements of your digital outreach efforts.
Further reading: