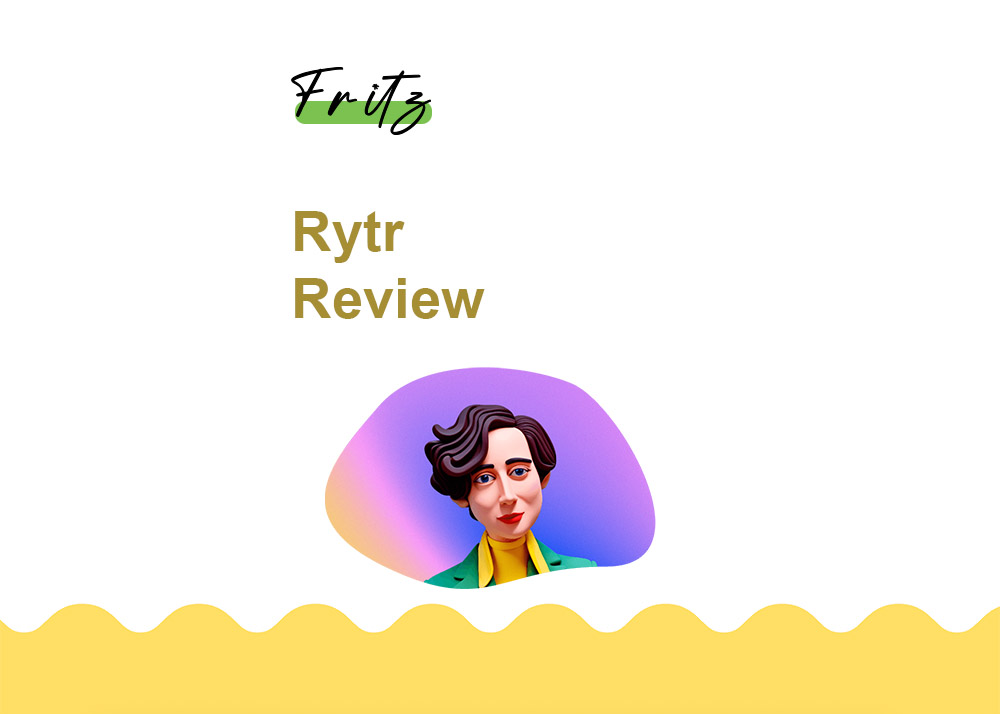 Content continues to reign supreme. And the ability to craft such content quickly and effectively is a superpower in its own right.
For freelancers, marketers, and businesses alike, the chase for sharp, captivating content is never-ending. That's why we're exploring Rytr today.
This AI tool steps onto the scene as an AI writing assistant, boasting the potential to transform how you approach content creation.
Rytr is a tool that promises to make the writing process smoother and faster, offering a glimmer of hope for anyone aiming to boost efficiency while maintaining high standards.
But the burning question is, does Rytr truly deliver on its promise? Let's take a look.
Quick Verdict
Rytr emerges as a promising solution in the AI writing space, offering a suite of tools that are not just efficient but surprisingly intuitive. For those who find themselves often grappling with the nuances of content creation, Rytr serves as a reliable sidekick, ready to transform thoughts into well-articulated pieces of writing. It's a thumbs-up for Rytr, especially for those on a quest for a balance between quality and quantity in their writing output.
Research Methodology
To ensure a thorough and unbiased review, I took Rytr for a test drive, navigating its features, and putting it through its paces across different content scenarios.
From writing compelling blog posts and social media updates to generating technical articles and creative stories, I've pushed Rytr to its limits.
User testimonials, online forums, and direct comparisons with other AI writing tools have all been part of this deep dive, providing a well-rounded view of Rytr's capabilities.
What is Rytr?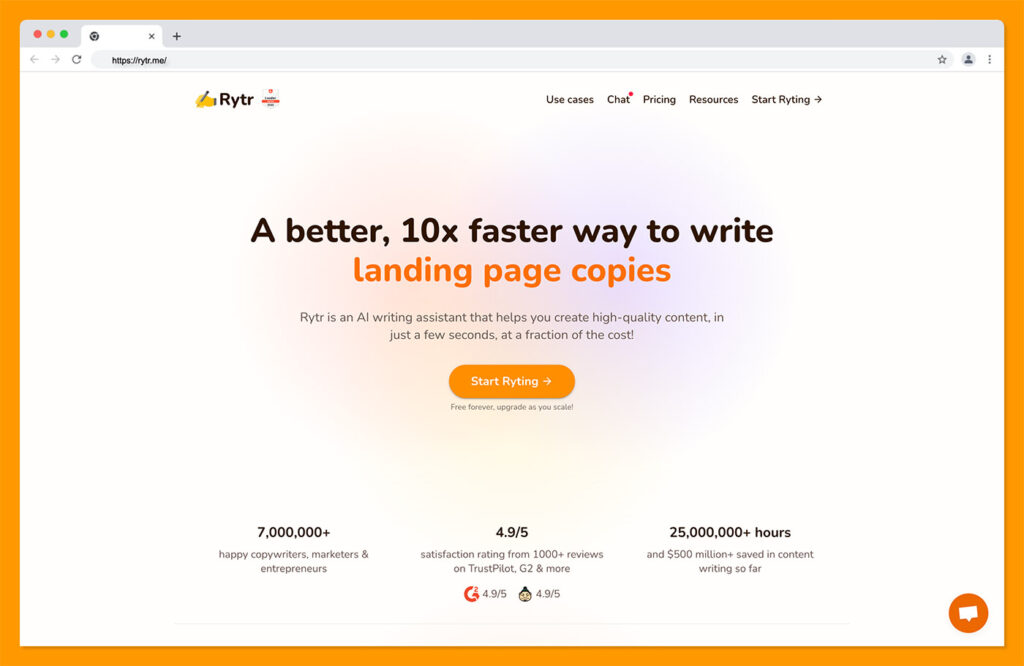 Rytr is an AI-powered writing assistant that's changing the game for content creators everywhere. At its core, Rytr is designed to be the ultimate sidekick for anyone who puts pen to paper, or more accurately, fingers to keyboard.
It leverages advanced machine learning algorithms to understand and mimic natural language patterns, enabling it to generate coherent, contextually relevant text across a variety of content types.
Whether you're staring down the barrel of a blank page or you're a seasoned writer looking to optimize your workflow, Rytr steps in to fill the void. It's not just about churning out words, either.
Rytr aims to capture the essence of what makes writing resonate with readers. From blog posts and emails to ad copies and social media content, Rytr's versatility is impressive.
Getting Started with Rytr
The journey with Rytr begins with a simple sign-up process. Once you're in, the interface is nice to look at – clean, uncluttered, and inviting. The dashboard is intuitive, with clear instructions guiding you through your first steps.
Selecting a template is as easy as clicking a button, and from there, you're only a few keystrokes away from generating your first piece of AI-assisted content.
Rytr is designed to be user-friendly, but don't let its simplicity fool you. The technology on display here is anything but basic.
Pricing: Free vs. Paid Subscription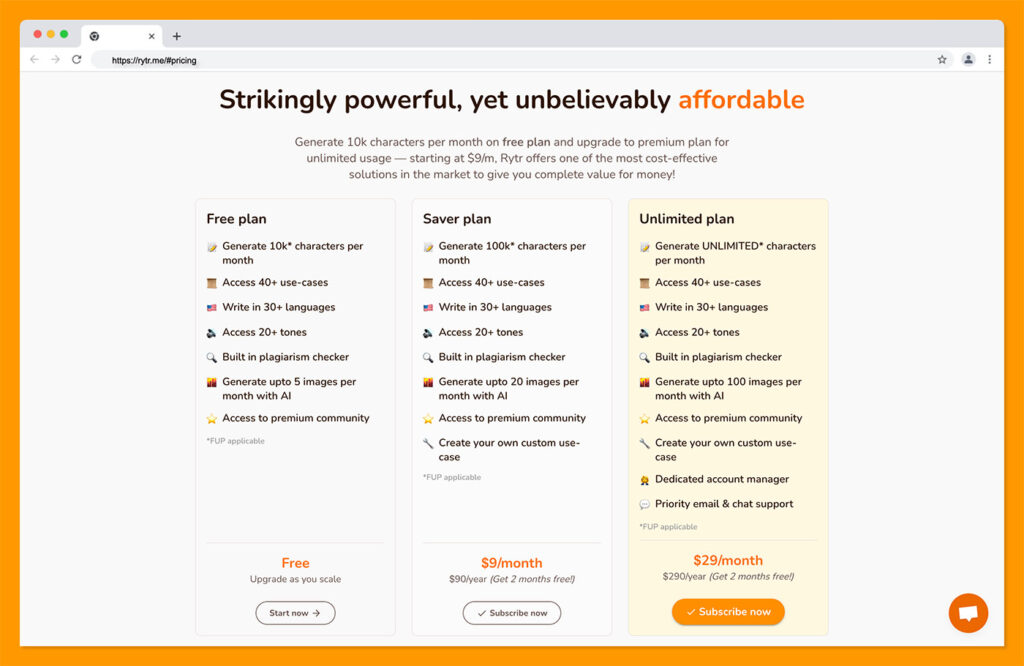 Rytr offers a taste of its capabilities with a free plan that's surprisingly generous. You can generate up to 10,000 characters per month, which is ample for those occasional writing tasks.
However, for the power users, the paid subscription is where Rytr truly shines. For a modest fee starting at $9 per month, you unlock unlimited characters, a ton of writing styles, and the full power of Rytr's AI engine.
It's an investment that could pay off well in saved time and enhanced content quality.
Advantages of Upgrading to Rytr Premium
The premium version of Rytr is a game-changer, especially for those who churn out content regularly:
Unlimited character generation means the shackles are off.
You can write as much as you need without worrying about hitting limits.
The ability to create custom use cases allows for a tailored experience, ensuring that the content Rytr produces aligns perfectly with your specific needs.
And, adding access to a premium community can provide valuable insights and support as you navigate the world of AI-assisted writing.
Plus, the price point is impressive. At just $9/month to start, it's well worth a try.
Who is Rytr Best For?
Rytr, with its sleek interface and versatile functionality, is great for a decent variety of users, but it truly excels in the hands of certain professionals.
Let's break down who can reap the greatest benefits from this AI writing assistant.
Freelance Writers
For freelancers juggling multiple clients and tight deadlines, Rytr can be super helpful. It helps in generating ideas, overcoming writer's block, and producing drafts at lightning speed. Freelancers can expand their service offerings by taking on more work without compromising on quality or turnaround time.
Content Marketers
Content marketers who need to consistently produce a wide range of content — from blog posts to social media snippets — will find Rytr's array of tones and formats invaluable. It's like having an on-demand brainstorming partner who never runs out of suggestions or hits a creative wall.
Business Owners
Business owners who may not have the budget for a full-time writer can utilize Rytr to create compelling copy for websites, product descriptions, and marketing materials. It's an economical solution that provides professional-level content without the overhead.
Social Media Managers
Social media managers also need to create engaging and timely content regularly. Rytr's ability to quickly generate creative and relevant content can be super helpful, keeping feeds fresh and followers engaged.
Is it Legal to Use Rytr?
Rytr encourages responsible use of its platform, with a focus on creating original content that doesn't infringe on copyright laws. It's essential to use Rytr as a tool in your writing arsenal, not a replacement, however. Always ensure that the content you produce is authentic and genuinely reflects your or your brand's voice.
And be sure to fact-check thoroughly. All AI tools at the moment can hallucinate or produce inaccurate information. So be sure to check (and double-check) all output for accuracy.
Rytr Alternatives
While Rytr has carved out its niche in the AI writing assistant market, it's part of a broader ecosystem of tools designed to enhance and streamline the content creation process. Depending on your specific needs, budget, and preferences, there are several alternatives to consider.
Here's a look at some of the key players that stand as alternatives to Rytr:
Jasper.ai
Jasper.ai is well-known in the AI writing space. It's known for its sophisticated AI that can generate long-form content with impressive coherence. Jasper is particularly favored by users who require more extensive content pieces, like ebooks or detailed guides.
Its interface is user-friendly, and it comes with a suite of templates and a supportive community. However, Jasper's pricing is on the higher end, making it a significant investment for those who need its advanced features.
Writesonic
Writesonic is another popular choice, especially for marketers looking for AI assistance in creating high-converting digital ads, landing pages, and product descriptions. It's praised for its marketing-centric approach and the ability to generate persuasive copy that captures attention.
Writesonic offers a range of pricing plans, including a pay-as-you-go option, which can be appealing to users with fluctuating content needs.
Copy.ai
Another great alternative to Rytr is Copy.ai. This tool focuses on simplicity and ease of use, making it a great starting point for those new to AI writing assistants. It offers a variety of templates for different content types and is designed to be intuitive from the get-go.
Copy.ai is a solid choice for small businesses and individuals who need quick, short-form content. Its pricing is competitive, and it offers a free plan with limited runs per day, which can be a great way to test it out.
Rytr Hacks
Rytr is a powerful tool straight out of the box, but with a few clever hacks, you can unlock even more potential and tailor the experience to your specific needs.
Here are some pro tips and tricks to help you get the most out of Rytr:
Create Custom Use Cases
Don't feel constrained by the default use cases Rytr offers. Get creative and set up custom use cases that align perfectly with your unique content needs. This can help you maintain a consistent voice and style across all your writing projects.
Explore Commands
Rytr supports commands that can direct the AI to perform specific tasks, such as writing a conclusion or generating bullet points. Use these commands to guide the AI more precisely and get the exact type of content you're looking for.
Use the Browser Extension
Install the Rytr browser extension to bring the power of the AI into your everyday online activities. Whether you're drafting emails, writing blog posts directly in WordPress, or posting on social media, the extension allows you to use Rytr's features without switching between tabs.
Integrate with SEO Tools
If you're focused on creating SEO-optimized content, integrate Rytr with your favorite SEO tools. Use keyword suggestions and optimization tips from these tools to guide the AI in Rytr, ensuring that the content you produce is not only engaging but also ranks well.
Use Batch Processing
When you have multiple pieces of content to generate, use Rytr's batch processing feature. Input several prompts at once and let Rytr generate multiple drafts for you to review. This can be a huge time-saver, especially when working on content at scale.
Leverage the API
For those with a technical bent, Rytr offers an API that you can integrate into your own systems and workflows. Automate content creation by connecting Rytr to your CMS, your blog, or even your custom-built apps.
Collaborate and Share
Use Rytr's collaboration features to share drafts with team members or clients for feedback. This can streamline the review process and make it easier to refine and finalize content.
Summary
Rytr stands out as an AI writing assistant designed to cater to a wide range of writing needs. It's a tool that combines ease of use with powerful, flexible features, making it suitable for freelance writers, content marketers, business owners, and anyone in need of efficient content creation. With its user-friendly interface, customizable use cases, and robust functionality, Rytr helps users produce quality content quickly and effectively.
While it offers a generous free plan, the real magic of Rytr is unlocked with its premium subscription, which provides unlimited characters, a variety of writing styles, and advanced features.
Rytr's versatility makes it a strong contender in the AI writing space, but it's important to consider alternatives like Jasper, Writesonic, and Copy.ai, which may offer different features that could suit specific needs better.
Rytr
Rating:
4.5
- Review by
Fritz.