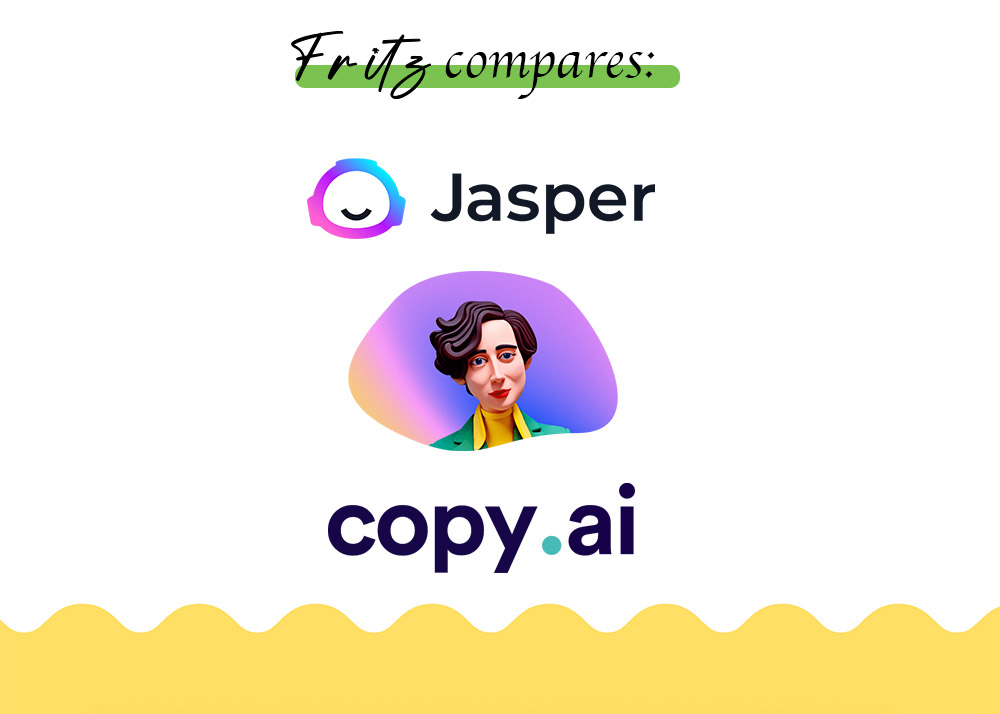 Today, we're taking a look at two of the top AI copywriting tools in the industry: Jasper AI and Copy AI.
If you've been on the hunt for a reliable, efficient, and downright impressive AI writing assistant, chances are you've stumbled upon these two contenders.
But which one truly deserves a spot in your creative toolkit? That's the most important question and I'm here to answer it today.
I've put both AI writing software options through their paces, testing out their features, ease of use, and overall performance to see where they measure up.
So, sit back and relax as we dive deep into the details, comparing everything from their user interface to the quality of the content they produce.
By the end of this comprehensive review, you'll know exactly which tool is the right fit for your content marketing needs.
Quick Verdict
If you're short on time and just want the quick and dirty, here it is:
Jasper AI slightly edges out Copy AI in terms of overall functionality and user experience. While both tools are exceptional in their own right, Jasper AI offers a more intuitive interface and a wider range of writing styles plus support for long-form content. It's better at more things.
Copy AI, on the other hand, excels in quick content generation but falls a bit short when it comes to customization options. But it does do a good job on product descriptions and social media copy.
In this article:
What is Jasper AI?
Jasper AI is an all-in-one AI marketing tool that's engineered to make your content creation journey all-around easier. This isn't just about a simple spelling or grammar checker. It goes the extra mile to ensure the content it crafts aligns seamlessly with your brand's unique voice and tone.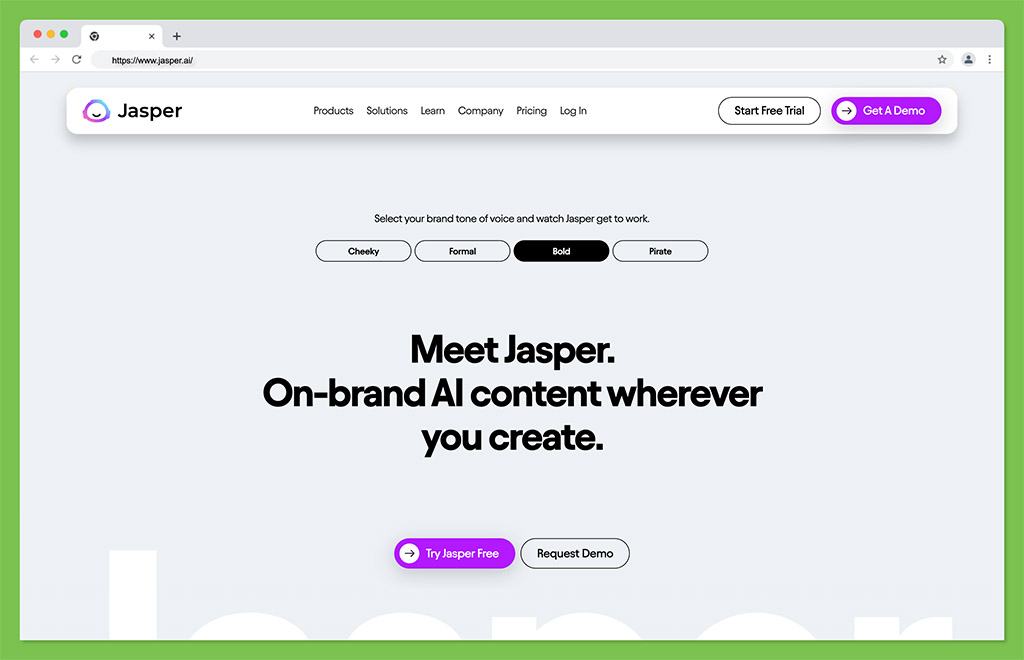 What sets Jasper apart from other tools like it is its robust AI engine. It's not tied to a single model but rather integrates a variety of leading algorithms, including the likes of OpenAI's GPT-4 and Google's language models.
This engine is further fine-tuned with real-time search data and brand-specific inputs (that you provide), making it a versatile and reliable assistant for all your writing needs.
But there's actually more to it than that. Jasper also comes with an Everywhere extension, allowing you to bring its capabilities into various platforms, be it your CMS, email, or social media.
And let's not overlook security. Jasper takes data protection seriously, with its data centers located in the U.S. and rigorous third-party security audits, including SOC2 certification.
Key Takeaways:
Tailored brand voice and tone
Significant time-saving on initial drafts
Team collaboration features
Comprehensive AI engine with multi-model support
Robust security measures
So, if customization, efficiency, and data security are on your checklist, Jasper AI is worth considering.
What is Copy AI?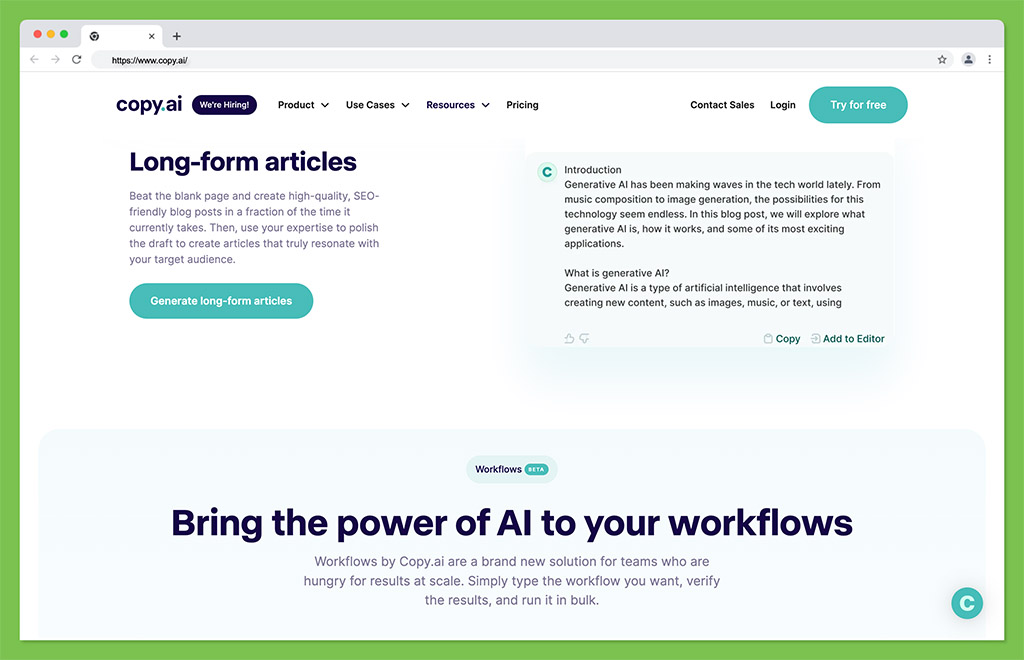 Copy AI aims to be your ultimate creative partner as well, offering a suite of features that go beyond mere copywriting. With a user base exceeding 10 million, it's evident that the platform has carved a niche for itself in this niche.
The platform excels in generating a wide array of content, from long-form articles and social media posts to product descriptions and ad copy. It also introduces a unique "Workflows" feature, designed to help teams execute scalable tasks efficiently. Just specify the workflow, validate the output, and you're good to go — making it especially useful for e-commerce and SEO-centric tasks.
One of Copy AI's standout features is its commitment to maintaining brand consistency. It ensures that the content it generates is not just high-quality but also aligns with your brand's voice.
On the security front, Copy AI is SOC II compliant, offering you peace of mind that your data is in safe hands.
Key Takeaways:
Versatile content generation capabilities
Workflow automation for scalable projects
Consistency in brand voice
High standards of data security
If you're in the market for a versatile, scalable, and secure AI writing tool, Copy AI is worth a look as well.
How Does Jasper AI Work?
Jasper AI is a powerhouse when it comes to content creation. As we've already established, the platform is built on top-notch language models, including OpenAI's GPT-4, to give you a versatile writing assistant. But it's not just about the algorithms — it's about how they're applied.
The newer "Everywhere" extension lets you take Jasper's capabilities into other platforms you're already using like Google Docs. Whether you're drafting an email, working on a blog post in your CMS, or even tweeting, Jasper integrates smoothly. It's like having a writing buddy that's always there, no matter what platform you're on.
Jasper also offers specialized templates for various types of content, from short-form content like blog posts and product descriptions to ad copy and emails. This means you can generate SEO-optimized, brand-aligned content at the drop of a hat. And it guides you through the content creation process.
For instance, if you're trying to create a blog post, you have multiple approaches to choose from. You could offer info to Jasper for what keywords you'd like included, what the topic is, and what the intro, body paragraphs, and conclusion should contain. Or, you can give it a topic, a keyword, and essentially press "go" and see what it comes with.
However hands-on or hands-off you'd like to be, it has a template you can use to faciltate this process.
How Does Copy AI Work?
Copy AI is designed to be your one-stop-shop for all things copywriting. It's not just a tool that churns out text. It's a platform that understands your specific needs and tailors its writing process accordingly.
The platform offers a wide range of templates for various types of content, from social media posts and blog intros to product descriptions and email campaigns. This means you have a decent range of writing options at your fingertips, ready to be served as per your requirements.
One of the standout features of Copy AI is its collaborative writing environment. You can invite team members to work on projects together, making it a great fit for businesses that require multiple inputs for a single piece of content. This feature enhances the tool's utility, especially for larger teams and organizations.
Copy AI also boasts a user-friendly interface, which means you don't have to be particularly tech savvy to navigate through its features. It's designed to be intuitive, allowing you to focus more on creating content and less on figuring out how to use the tool.
Jasper AI Pricing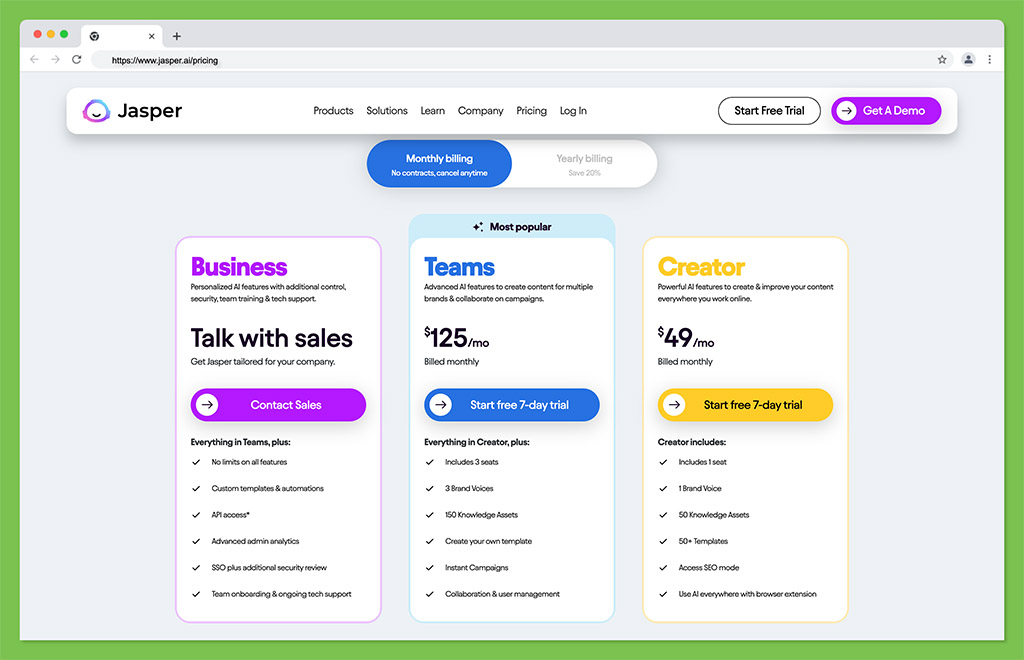 When it comes to pricing, Jasper AI offers a tiered approach to meet various needs.
Let's break it down:
Creator Plan: Priced at $39 per month, the Creator plan is designed for individual users. It includes one seat, one brand voice, and 50 knowledge assets. You also get access to 50+ templates and an SEO mode. If you opt for yearly billing, you can save 20%.
Teams Plan: This plan is targeted at small teams and costs $99 per month. It includes three seats, three brand voices, and 150 knowledge assets. You also get the ability to create your own templates and manage user collaboration. Again, a 20% discount is available for yearly billing.
Business Plan: For those who need more advanced features and customizations, the Business plan is available. However, you'll need to contact sales for pricing details. This plan offers no limits on all features, custom templates, API access for integration with other apps, and advanced admin analytics.
Jasper AI also offers a 7-day risk-free cancellation policy and award-winning customer support.
Copy AI Pricing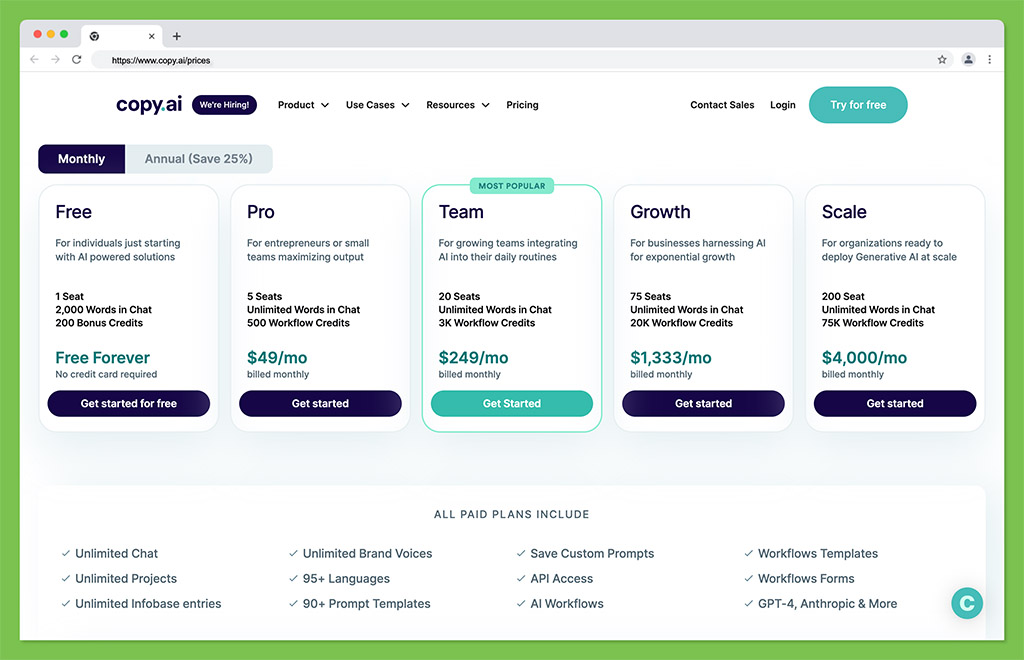 Copy AI also offers a variety of plans to suit different needs:
Free Plan: Aimed at individuals just starting with AI-powered solutions, this plan offers one seat, 2,000 words in chat, and 200 bonus credits. It's free forever, and no credit card is required.
Pro Plan: Priced at $36 per month (billed yearly at $432), this plan is for entrepreneurs or small teams. It includes five seats, unlimited words in chat, and 500 workflow credits.
Team Plan: For growing teams, this plan costs $186 per month (billed yearly at $2,232). It includes 20 seats and 3,000 workflow credits, along with unlimited words in chat.
Growth and Scale Plans: These are for larger organizations and are priced at $1,000 and $3,000 per month, respectively. They offer 75 and 200 seats, along with a hefty amount of workflow credits.
All paid plans include unlimited chat, projects, and brand voices, along with API access and 90+ prompt templates.
Who is Jasper AI Best for?
Jasper AI is a versatile tool that caters to a wide range of users. Whether you're a seasoned copywriter, a small business owner, or even a student, this platform has something for you.
For Copywriters and Content Creators: Jasper AI is a great option for those who are in the business of words. It helps you overcome writer's block and speeds up the content creation process. The AI writer can generate high-quality copy that resonates with your target audience, but it does all come down to the prompting. You get out of it what you put into it.
For Small Business Owners: If you're running a small business, you know how important effective communication is. Jasper AI can help you create compelling product descriptions, email campaigns, and social media posts that can drive engagement and sales.
For Students and Academics: Believe it or not, Jasper AI is also useful for academic writing. It can help you structure your essays and research papers. However, always remember to double-check the generated content for accuracy and originality.
For Digital Marketers: If you're into SEO, Jasper AI can help you create SEO-friendly content fairly easily. It can produce copy that not only reads well but also ranks well.
Who is Copy AI Best for?
Copy AI is another robust platform that serves a variety of users, but it has its own set of unique features that make it ideal for certain use cases.
For Bloggers: One of the standout features of Copy AI is its blog content first draft generator. If you're a blogger, this tool can help you churn out first drafts in no time, giving you more time to focus on refining and publishing your posts.
For E-commerce Businesses: Copy AI excels in generating product descriptions and ad copy. If you're running an online store, this tool can be a real game-changer for you.
For Social Media Managers: The platform offers many pre-made templates for social media posts as well. If you're responsible for managing multiple social media accounts, Copy AI can make your life a lot easier and at least act as a starting point.
For SEO Specialists: While Jasper AI is no slouch in the SEO department, Copy AI also offers excellent features for generating content tailor for search engines. It's particularly good at optimization.
FAQs
What is AI copywriting?
AI copywriting involves using artificial intelligence to generate written content. It's designed to assist human writers in creating articles, social media posts, ad copy, and more.
Who are the main competitors of Jasper AI and Copy AI?
The primary competitors for Jasper AI and Copy AI include platforms like Writesonic, ChatGPT Plus, and SurferSEO. These platforms also offer AI-powered writing assistance with various features and pricing models.
How do Jasper AI and Copy AI maintain the quality of the content?
Both platforms use advanced language models like GPT-4 to generate high-quality AI content. They also offer specialized templates and real-time data fine-tuning to ensure the content aligns with brand voice and SEO guidelines.
Can I integrate Jasper AI or Copy AI with other tools I use?
Yes, both platforms offer integration features. Jasper AI has an "Everywhere" Chrome extension for cross-platform use, while Copy AI provides API access for custom integrations.
What are some common user complaints about these platforms?
Common complaints often revolve around the limitations of AI in understanding context or generating creative content. Some users also mention occasional glitches and high pricing for advanced features.
Are there any free trials available for either platform?
Yes, both platforms offer free trials. Jasper AI provides a 7-day risk-free cancellation policy, while Copy AI offers a free plan with limited features.
How do these platforms ensure the originality of the content generated?
Both Jasper AI and Copy AI use unique algorithms and real-time data to generate original content. They also offer various customization options to ensure the content aligns with your brand's voice. However, they can still produce plagiarized or inaccurate content at times. Jasper has a Copyscape integration (a plagiarism checker) you can use to check your work for plagiarism, but the feature does cost extra.
Can beginners easily navigate and use Jasper and Copy AI?
Absolutely. Both platforms are designed with user-friendly interfaces, making it easy for beginners to navigate and generate content without a steep learning curve.
What are some expert tips for getting the most out of Jasper AI and Copy AI?
To maximize benefits, use the specialized templates and SEO features offered. Also, take advantage of the collaborative writing and integration options to streamline your content creation process. And if you want the best results, always fill out every field in the prompt forms. Giving these tools more context and information to work from always yields a better result.
Conclusion
And there you have it — a comprehensive comparison of Jasper AI and Copy AI, two of the leading platforms in the AI copywriting space. Both tools offer a robust set of features designed to make your life easier, whether you're a seasoned writer, a small business owner, or even a student.
Jasper AI shines with its versatility and SEO-friendly features, making it a great choice for those who need a well-rounded tool for all types of high-quality content. On the other hand, Copy AI excels in specialized templates and collaborative writing, making it ideal for bloggers, e-commerce businesses, and social media managers.
My advice? Try both via their free trials and see which works best for your situation in a practical sense.