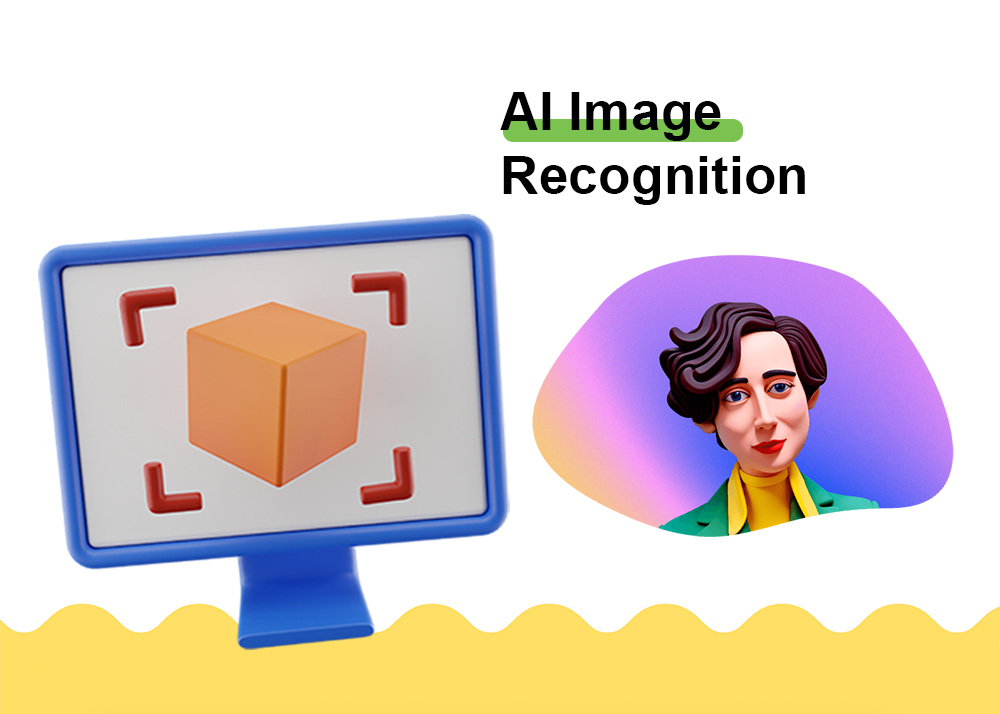 You're in the right place if you're looking for a quick round-up of the best AI image recognition software.
Here, we're exploring some of the finest options on the market and listing their core features, pricing, and who they're best for.
Curious? Great! Stick with us as we discuss the best AI image recognition software.
Table of contents:
What is AI Image Recognition
AI image recognition technology uses AI-fuelled algorithms to recognize human faces, objects, letters, vehicles, animals, and other information often found in images and videos. AI's ability to read, learn, and process large volumes of image data allows it to interpret the image's pixel patterns to identify what's in it. This information is then placed into categories for interpretation.
In a nutshell, it's an automated way of processing image-related information without needing human input. For example, access control to buildings, detecting intrusion, monitoring road conditions, interpreting medical images, etc. With so many use cases, it's no wonder multiple industries are adopting AI recognition software, including fintech, healthcare, security, and education.
How Does AI Image Recognition Work?
As alluded to, digital images consist of pixels.
With that in mind, AI image recognition works by utilizing artificial intelligence-based algorithms to interpret the patterns of these pixels, thereby recognizing the image.
AI visual recognition can be split into four separate methods:
Image classification: This aims for the AI to recognize which category each image should fit into.
Labeling/Tagging: This is also a way of classifying images but with greater degrees of accuracy. For example, if you imagine an image with multiple objects and/or people, these can each be tagged within the image for classification purposes.
Object Detection: Detection is used to find a particular object in an image. Once the AI has located it, a bounding box surrounds it.
Segmentation: This enables image components or elements to be confined to the nearest pixel.
So, with the basics covered, let's turn our attention to some of our top AI image recognition picks:
What are the Best AI Recognition Software Tools for 2023?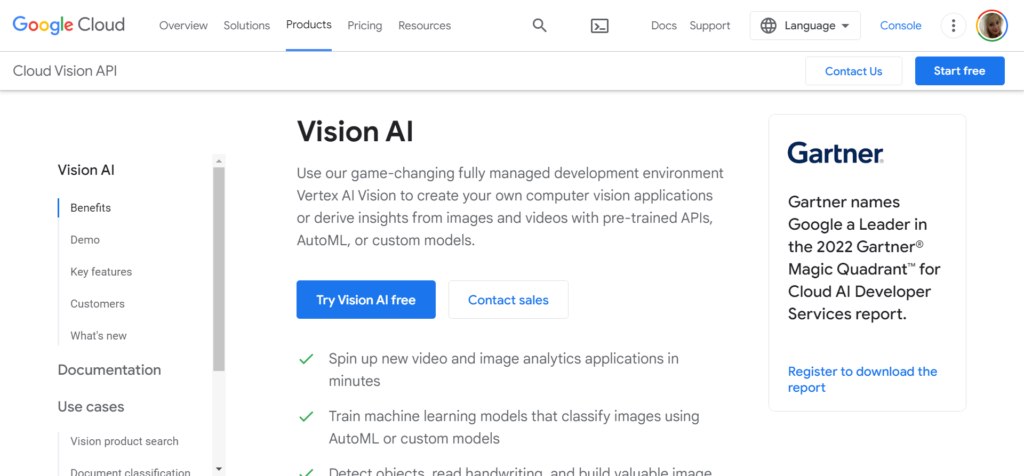 Google Cloud Vision API uses machine learning technology and AI to recognize images and organize photos into thousands of categories. Developers can integrate its image recognition properties into their software.
It's also worth noting that Google Cloud Vision API can identify objects, faces, and places.
Functionality includes:
Safe Search: This detects inappropriate content in images and videos.
Optical Character Recognition (OCR): Interpret text within images, including different languages.
Label and Entity Detection: Identifies the most dominant object within an image.
Facial Detection: As you might have guessed, this boasts face recognition, including individual facial characteristics such as the position of a person's nose, eyes, and mouth. This feature can even identify emotions.
Logo Detection: Picks out brand logos in images.
Landmark Detection: Identifies buildings and places, including their latitude and longitude.
Pricing
Prices are charged per image, with the first 1,000/month being free. After that, for image searches exceeding 1,000, prices are per detection and per action. For example, each text detection and face detection costs $1.50 apiece.
Who is it Best For?
Google Cloud Vision API is fantastic for smaller businesses needing fewer monthly searches. It's also ideal for companies looking for no upfront costs and prefer a platform that only charges for what they use.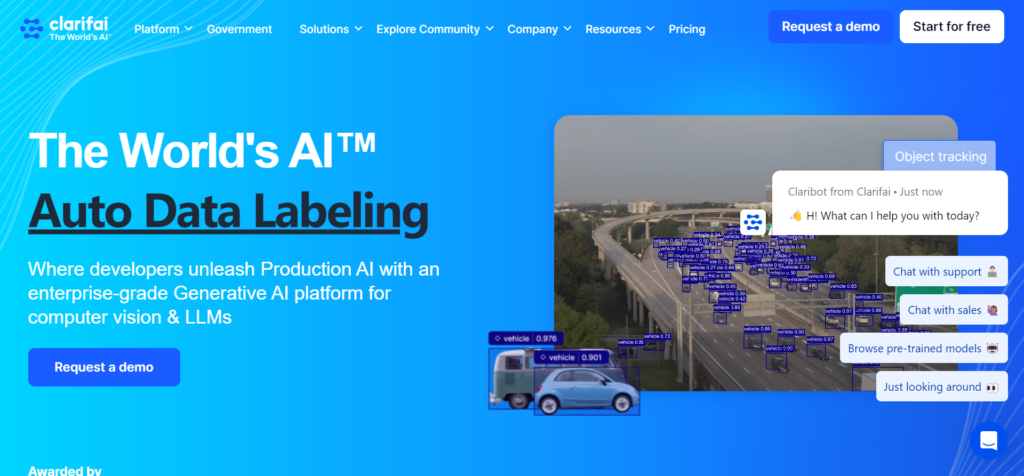 Clarifai is an AI company specializing in language processing, computer vision, and audio recognition. It uses AI models to search and categorize data to help organizations create turnkey AI solutions.
You can process over 20 million videos, images, audio files, and texts and filter out unwanted content. It utilizes natural language processing (NLP) to analyze text for topic sentiment and moderate it accordingly.
Its API supports popular image formats, including JPEG, PNG, TIFF, and WEBP.
Clarifai also boasts responses as quick as 50-500 milliseconds, allowing it to process videos 100 times faster than any human!
Features include:
Input Data: Process any amount of image, text, audio, and video data
Scribe Label: Automatically label, train, and deploy AI using a single tool
Spacetime Search: Search for places, objects, people, and topics within your data
Enlight: Pre-designed and pre-optimized tools to help develop custom AI solutions for your business
Armada Predict: Use AI prediction to gain insights into images, videos, and text.
Mesh: Use machine learning models to perform complex operations with your data, such as indexing, to make your data more searchable.
Pricing
There are four plans:
Community: $0 (Free Forever)
Essential: From $30/mo
Professional: From $300/mo
Enterprise: A bespoke solution for large-scale organizations. You'll have to contact sales for a tailored quote.
Who is it Best For?
Clarifai's primary focus is:
Developers
ML (machine learning) engineers
Larger enterprises
Governments.
That said, Clarifai works with several sectors, including aviation, eCommerce, insurance, banking, retail, media, entertainment, and tourism. So, if your business falls under any of the categories we've mentioned, Clarifai might be worth a look!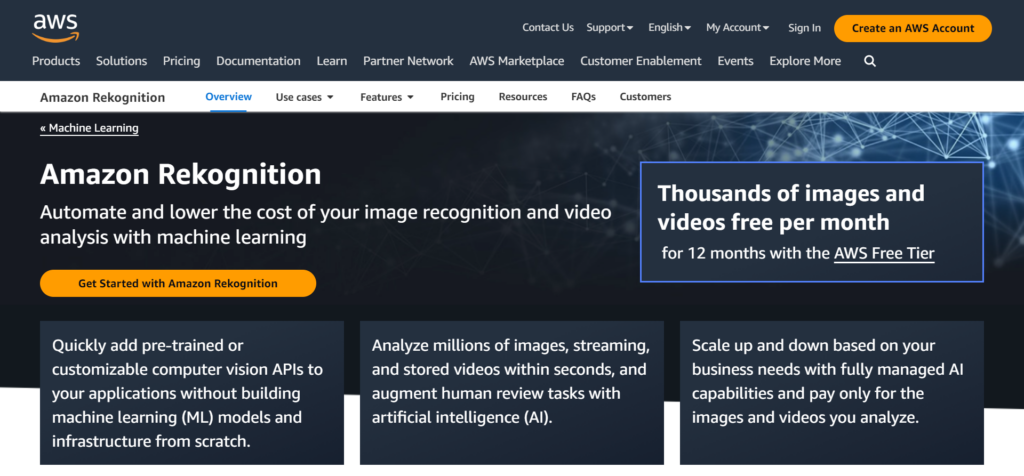 You can use Amazon Rekognition to analyze millions of images and videos.
It aims to offer more than just the manual inspection of images and videos by automating video and image analysis with its scalable technology. More specifically, it utilizes facial analysis and object, scene, and text analysis to find specific content within masses of images and videos.
Plus, you don't need any machine-learning experience to use it!
Features include:
Face liveness: Accurate facial recognition (this includes identifying real users vs. what Amazon calls "bad actors."
Content moderation: Protect your brand by detecting potentially inappropriate, unwanted, or unsafe content in images and videos.
Labels: Detect scenes, activities, landmarks, prominent colors, objects, and image quality.
Face compare and search: Establish how similar a face is against another image from your private image archive.
Custom labels: Use automated machine learning (AutoML) to find objects like brand logos.
Video segment detection: Find key bits in videos like color bars, beginning and end credits, shots, and black frames.
Face detection and analysis: Find faces in images and videos. It recognizes attributes such as glasses, hair, and open eyes. You can also use this feature to verify identity, for example, during onboarding or security access.
Text detection: Extract text from images and videos, for example, street signs, product packaging, and social media posts. Amazon Rekognition can then convert the text into machine-readable text.
Celebrity recognition: Identify famous people from images and media. Use this to catalog photo and video footage for advertising, media, and marketing purposes.
Pricing
It's free to sign up. After that, there are four types of AI recognition usage, each with its own pricing. Prices also depend on your location. Categories are as follows:
Image
Video
Custom Labels
Face Liveness
Amazon Rekognition's pricing structure is in-depth, so I won't attempt to cover it here. Instead, I encourage you to look at their pricing page for more info.
Who is it Best For?
Amazon Rekognition is pretty user-friendly. It's best for beginners (you don't need machine learning know-how) and any organization or individual focusing on image and video analysis.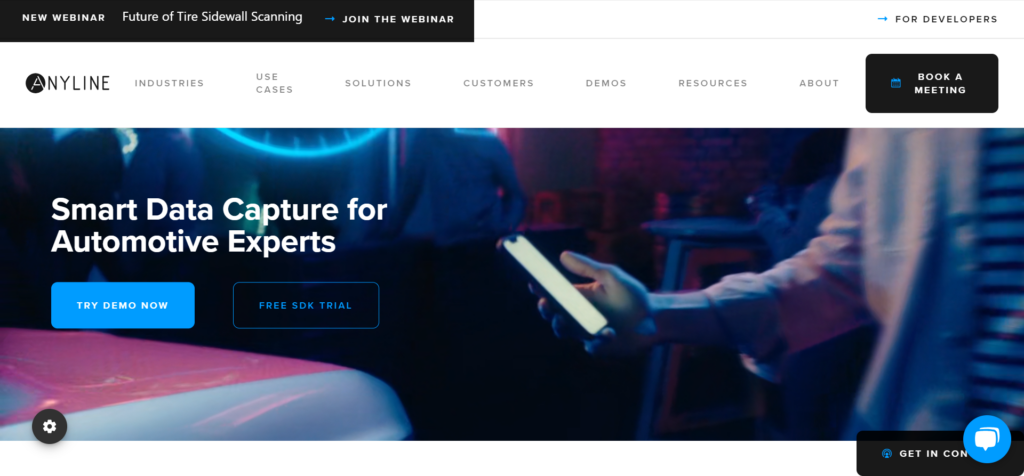 Anyline aims to provide enterprise-level organizations with mobile software tools to read, interpret, and process visual data.
It's specifically aimed at the automobile, energy, utility, and retail industries.
Its software can be integrated into any mobile camera to simplify daily tasks. For example, Anyline can be used in the following scenarios:
Automotive: Tyre scanning, vehicle identification, tire tread scanning, license plate, and odometer scanning.
Energy and Utilities: Meter scanning, including barcodes and serial numbers
Retail: Serial number scanning, barcode scanning, and ID scanning.
Police and Enforcement: Identify people and vehicles in seconds using license scanning, ID, and barcode scanning.
Logistics and Supply Chain: Container identification, barcode, and ID scanning.
Pricing
No prices are available on the Anyline website. Instead, you'll have to contact their team about a tailored solution.
However, I could see that Anyline has two support offerings:
Standard: for standard support
Enterprise: for priority support and training, help getting up and running, and early access to new features
I could also see that Anyline tailors prices for three different workflows:
One-step data capture
Two-step data capture
Multistep data capture
Who is it best for?
Anyline is best for larger businesses and institutions that need AI-powered recognition software embedded into their mobile devices. Specifically those working in the automotive, energy and utilities, retail, law enforcement, and logistics and supply chain sectors.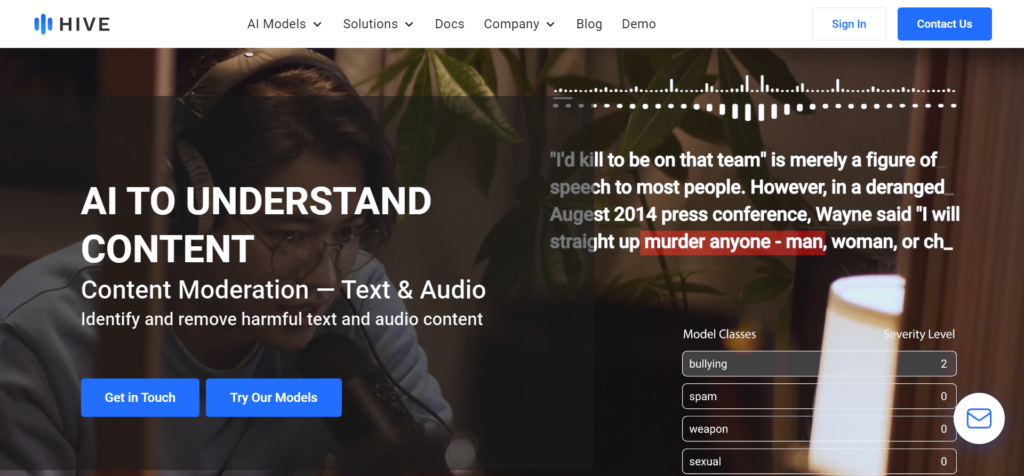 Hive is a cloud-based AI solution that aims to search, understand, classify, and detect web content and content within custom databases.
On top of that, Hive can generate images from prompts and offers turnkey solutions for various organizations, including dating apps, online communities, online marketplaces, and NFT platforms.
Features include:
Visual Moderation: Moderate image and video content with results in as little as 500 milliseconds. The software detects 40+ subclasses, including violence, drugs, hate, and NSFW (unsafe for work).
Text Moderation: Moderates text and text in images across various categories, including sexual and violent content, spam, drugs, cyberbullying, child safety, and many more.
Visual Content: Identifies common objects, settings, and events in images and videos
OCR: Extract emojis from images, extract overlays, scenes, and document text in 15+ languages from pictures and videos
Speech to Text: Transcribe audio in real-time across multiple languages to moderate sensitive topics and offer greater accessibility for your podcasts and videos
Demographic: Identify key demographic attributes in videos and images, such as age and gender, to enforce age-restricted access and target age-specific ad content
Logo and Logo Location: Identify thousands of logos in images and videos to measure brand identification and product placement
Translation: Translate text in real-time across 14 languages to moderate content and improve user experience
AI-Generated Content Classification: Identifies AI-generated content, including images, to pinpoint deep fake content and the use of face filters in images.
Pricing
Prices weren't available on the Hive website. Instead, you have to contact their sales team for a bespoke quote.
Who is it Best For?
Hive is best for companies and agencies that monitor their brand exposure and businesses that rely on safe content, such as dating apps.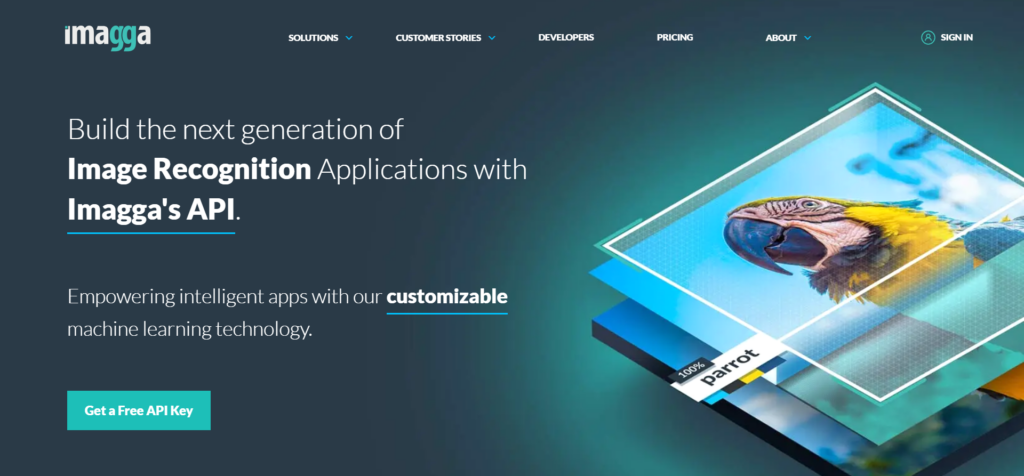 Imagga bills itself as an all-in-one image recognition solution for developers and businesses looking to add image recognition to their own applications. It's used by over 30,000 startups, developers, and students across 82 countries.
Imagga has helped users in the following sectors: technology and cloud, media and entertainment, commerce and retail, advertising, real estate, and hardware/IoT.
Its features include:
Tagging: Automatically assign tags to images.
Visual Search: Allows businesses to introduce image-based search capabilities into their software to improve product discovery
Facial Recognition: Facial recognition in images and videos
Custom Training: Specify how image and video content should be categorized
Categorization: Automatically organize image content into categories.
Not Safe For Work (NSFW): Automated moderation to ensure access to appropriate and safe image and video content.
Cropping: Automatically generate attractive thumbnail images in any size and ratio
Color: Analyze the color content of your images to determine the five most dominant colors to provide meaningful color search capabilities. The API discards background colors so product colors stand out.
Pricing
There are four price plans:
Free: $0 a basic solution with 1,000 monthly API requests
Indie: $79/mo for growing businesses with 7,000 monthly API requests
Pro: $349/mo for businesses needing large volume searches with 300,000 API requests.
Enterprise: A tailored custom-built solution for large-scale organizations, with no prices shown. You have to contact sales for a bespoke quote.
Who is it Best For?
Imagga best suits developers and businesses looking to add image recognition capabilities to their own apps.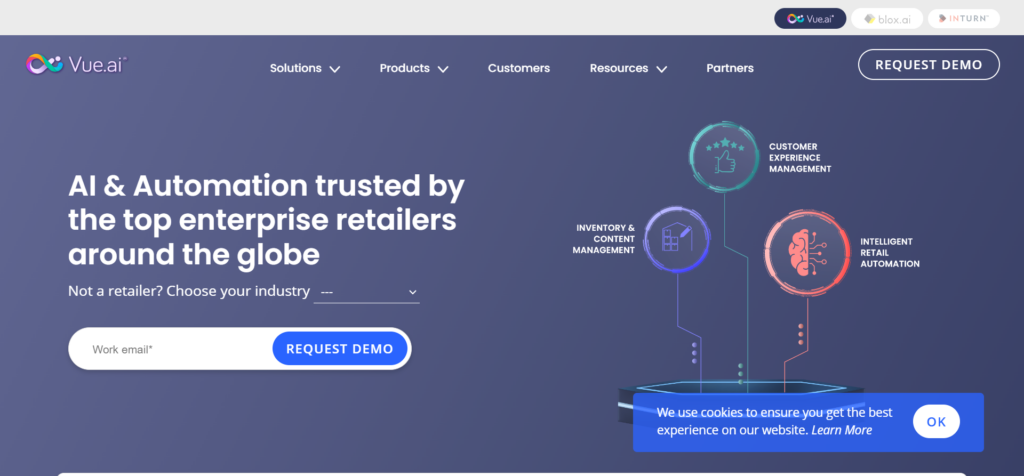 Used by 150+ retailers worldwide, Vue.ai is suitable for the majority of retail businesses, including fashion, grocery, electronics, home and furniture, and beauty.
Vue.ai is an AI-powered software that goes beyond image recognition; it's a holistic experience management suite using computer vision and NLP that you can use to personalize and curate the customer experience and execute end-to-end automation.
Below, I've listed Vue.ai's features relevant to this review:
Image moderation: Use image recognition to check in real-time whether product photos comply with your guidelines
Ecommerce product imagery: Create high-quality on-model product photos using Vue.ai software. This is five times faster than photo shoots and 75% cheaper.
Other features include email notifications, catalog management, subscription box curation, and more.
Pricing
Although you can contact Vue.ai for a free demo, no prices were available at the time of writing.
Who is it Best For?
Vue.ai is best for businesses looking for an all-in-one platform that not only offers image recognition but also AI-driven customer engagement solutions, including cart abandonment and product discovery.
Best AI Image Recognition Software: My Final Thoughts
Hopefully, my run-through of the best AI image recognition software helped give you a better idea of your options.
As always, I urge you to take advantage of any free trials or freemium plans before committing your hard-earned cash to a new piece of software. This is the most effective way to identify the best platform for your specific needs.
That's all from me! Are you considering using AI recognition software? Let me know in the comments box below.