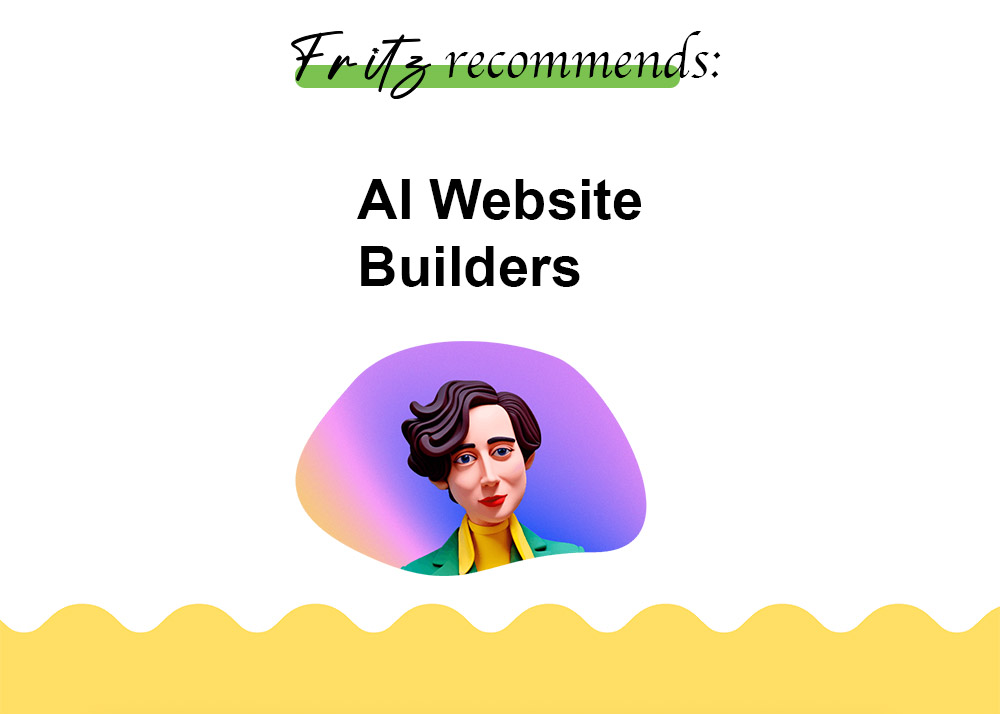 Having a website isn't just a nice-to-have — it's a must-have. But let's be real, not everyone is a coding wizard or has the time to become one. That's why AI website builders are taking off.
These helpful platforms leverage artificial intelligence to simplify the complex task of website creation, making it accessible to everyone. Whether you're a small business owner, a freelancer, or just someone with a big idea, AI website builders are your fast track to a professional online presence.
Today, we're talking about the best AI website builders that can bring your vision to life. But first, what are we even talking about?
What Are the Best AI Website Builders?
Best AI Website Builders – Comparison Table
| Platform | Best for | Stand-out feature | Pricing | G2 Rating (out of 5) |
| --- | --- | --- | --- | --- |
| Shopify | Ecommerce site building with AI functionality. | Options to create a virtual agent to help manage your customer service strategy. | Included with Shopify plans. Subscription packages start at $39 per month for full website-building features. | 4.4 |
| Wix | Small-to-midsized business owners. | Incredible ease of use for beginners, with no coding knowledge required. | Packages with basic ecommerce features start at $27 per month. | 4.2 |
| GetResponse | Small businesses using AI for website creation and marketing. | Intuitive AI Wizard that does all the hard work for you. | Plans start at $16.20 per month with an included AI email generator. | 4.3 |
| Zyro | Anyone, from business owners to hobbyists creating portfolio sites. | Extremely fast loading speeds for excellent user experience. | Plans start at $11.99 per month. | 4.4 |
| Unbounce | Landing pages and one-page websites. | Omnichannel marketing capabilities for social media, email and more. | Free trial for up to 14 days followed by plans starting at $99 per month. | 4.4 |
| Studio AI | Companies looking to simplify the web design process. | Intuitive natural language processing for completing actions with voice commands. | Free forever plan with paid plans starting at $9 per month (paid annually). | 3.8 |
| Durable | Fast development of high-quality websites and portfolios. | Built-in analytics, hosting, and a custom domain name. | Plans start at $15 per month. | N/A |
| Sitekick | High-performing landing pages created without coding knowledge. | AI-generated copy and images for all landing pages. | Monthly subscriptions start at $49 per month. | 4.9 |
| Jimdo | Creating stores, websites, and appointment booking applications. | All-in-one platform for producing various types of sites. | There's a free option with included ads. Paid plans start at $9 per month. | 3.9 |
Table of Contents:
What is an AI Website Builder?
In the simplest terms, an AI website builder is a platform that employs artificial intelligence to assist in the design and development of websites. But let's not stop at the basics, shall we?
Traditional website builders often require a certain level of technical know-how, from understanding HTML and CSS to getting the hang of drag-and-drop interfaces. While they've made website creation more accessible, there's still a learning curve.
AI website builders, on the other hand, are like having a virtual web developer at your fingertips. You might start by answering a few questions or even providing a website you admire. The AI then takes this information and creates a website that's tailored to you.
What are The Best AI Website Builders for 2024?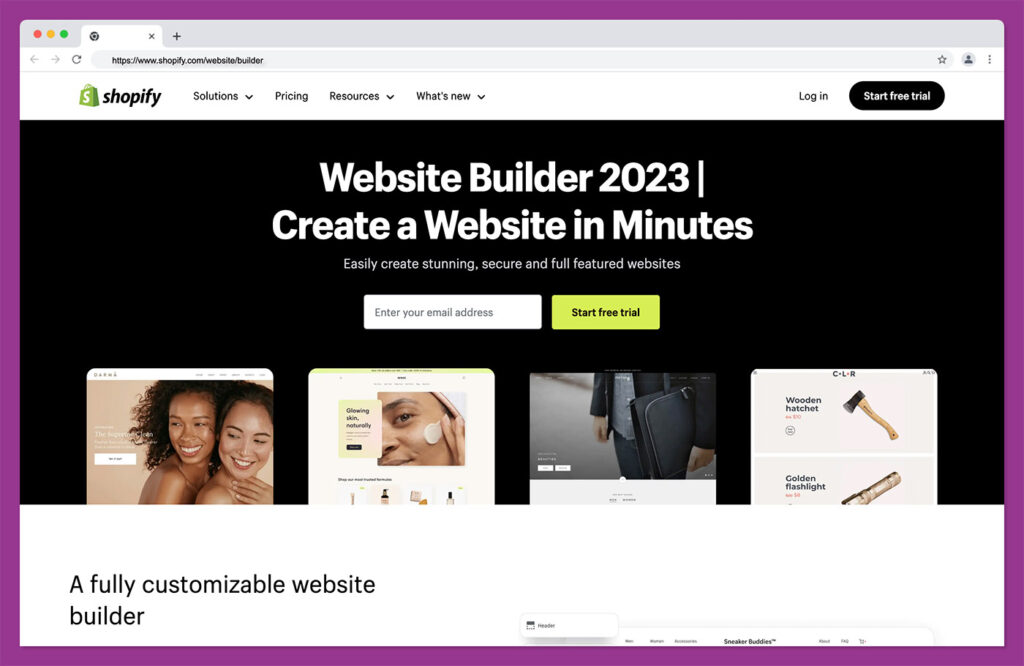 Shopify is one of the most popular ecommerce platforms today. Not only is it extremely easy to use and intuitive, but its constantly evolving, with new solutions for omnichannel selling, automation, and even enhancing your business with artificial intelligence. The "Shopify Magic" collection includes a selection of AI-powered tools to explore.
Key Features
Comprehensive ecommerce tools: Shopify supports all kinds of ecommerce brands, allowing you to sell everything from services and subscriptions to physical products.
Unique AI assistant: The Sidekick AI assistant for Shopify provides insights into how to create blog posts, design amazing product pages and more.
Automation: Sidekick can tackle repetitive tasks, tedious workflows, research, and more, with unlimited access on all plans.
Content creation: Design blogs, articles, web pages, and emails in seconds, with personalized content creation capabilities.
Customer service: Create your own AI bot capable of responding to customer queries with FAQ links and more.
Pricing
Shopify Magic is available with all Shopify subscription plans, offering unlimited access to the platform's AI tools, and Sidekick assistant. Plans for Shopify start at $39 per month for full access to the website building tools and ecommerce capabilities.
Pros
Flexibility: Companies can use Shopify to sell a variety of products and services, and leverage omnichannel growth capabilities.
Ease of use: Just like Shopify's other tools, the AI solutions are convenient and straightforward, with no coding knowledge necessary.
Proprietary data: Shopify Magic tools are trained on Shopify proprietary data and ChatGPT APIs, for more personalized and relevant results.
Cons
Accessibility: Tools like Sidekick are only available to selected merchants in "early access" mode at present.
Who is This Best For
If you're building an ecommerce store, Shopify is the perfect solution for omnichannel, multicurrency sales, with AI innovation built in.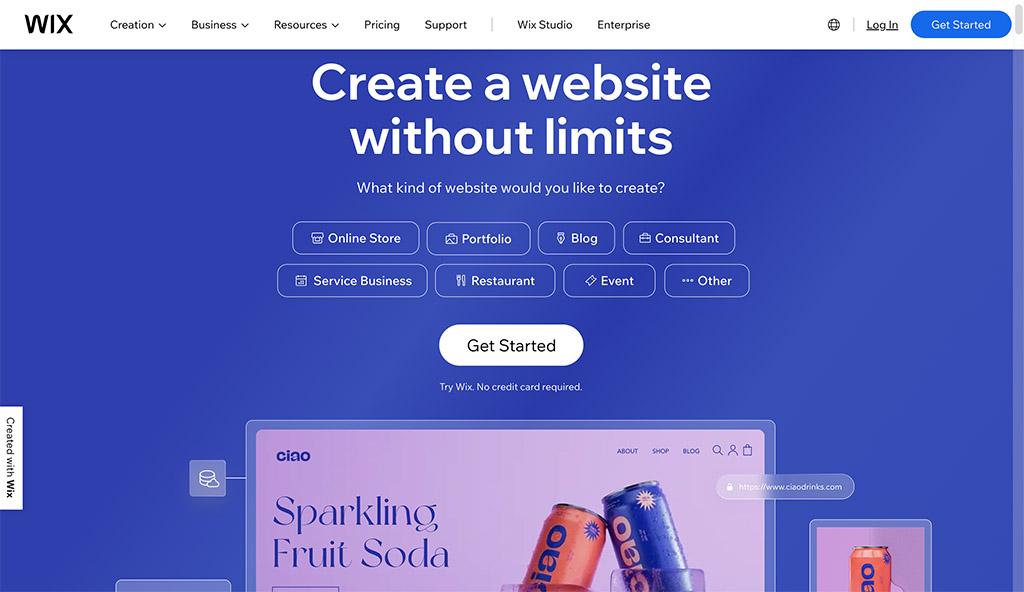 If you're in the market for an ecommerce-focused website builder, Wix should be on your radar. This platform can help you establish a full-fledged online storefront using the Wix ADI (Artificial Design Intelligence) tools.
Key Features
Intuitive Drag-and-Drop Editor: Move around elements and choose from a wide selection of design options.
Includes a Custom Domain: Some plans include a custom domain to further add credibility to your site.
Comes with Branding Tools: Included logo maker and other branding tools make it easier to build and launch a shop that stands out.
Pricing
To get basic eCommerce features, you'll need to pay $27 per month for the Core plan which includes perks like 50GB of storage space and basic marketing tools.
Pros
Ease of Use: Wix's user-friendly interface ensures that even tech beginners can set up an online store.
Comprehensive eCommerce Tools: From managing your inventory to handling payments, Wix does it all.
SEO Capabilities: The platform comes with SEO features that help improve your site's visibility on search engines.
Highly Customizable: With an extensive range of templates and design elements, you can craft a site that truly reflects your brand.
Cons
Cost Can Add Up: As you integrate more advanced features, the monthly fee can escalate.
Who is This Best For
Wix is a perfect fit for small to mid-sized businesses aiming to establish a robust online store without getting tangled in code.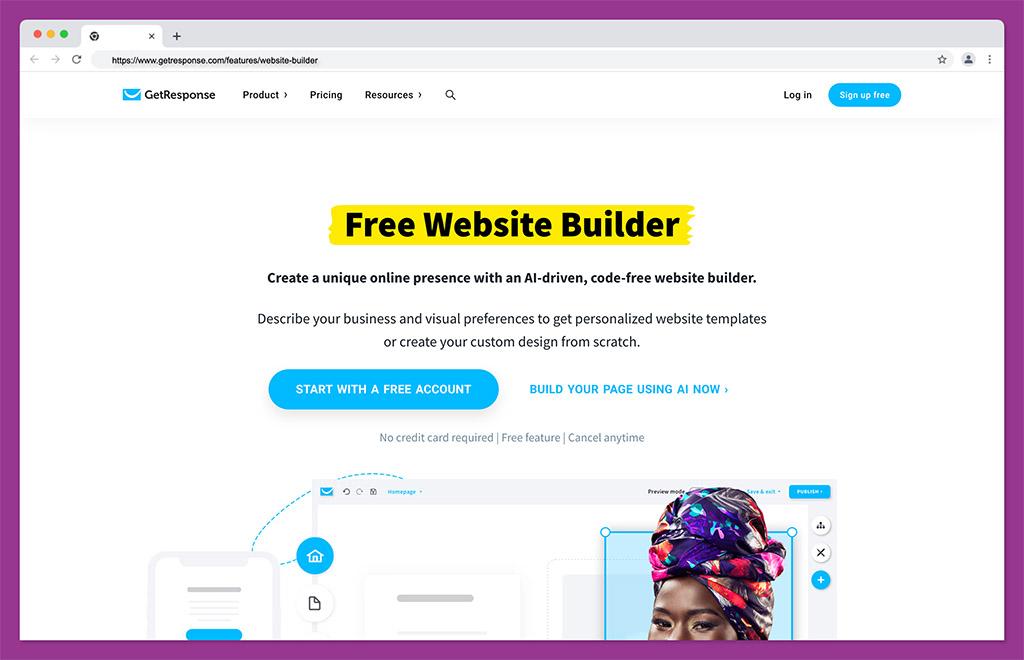 If you're a small business owner looking for a website builder that's both feature-rich and easy to use, GetResponse might just be your perfect match. Unlike traditional website builders, GetResponse offers an AI-powered and code-free experience that allows you to create a personalized website in no time.
Key Features
AI Wizard: Create an AI-generated website by answering a few questions about your business.
Drag-and-Drop Editor: Customize your site effortlessly with a user-friendly interface.
SEO Tools: Built-in SEO features help your site rank better in search engines.
Built-in Popups: Engage your visitors with timely forms and popups to increase conversions.
Pricing
GetResponse offers several plans that start at $16.20/month and include an AI email generator and website and landing pages.
Pros
User-Friendly: The platform is designed for ease of use, making it ideal for those who aren't tech-savvy.
All-in-One Marketing Suite: Beyond just website building, GetResponse offers a complete online marketing suite.
Customizable Templates: Choose from a variety of industry-specific, pre-designed templates.
Cons
May Require Additional Tools: For specialized functionalities, you might need to integrate third-party tools, which could complicate the setup process.
Who is This Best For
GetResponse is particularly well-suited for small businesses that are looking to establish an online presence quickly and efficiently.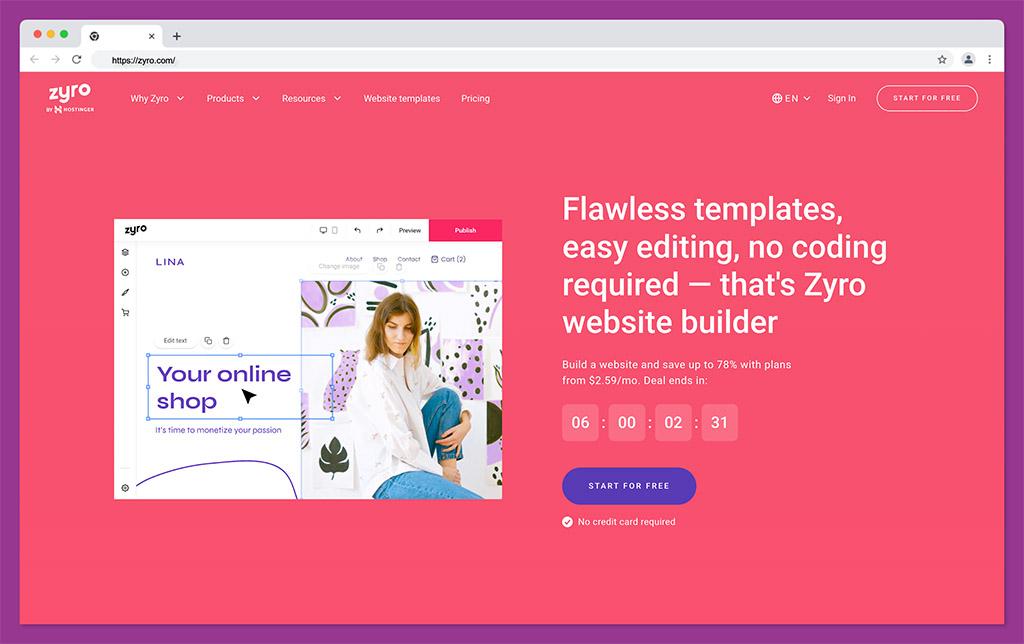 If the mere thought of coding makes you break out in a cold sweat, Zyro is your obvious website builder of choice. This platform is designed with a no-code philosophy, making it accessible for anyone.
Key Features
AI Setup: Zyro's AI tools take the guesswork out of designing your homepage, helping you create a site that does precisely what you want it to do.
Drag-and-Drop Editor: No coding is required here—just drag-and-drop elements to build your site.
Fully Customizable Templates: Choose from a wide range of templates and tweak them to your heart's content.
Pricing
Zyro offers two plans, with prices starting as low as $11.99 per month. This makes it an affordable option for those who are budget-conscious but still want a feature-rich website.
Pros
Affordable: A low price point makes Zyro an attractive option.
Fast Load Times: Zyro websites are optimized for speed.
Cons
Limited Advanced Features: While Zyro is great for basic websites, it may lack some advanced functionalities that more experienced users might seek.
No Free Plan: Unlike some other website builders, Zyro doesn't offer a free plan, which could be a drawback for some users.
Who is This Best For
Zyro is perfect for anyone — be it a hobbyist or business owner — who wants to create a website but can't code.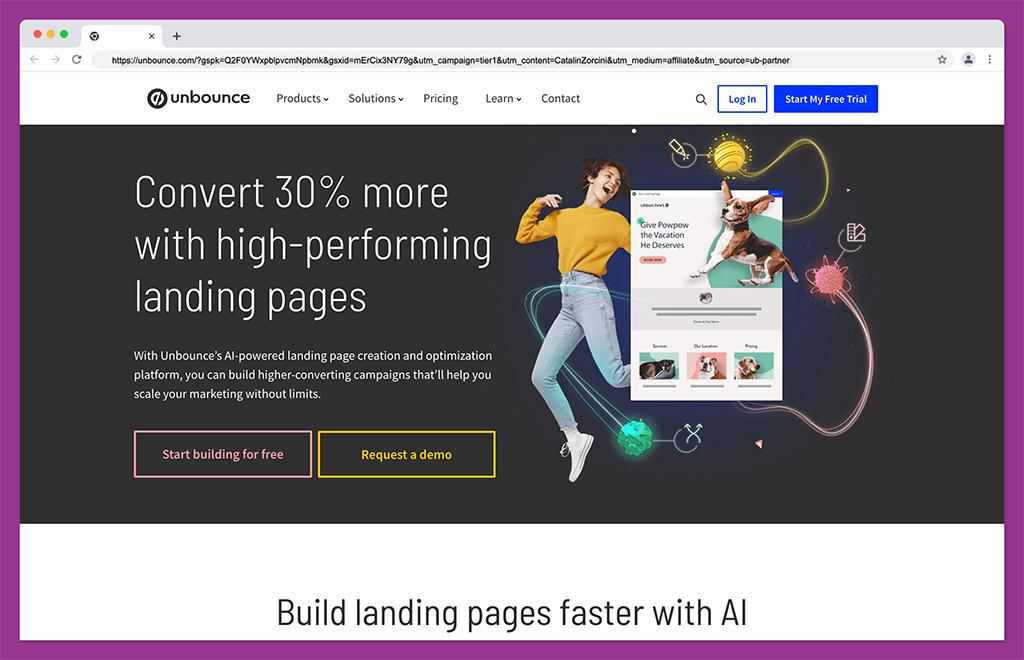 For those looking to build a one-page website that packs a punch, Unbounce should top your list of considerations. This platform specializes in creating high-converting landing pages, making it a go-to choice for businesses that want to make the most out of every visitor.
Key Features
AI-Powered Optimization: Unbounce uses AI to route visitors to the most effective landing page.
Drag-and-Drop Editor: Create and customize your landing pages on the fly.
Multi-Channel Marketing: Whether it's search ads, social media, or email marketing, Unbounce can do it.
Pricing
Unbounce offers a free 14-day trial to get you started but after that, plans start at $99/month.
Pros
User-Friendly: The platform is designed to be intuitive, making it easy for users of all skill levels.
High Conversion Rates: Thanks to AI optimization, Unbounce aims to boost your conversions significantly.
24/7 Customer Support: If you hit a snag, Unbounce's customer support is available around the clock.
Cons
Limited Advanced Features: While great for landing pages, the platform may lack some functionalities for more complex websites.
Who is This Best For
Unbounce is a great choice for those who need to create a single, high-converting landing page.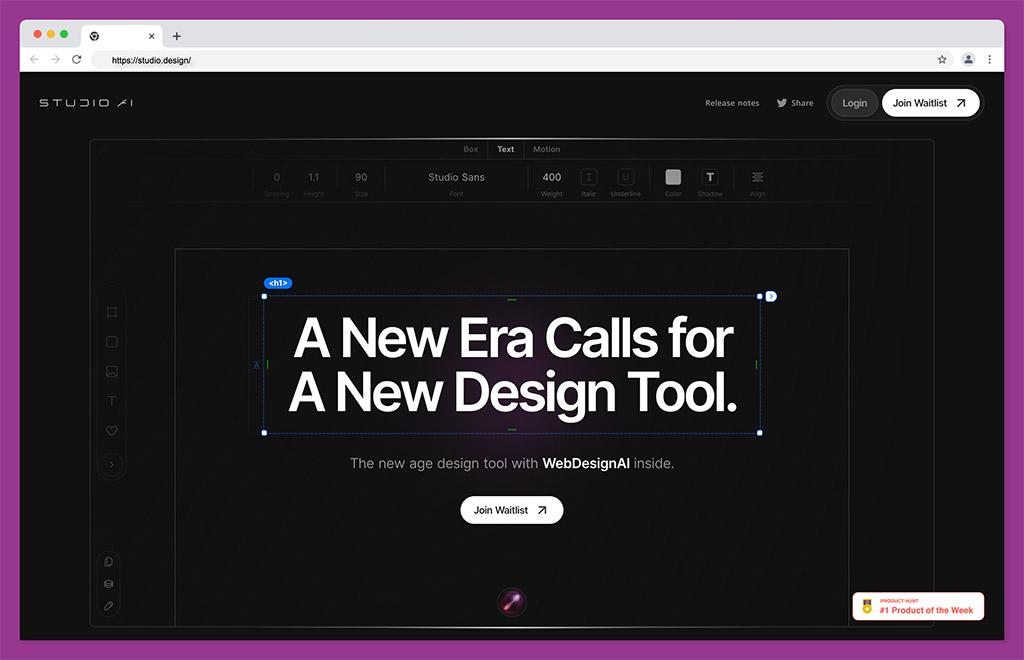 Studio Design is best described as a next-gen platform in that it leverages AI to make website design as intuitive as possible.
Key Features
WebDesignAI: This AI-powered feature understands your design preferences and can perform complex actions based on a single line of feedback.
Freeform Design Editor: This editor offers a powerful yet simple-to-use interface that shows style and effect controls right where you need them.
Voice Commands: You can complete daily design tasks using only your voice, making the design process even more seamless.
Real-Time Publishing: Once you're satisfied with your design, hit publish to turn your site designs into an actual website without any coding.
Pricing
As of now, Studio Design is offering early access starting from May 1, 2023. Detailed pricing information is not available on their website.
Pros
Intuitive Design: The platform's AI understands your design needs, making the process user-friendly.
No Coding Required: The platform allows you to publish your designs directly, eliminating the need for any coding.
Cons
Still in Early Access: As the platform is still in its early stages, some features may not be fully developed yet.
Who is This Best For
Studio Design is a solid choice for anyone looking for an intuitive, AI-powered design tool that simplifies the web design process.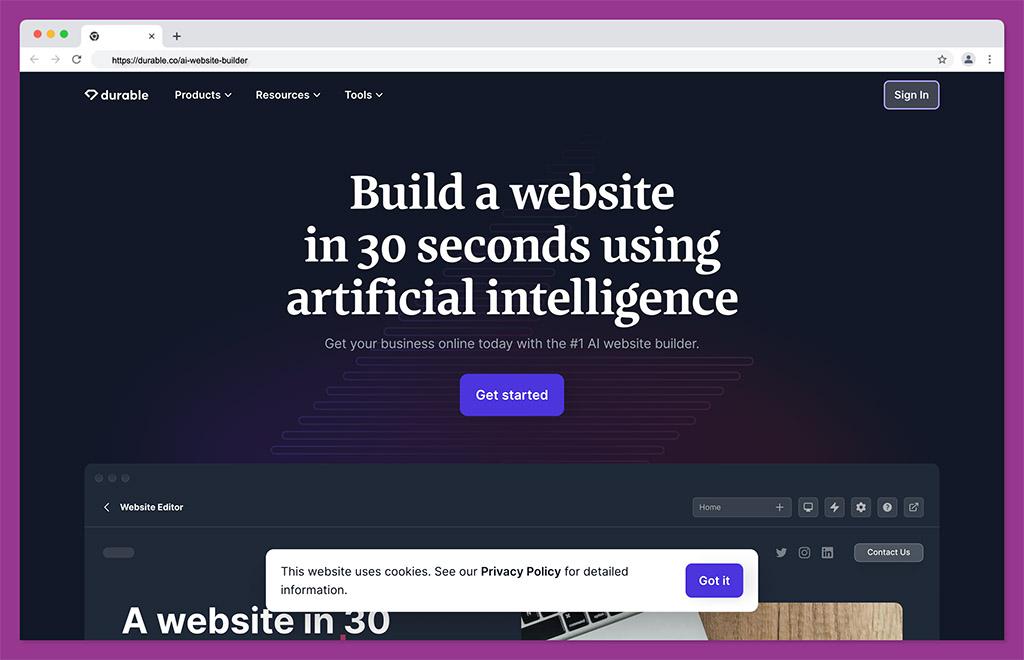 Now, if you're someone who wants to launch your website as fast as possible, Durable is the one to look at. This AI website builder promises to get your business online in just 30 seconds.
Key Features
30-Second Website Creation: Durable's AI technology can generate a full-fledged website for you in half a minute.
Built-in Analytics and Domain: The platform comes with hosting, analytics, and a custom domain name, offering an all-in-one solution.
AI Editor: Customize your site with various built-in components, from testimonials to scheduling, without any coding.
SEO and Security: Durable generates SEO-friendly pages through automation and offers robust security features, including DDOS protection and SSL.
Pricing
Durable offers its services starting at $15 per month, making it an affordable option for businesses of all sizes.
Pros
Speedy Setup: The platform's promise of a 30-second website is a game-changer for those who need to go online quickly.
Comprehensive Offerings: From analytics to security, Durable provides a well-rounded package.
User-Friendly: The AI-powered editor makes customization a breeze, even for those without technical skills.
Cons
Limited Customization: Given the speed at which websites are created, you may find some limitations in customization options.
Who is This Best For
Durable is an excellent choice for anyone who needs a website yesterday.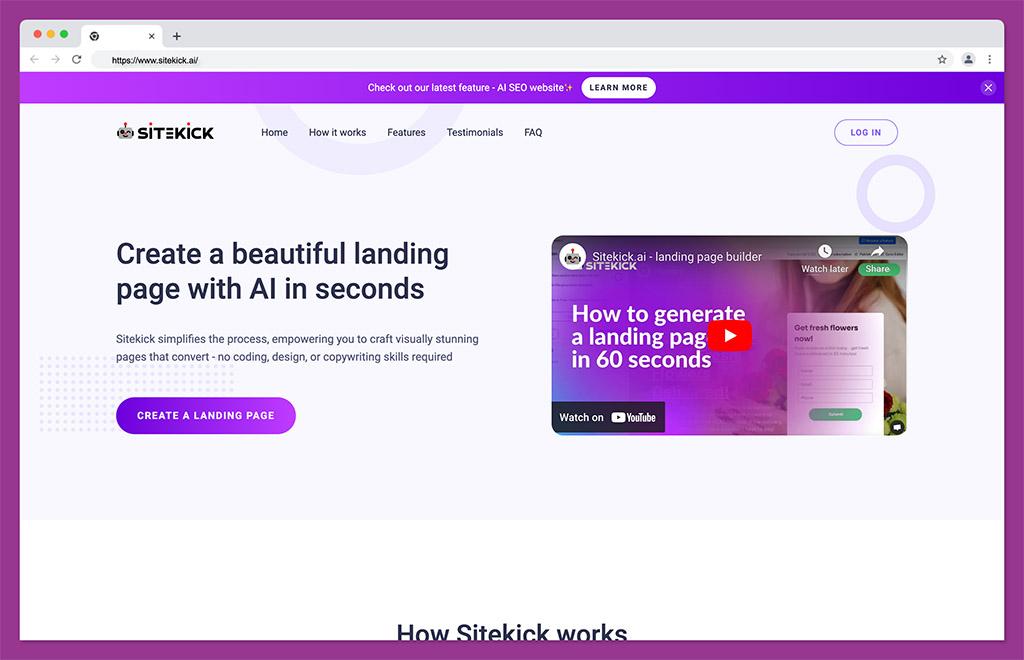 Another great option is Sitekick, which makes it easy to create landing pages that not only look good but also convert. Use teh AI tools to create landing pages, generate copy, add images, and even optimize for SEO.
Key Features
One-Click Landing Page Creation: Just input your product name and a brief description, and Sitekick takes care of the rest.
AI-Generated Copy and Images: The platform uses AI to create compelling copy and add high-quality, copyright-free images.
Customization: You have the freedom to tweak and publish your landing pages to better align with your brand.
Pricing
To use Sitekick, you'll need to pay for Sitekick Pro Monthly, which costs $49/month.
Pros
Time-Saving: The platform's one-click landing page creation frees up your time to focus on other aspects of your business.
High-Quality Copy and Design: Benefit from AI-generated copy and images that are designed to convert.
SEO-Friendly: Your landing pages will be optimized for search engines.
Cons
Limited Scope: Sitekick specializes in landing pages, so it may not be suitable for those looking for a more comprehensive website builder.
Who is This Best For
Sitekick is a fantastic option for people who want to create high-converting landing pages without the need for design or coding skills.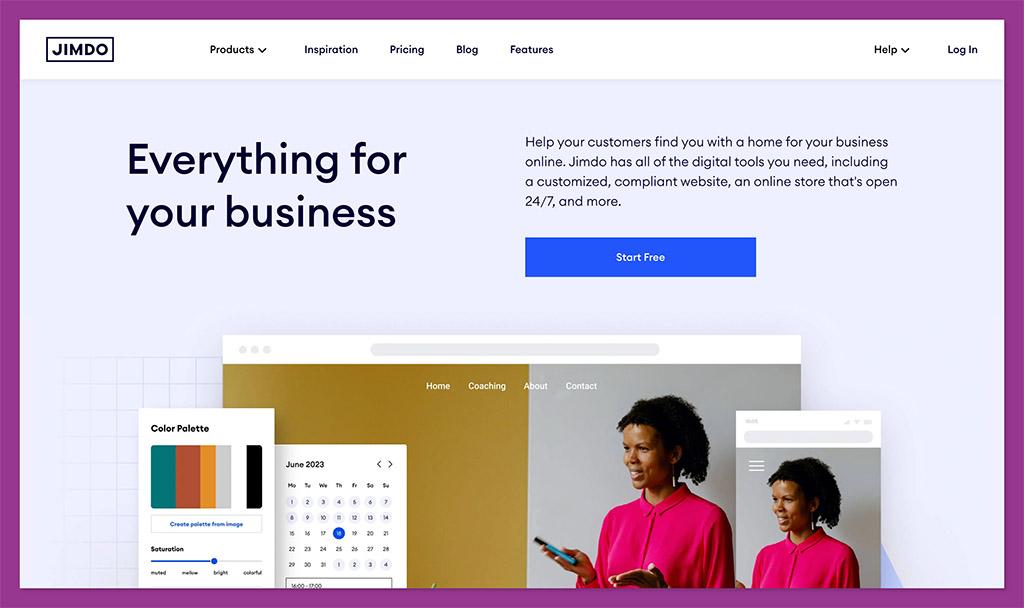 Designed to be an all-in-one solution, Jimdo offers a range of digital tools that go beyond just website building. From an online store that never closes to booking features and even a free logo maker, Jimdo aims to be your business's digital home.
Key Features
Customized Websites: Jimdo provides all the tools you need to design your website exactly how you envision it.
Online Store: Create an online store without transaction fees and manage all your orders in one place.
Booking Appointments: The platform allows your customers to book appointments directly on your site.
Payment Options: Accept payments via PayPal or Stripe to make transactions smooth and easy.
Pricing
Jimdo offers a "Start Free" option but if you want an ad-free experience, prices start at $9/month for the website builder and $18/month for the online store builder.
Pros
Versatility: Jimdo is not just a website builder — it's a comprehensive digital platform for your business.
No Transaction Fees: Unlike some platforms, Jimdo doesn't charge transaction fees, allowing you to keep all your profits.
Cons
Limited Advanced Features: While Jimdo offers a range of features, it may lack some of the advanced functionalities that more complex websites require.
Who is This Best For
Jimdo is an excellent choice for small business owners who are looking for an all-in-one digital solution.
FAQs
What is the Best AI Website Builder?
The "best" AI website builder is a bit of a moving target, as it hinges on what you're looking to achieve.
For instance, if you're all about ecommerce, Wix is often touted as a top pick.
On the flip side, if you're a no-code enthusiast, Zyro could be right up your alley.
Each platform has its unique strengths and weaknesses, so your specific needs will guide your choice.
How Much Does it Cost to Build an AI Website?
The financial investment you'll need to make for an AI website can be quite a mixed bag. Some platforms, like Zyro, offer budget-friendly paid plans that start at just a couple of bucks per month. A number of these platforms offer free trials or scaled-down free versions, so you can dip your toe in before diving in wallet-first.
How Much Does it Cost to Build an AI Website?
ChatGPT is a jack-of-all-trades when it comes to needing an AI assistant or AI writer for content generation and customer questions, but it's not going to build a professional website for you from the ground up. You'll still need a specialized website builder for the main structure of your site. That said, ChatGPT can be a handy sidekick for generating content, brainstorming, and even offering some customer service once your site is live and kicking.
Conclusion
Whether you're a small business owner, a digital marketer, or someone just looking to dip their toes into creating a website, there's an AI website builder tailored to your needs. From Wix's eCommerce prowess to Zyro's no-code philosophy, each builder offers unique features that cater to specific goals.
And no matter the type of website you wish to create, there's a page builder out there that can streamline how you build functional websites using AI features.
So take the plunge, experiment, and hopefully, you'll find the perfect AI website builder for your situation. Good luck!