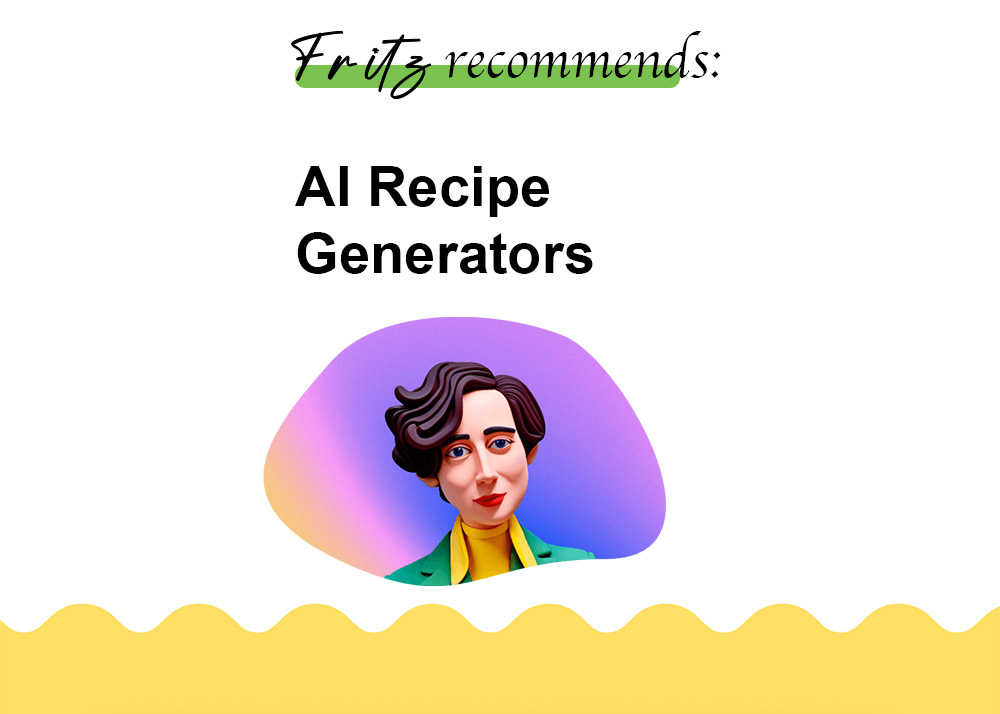 In this article, we're taking a peek at some of the best AI recipe generators on the market. If you want to get your culinary mo-jo back (or get it for the first time!), you're in the right place.
Who knows? Perhaps they'll ignite your inner chef!
Quick verdict
If you don't have time to read this entire round-up, here's the bottom line up front:
If I were to choose just one out of these artificial intelligence recipe generators, I'd go for ChefCPT. It's the most sophisticated, and although it has a pricing structure, you still get a reasonable amount of recipes on its free plan. Its paid plan is also pretty affordable.
With that said, let's dive in!
In this article:
What Is an AI Recipe Generator?
AI recipe generators are powered by machine learning algorithms to analyze multiple online data sources, such as online recipes, cookery blogs, and so on, to provide customized recipes in seconds.
Depending upon what you ask the generator to do, it can consider the ingredients you prefer to include and/or omit, dietary preferences, and even your level of cooking expertise.
Benefits of Using an AI Recipe Generator
Irrespective of whether you're a seasoned cook or an absolute beginner, there are several benefits to using an AI recipe generator:
Instead of leafing through recipe books or trawling through pages of Google searches to find the right recipe, an AI recipe generator can provide almost instant recipes based on your available ingredients. Needless to say, this saves you tons of time and effort.
You can instruct AI recipe generators to include ingredients close to their expiry date that might otherwise have to go in the trash, decreasing food wastage.
AI recipe generators can help you become a more creative cook because they might encourage you to combine flavors you wouldn't have otherwise considered.
You can generate limitless numbers of delicious recipes in no time at all.
Now we've covered the basics, let's look at some of the best AI recipe generators out there:
What are the Best AI Recipe Generators in 2023?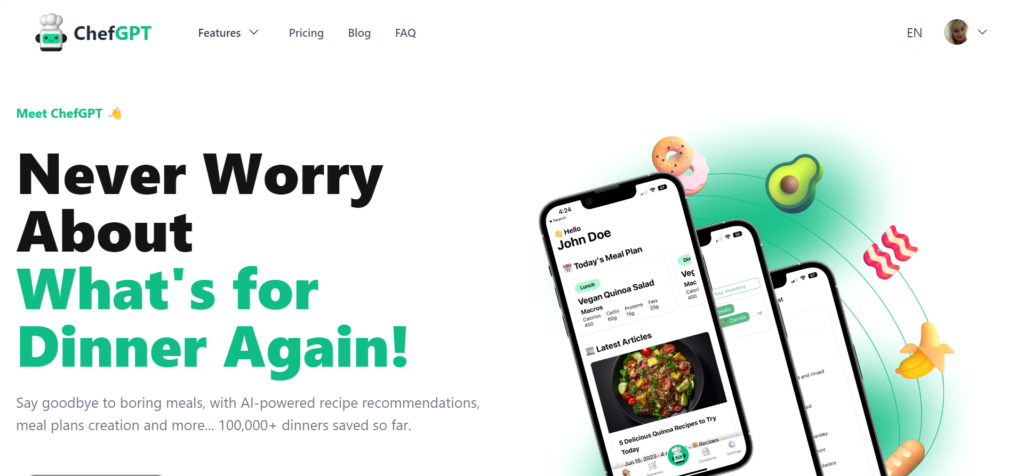 ChefGPT can be used via a desktop or app. The app can be downloaded from Google Play or the Apple App Store.
It's free to get started; just create an account, and once you've done that, you're taken to the ChefGPT dashboard. From here, you can:
Type in your ingredients
Select which meal you want to create (breakfast, lunch, dinner, or snack)
Select from a ChefGPT list which kitchen tools you have (stove top, food processor, blender, etc.)
Select how much time you have.
Tell ChatGPT what cooking skill level you are (novice, intermediate, expert)
Select the desired Chef Mode (For example, Gourmet Mode will only use the best combination of your ingredients, whereas All-In Mode will use all the ingredients you type in).
You can also save recipes to your 'cookbook' and add ingredients to your shopping list.
Unlike DishGen, ChefGPT has pricing tiers:
Basic: $0 Free Forever. This includes:
Five monthly generated recipes
PantryChef Mode (the basic recipe generator described above)
You can save five recipes in your cookbook
You can save five recipes in your Shopping List
Pro: $2.99/mo or $29.99/yearly, including a free seven-day trial. You get everything in the Basic plan, plus:
Unlimited generated recipes
MasterChef Mode: Add dietary requirements and receive personalized recipes based on your tastes
MacrosChef Mode: Customized recipes based on your macronutrient goals (calories, proteins and fats)
MealPlanChef Mode: Builds you a meal plan to support your fitness and dietary goals
PairPerfect Mode: Receive wine and beer pairing suggestions for your recipes
You can add unlimited recipes to your cookbook
You can add endless recipes to your shopping list
No ads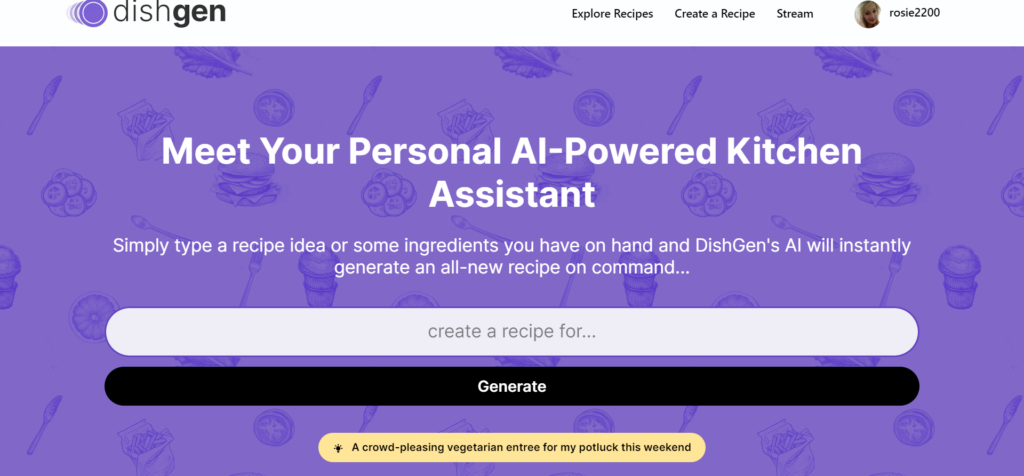 DishGen is really user-friendly. You can create 30,000+ recipes! Just type in the ingredients you want to use in the search bar or tell DishGen your recipe idea. You can also add dietary preferences such as low-fat, vegan, carb-free, or gluten-free.
DishGen immediately gets to work and populates a recipe for you to try.
The recipe includes:
A recipe title
A description of the dish
Ingredients
Recipe steps
Although you can generate recipes without signing up for an account, DishGen recommends creating one so you can save, print, and share your recipes. You manage your account via the DishGen dashboard.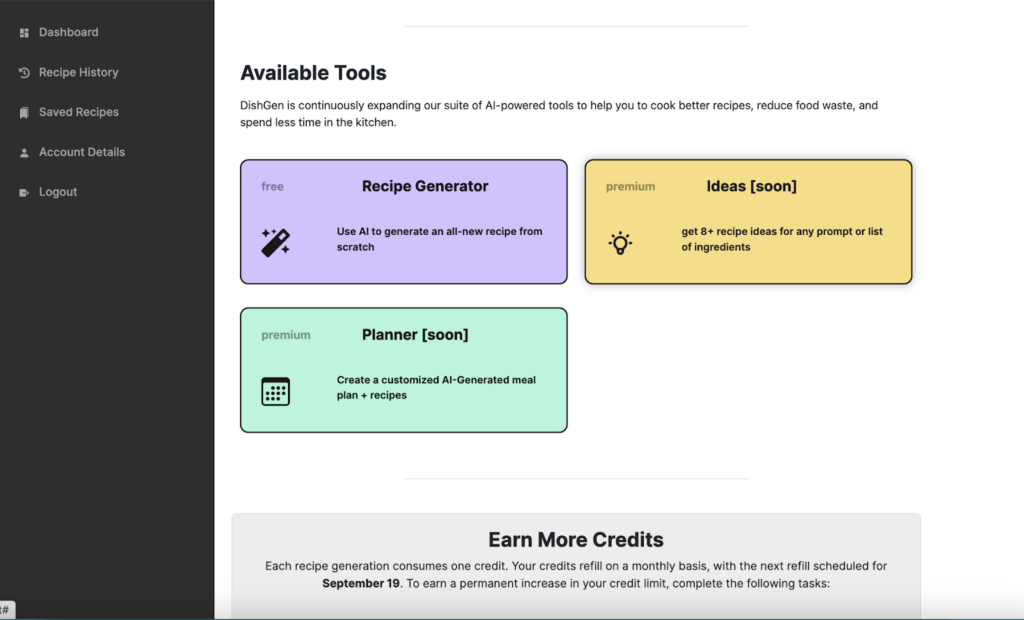 At this point, it's worth noting that a DishGen basic account is free forever and entitles you to:
20+ recipe generation credits every month
You can save your recipe creation history on your account history page.
Access to the Bookmark Folder (tap the bookmark icon on any recipe you create or other recipes created by other DishGen users).
Earn more credits if you upload images of your recipes, leave comments, and share recipes on social media like Twitter, Facebook, and Pinterest.
There are no paid accounts, although, inside my dashboard, I could see that two premium features are coming soon:
8+ new recipe ideas from any prompt or list of ingredients
Planner (create a custom AI-generated meal plan).
However, no costs were attached to these features at the time of writing, and you can't seem to purchase more credits.
DishGen also offers a Recipe Bank of recipes already generated by DishGen users. This is available to see whether you have an account or not.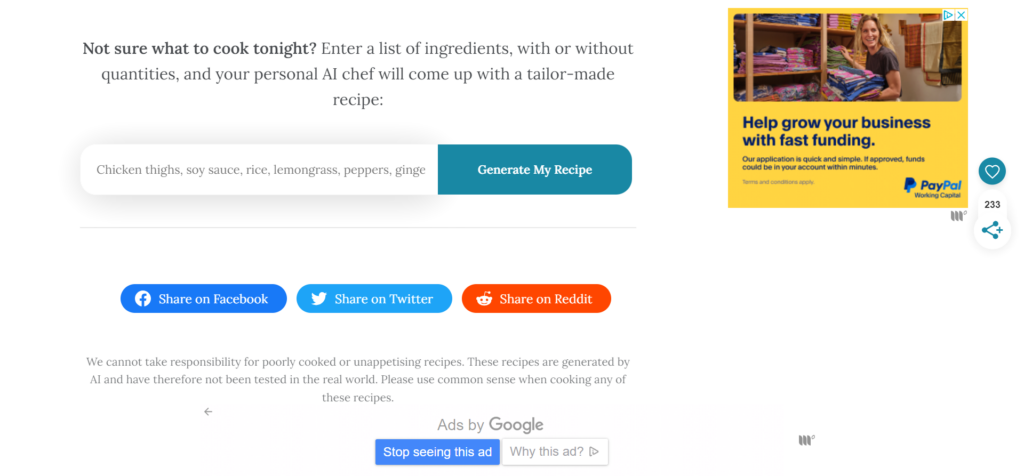 Created in 2021, Let's Foodie works very much like DishGen in that you type in a list of ingredients, and Let'sFoodie AI generates a recipe for you.
Recipes include:
A recipe title
A list of ingredients, including quantities
Cooking instructions
You don't need to sign up for an account to use Let's Foodie, and there were no pricing plans at the time of writing.
A recipe share option on the Let'sFoodie recipe generator page enables you to share whatever recipe you generate on Facebook, Twitter, and Reddit.
Aside from its simple AI recipe generator tool, Let'sFoodie offers a blog with guides on different aspects of cooking, including:
How to Freeze (e.g., marinated meat, goulash)
How to Cook (e.g., how to roast courgettes, poach duck eggs, etc.)
How to Microwave (e.g., quinoa, milk, carrots)
How to Prepare (e.g.rhubarb, asparagus)
How to Reheat (e.g., custard, creme brulee, beef wellington)
How and What to Serve (e.g. with chicken casserole, nachos)
How to Store (no information given here)
You'll also find FAQs in the following categories:
Baking
Cooking
Eating
Leftovers
Comparisons (between similar types of foods, e.g., cottage cheese vs. cream cheese)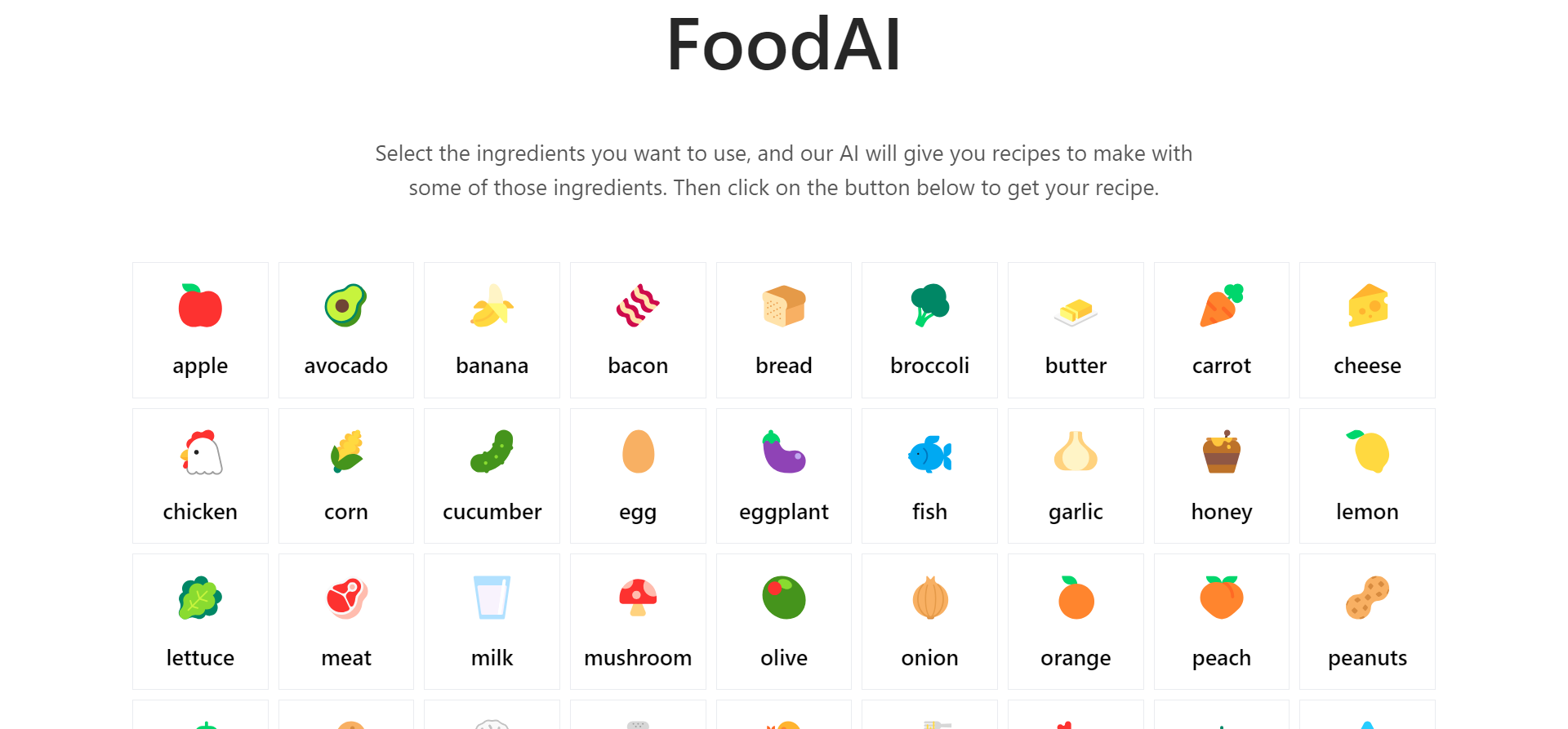 FoodAI is a simple-to-use site. Just click on the ingredient icons you want in your recipe. For example, cucumber, eggplant, onion, garlic, chicken, salt, etc. Then, once you've done this, you can customize your recipe by giving FoodAI more information. Beneath the list of the aforementioned food icons, you choose from a series of options, including:
Add extra ingredients to include in your recipe
Type in ingredients you want to ban from your recipe
Choose if you want a vegan or vegetarian recipe
Choose if you want a recipe for celiacs
Which region you want your recipe from (Asian, American, European, African, Australian, Middle Eastern, Latin American)
Any extra description you think AI needs before a recipe is generated, e.g., low-fat
The downside is that you can only generate a recipe by signing up for an account. The first 30 days are free. After that, you pay $0.99/mo – but you can't access the free 30-day trial without leaving your credit card details.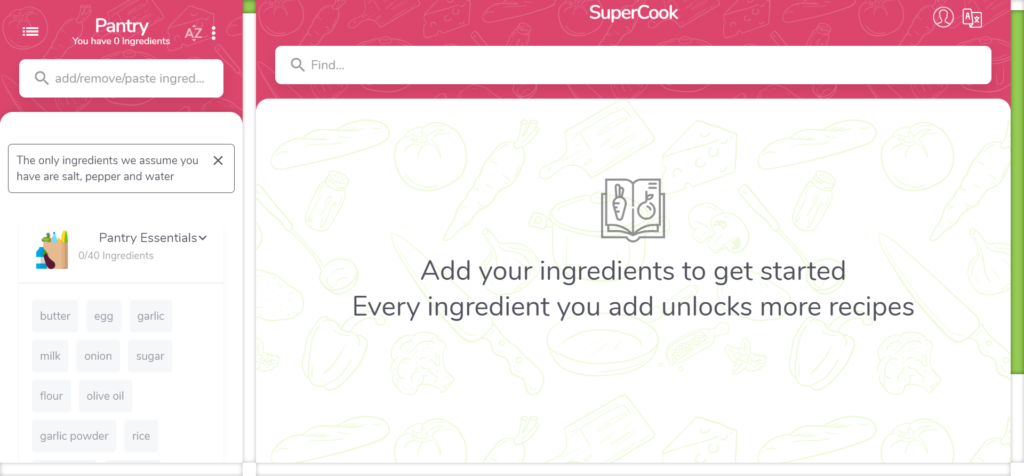 SuperCook can be used on a desktop or as an Android or iOS app.
The recipe generator homepage is pretty simple, and you can change the language setting from English to 23 other languages, including French and Spanish. From here, you can build your SuperCook ingredient pantry based on what you already have at home. SuperCook assumes you only have salt, pepper, and water. You'll see an extensive list of food categories and ingredients within those categories. Just click the ones you want to include in your pantry to form the basis of any recipes generated by SuperCook.
Food categories are as follows:
Pantry: 40 Ingredients
Vegetables and Greens: 100 varieties
Mushrooms: 40 varieties
Fruit: 100 varieties
Berries: 43 varieties
Nuts and Seeds: 43 varieties
Cheeses: 100 varieties
Dairy and Eggs: 82 varieties
Dairy and Meat Free Substitutes: 100 varieties
Meat: 100 varieties
Poultry: 87 varieties
Fish: 100 varieties
Seafood and Seaweed: 50 varieties
Herbs and Spices: 100 varieties
Sugars and Sweeteners: 100 varieties
Seasonings and Spice Blends: 100 varieties
Baking Ingredients: 100 varieties
Premade Doughs and Wraps: 41 varieties
Grains and Cereals: 81 varieties
Legumes: 66 varieties
Pasta: 87 varieties
Bread and Salty Snacks: 100 varieties
Oils and Fats: 73 varieties
Dressings and Vinegars: 65 varieties
Condiments: 100 varieties
Canned Food: 100 varieties
Sauces, Spreads and Dips: 100 varieties
Soups, Stews, and Stocks: 88 varieties
Desserts and Sweet Snacks: 100 varieties
Wine, Beer, and Spirits: 100 varieties
Non-alcoholic Beverages: 100 varieties
Supplements and Extracts: 100 varieties
At the end of this long list is a "suggest ingredient" button in case you want to add anything to your pantry not mentioned in the above list.
Once done, your recipes appear on the right-hand side of the SuperCook page.
Alternatively, instead of trawling through the long list above, you can type your ingredients into the search bar, and recipes appear similarly.
You'll also see recipes with ingredients you haven't added, and SuperCook tells you which ingredient you're missing.
When you click on a recipe title, you can see:
A list of ingredients and quantities
The time it takes to make the recipe
The method
Where the recipe has come from (which food blog, online magazine, and so on)
You can do all the above without signing up for an account. However, if you decide to create an account, you just need to provide an email and a password. At the time of writing, SuperCook AI is a free tool with no prices shown.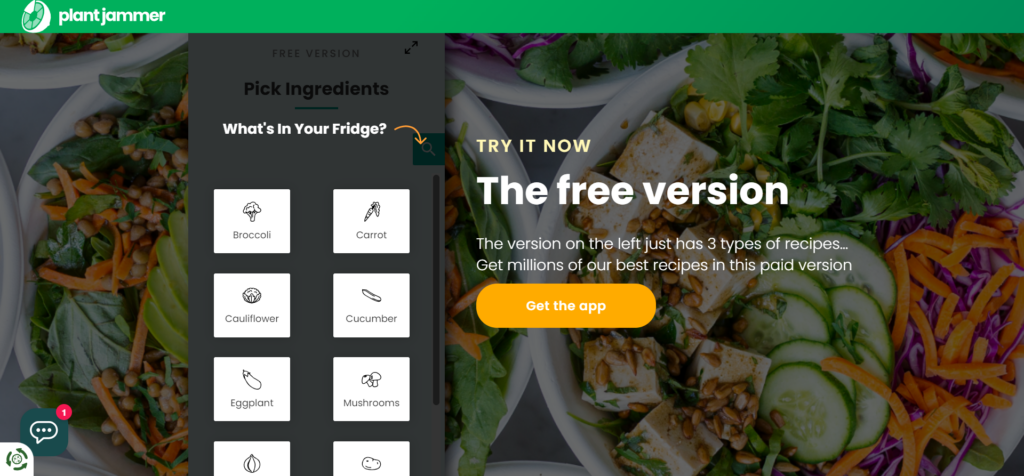 PlantJammer has two distinct offers:
One for consumers
One for companies
Below, we'll take a look at each in turn:
Consumers
You can use PlantJammer on a desktop or as an iOS or Android app. If you use the web version, the PlantJammer website tells us, you only get three (unspecified) types of recipes for free. However, if you buy the app (at a one-off cost of $10), you can access all the recipes PlantJammer offers.
To use it, simply tell PlantJammer what you have in your fridge and pantry by clicking a list of food icons (e.g., avocado, butternut squash, broccoli). You can also add ingredients by typing them into the search bar.
Once you've added the ingredients you want to include in your recipe, click the "find dynamic recipes" button and watch as a list of recipe titles (as well as how long each takes to make) pop up in seconds.
When you click on a dish title that interests you, you'll see:
A list of ingredients and per-person quantities
An "add matching spices" option if there's anything you'd like to add
You then click the "Get Your Recipe" button to see your recipe instructions.
In addition, PlantJammer has a "Shop Ingredients" button, allowing you to buy all your ingredients from Amazon Fresh.
Companies
Suppose you're a business (e.g., a supermarket or a supermarket discount site) and want to offer your customers recipes. In that case, the PlantJammer API widget provides recipes you can use to engage customers on your website.
You'll also get access to invaluable data, including:
Popular ingredient searches
Your target audience's nutrition goals by location, interest, and demographic
As for pricing:
Free trial: This lasts forever until you want to pay for data
Paid plan: A $99 subscription to access the data dashboard. It's unclear whether this is a one-off fee or a monthly/annual subscription, so I suggest contacting them to clarify this.
Best AI Recipe Generators: My Final Verdict
What did you make of my list of the best AI recipe generators? I hope it's whetted your appetite to try them out! Hopefully, they inspire you to create amazing meals for yourself, your friends, and your family.
These AI tools could change how we cook by giving us fast access to unique recipes. If you're longing to break the boredom of cooking the same old stuff time and again, ai-generated recipes could be the solution!
Here are some of my final thoughts on these tools:
Each recipe generator tool is fast. Some, like DishGen, SuperCook, and Let'sFoodie, fall into a more basic category, which is great if you're looking to use an AI food generator every now and then.
On a slightly different note, I think it's disappointing that if you want to try FoodAI, you have to give your credit card details for a free try-out.
Elsewhere, PlantJammer offers something for consumers and corporations, which is pretty cool.
However, as mentioned in the intro, if I had to choose just one standout recipe generator, I'd plump for ChefCPT. It's the most sophisticated, and although there's a paid plan available, you can still get a reasonable number of recipes from its free program.
That's all from me! Which of these AI recipe generators piqued your interest? Let me know in the comments box below!