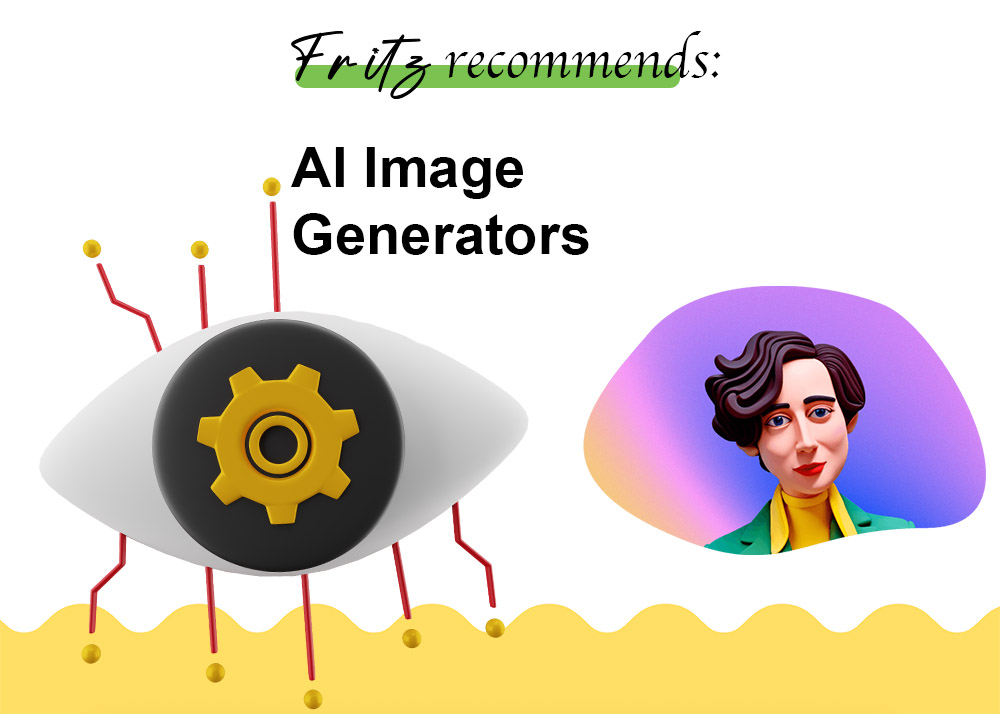 AI image generators seem to be increasing in popularity by the day.
These tools leverage artificial intelligence to create realistic images, artwork, and even entire scenes based on text prompts or other inputs.
Summary
Among the top contenders in this space are:
Jasper's AI Art, OpenAI's DALL-E 2, and StarryAI but there are many others worth knowing about, too.
Before we dive into our list of the best AI image generators, let's take a moment to talk about what these generators even are and what sorts of features you should be looking for before settling on a tool to use.
What is an AI Image Generator?
An AI image generator is software that uses machine learning algorithms to create images based on certain parameters or prompts. These generators can produce anything from simple icons to complex, photorealistic scenes.
The technology behind these tools is often rooted in Generative Adversarial Networks (GANs) or similar AI models. They're not just for artists or designers though. Marketers, content creators, and even casual users find them incredibly useful, too.
What to Look For When Choosing an AI Image Generator
When you're in the market for an AI image generator, there are a few key things to consider. First, look at the quality of the images it produces. You want high-resolution, realistic outputs.
Second, consider the range of customization options available. Can you adjust styles, colors, or other elements?
And lastly, think about pricing and whether the tool offers good value for the features it provides.
What Are the Best AI Image Generators?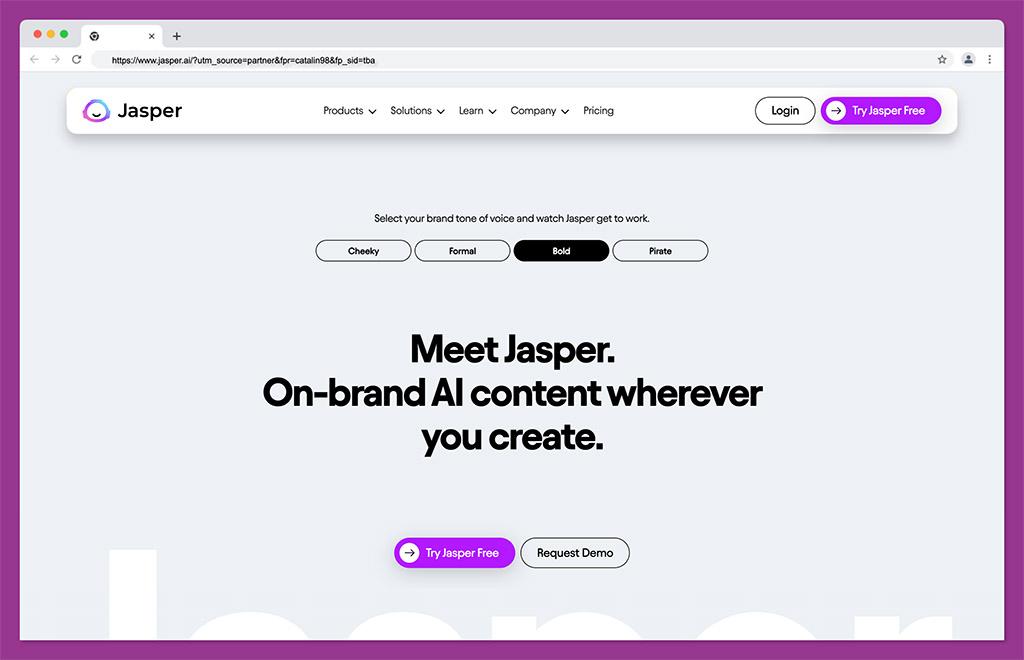 Jasper's AI Art is a cutting-edge AI image generator that's making quite an impression. This tool is designed to streamline your creative process by generating realistic images in a variety of styles.
It's incredibly user-friendly, allowing you to input a few keywords or phrases, and you get stunning images in return. Jasper Art is the artistic sibling of Jasper AI, a writing assistant, and it's just as impressive.
It can mimic different art styles and even specific artists. You can set the mood, choose a medium type like acrylic, charcoal, or watercolor, and generate realistic photo-like AI-generated images.
Pricing
Jasper AI Art offers a free 7-day trial, with which you can generate up to 200 images. After that, you can purchase a plan, which starts at the Creator level for $49/month and includes the copywriting tools as well.
Who Is It Best For?
Jasper AI Art is ideal for digital artists, graphic designers, authors, filmmakers, and anyone looking to get creative with their visuals. It's particularly useful for those who need unique content quickly, as it can generate AI art from any keywords, allowing you to create something on the fly.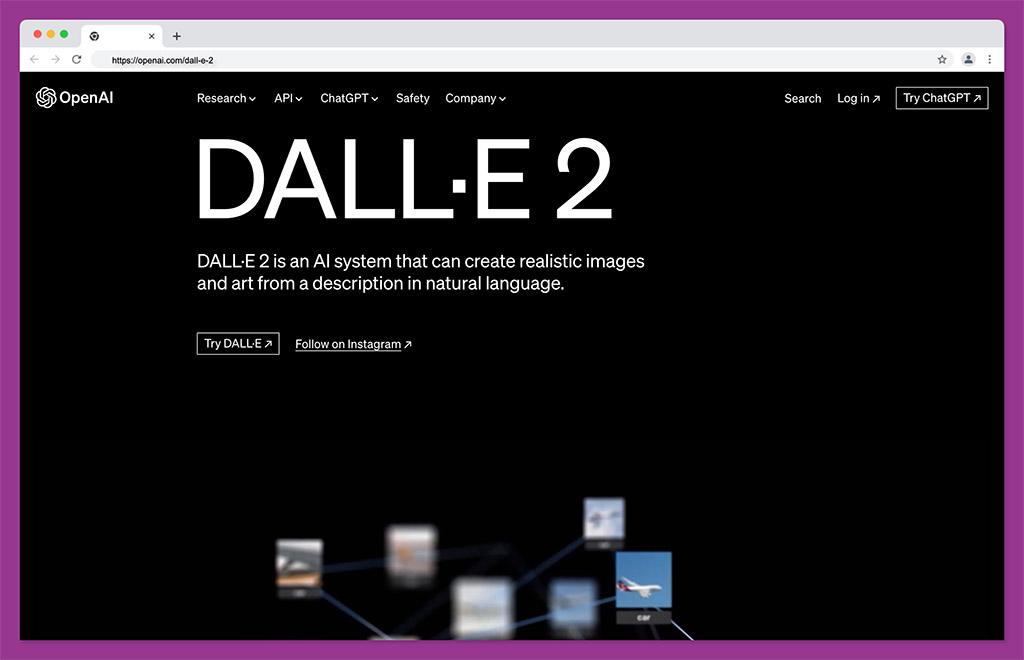 DALL-E 2 by OpenAI is an advanced AI image generator that has quickly gained popularity since its launch. It's the successor to the original DALL-E and brings several improvements, including higher resolution and lower latency. And if you recognize the OpenAI name, it's likely because they're the same team behind ChatGPT.
One of the standout features is its ability to edit existing images, adding another layer of functionality to the tool. The platform is powered by OpenAI's GPT-3 technology, making it one of the most sophisticated AI art generators on the market.
It's designed to be intuitive, allowing you to input a text prompt and receive up to four generated images in return.
Pricing
DALL-E 2 offers a unique pricing structure. If you registered before April 6, 2023, you get 15 free credits that replenish every month. For those who register after this date, a minimum purchase of 115 credits for $15 is required.
Who is It Best for?
DALL-E 2 is best suited for those who are looking for a reliable AI image generator that offers in-tool editing features.
Whether you're a professional in need of high-quality images or someone who wants to experiment with AI-generated art, DALL-E 2 is easy enough for a beginner to use but flexible enough for more advanced users, too.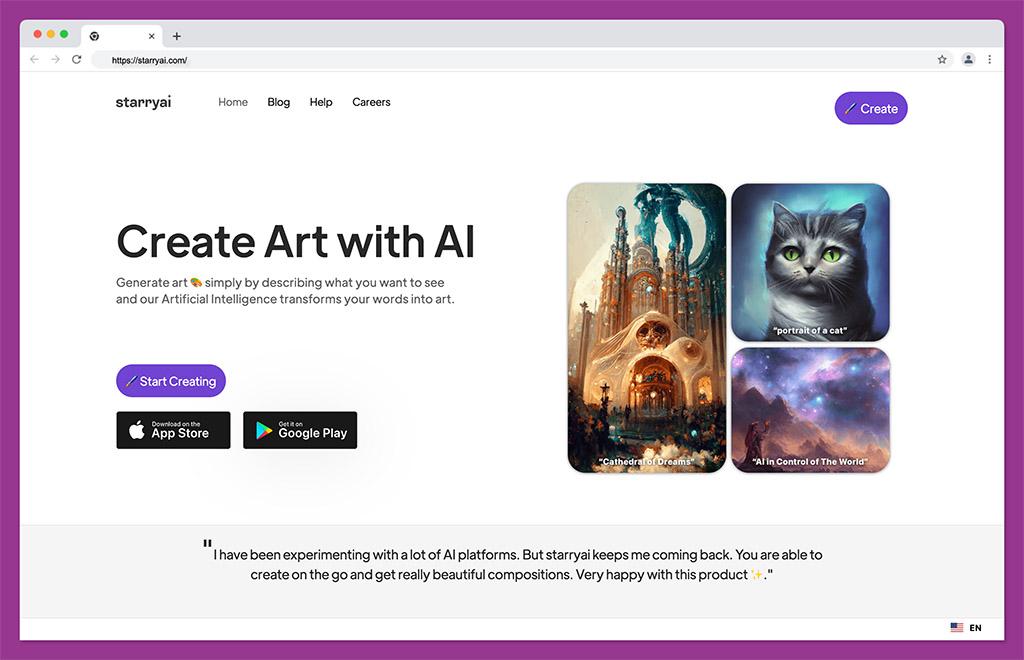 StarryAI is another AI-based art generator that allows you to create new images from text prompts. The platform actually has numerous styles to select from, giving you the flexibility to experiment with different looks.
The application is particularly noted for its ability to render photorealistic results using the Orion beta option. StarryAI also offers a supportive community via its Discord server, providing around-the-clock assistance and guides to enhance your experience with the tool.
Pricing
StarryAI allows users to generate up to five artworks for free daily without watermarks. Pricing for pro plans starts at $11.99 per month for 200 image generations per month. The next tier up, Unlimited Pro, is $37.99 per month and includes 3000 fast image generations and unlimited slow generations.
Who is It Best for?
StarryAI is a versatile tool that caters to both personal and professional use. Whether you're a casual user who wants to have fun making art or a professional looking for advanced features, StarryAI offers something for everyone.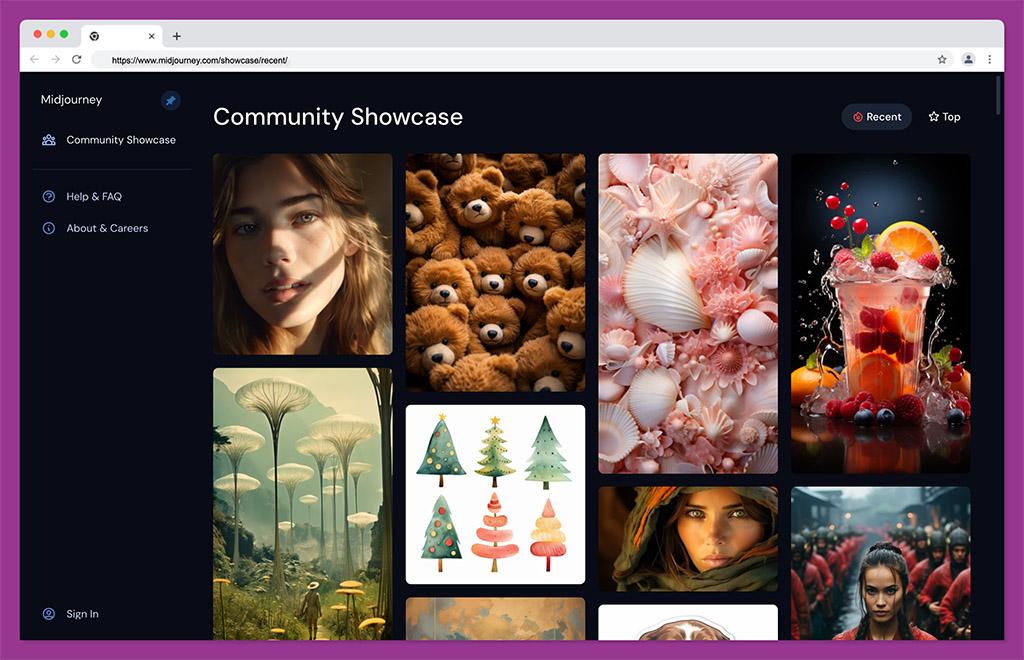 Midjourney is an AI art generator that operates via the Discord app, making it a unique and community-focused platform. The tool accepts text prompts to generate images, offering a variety of model versions to choose from.
Over the past 15 months, Midjourney has shown significant improvements in its technology, with the latest version being V5.1 as of May 2023.
The platform is particularly noted for its high-quality settings and the ability to manually switch between different model versions. If Japanese Anime and Manga are your thing, Midjourney even has specialized models for that.
Pricing
When you first start with Midjourney, you can create a few images for free. Then, pricing starts at $10 per month and includes 200 generations. The Standard Plan is $30 per month and includes 15 hours of fast generations. And for $60 per month, you get 30 hours of fast generations and stealth image generations, meaning your creations won't appear in the community gallery.
Who is It Best for?
Midjourney is best suited for those who are deeply involved in AI art and are looking for a platform that offers both community engagement and high-quality image generation.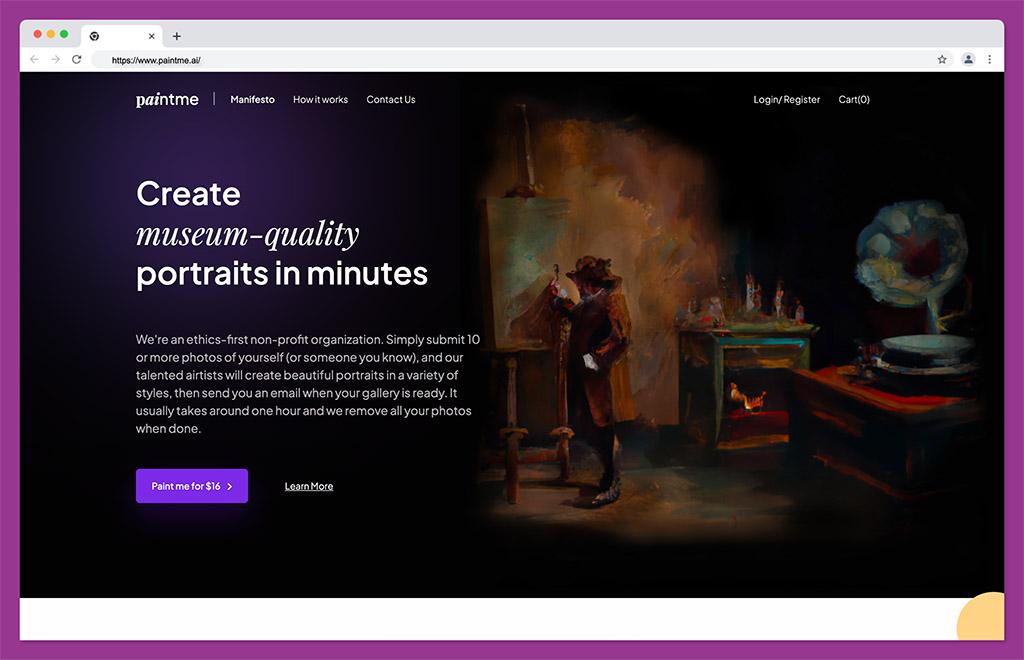 If you wish to create artistic renditions of your existing original images, PaintMe.ai is an excellent tool to pursue. The platform allows you to upload 10 or more photos and then select from various artistic styles to transform your images into a custom work of art.
So, if you want to turn a portrait of yourself into an impressionist painting, PaintMe.ai can do it.
Pricing
The platform isn't like the others on this list. It costs $16 to have your images turned into an AI-generated selfie. You'll receive a gallery of images in different styles to select from.
Who is It Best for?
PaintMe.ai is ideal for those looking for a convenient way to get a professional-looking painting of yourself to use as a profile photo, on your website, or in other media.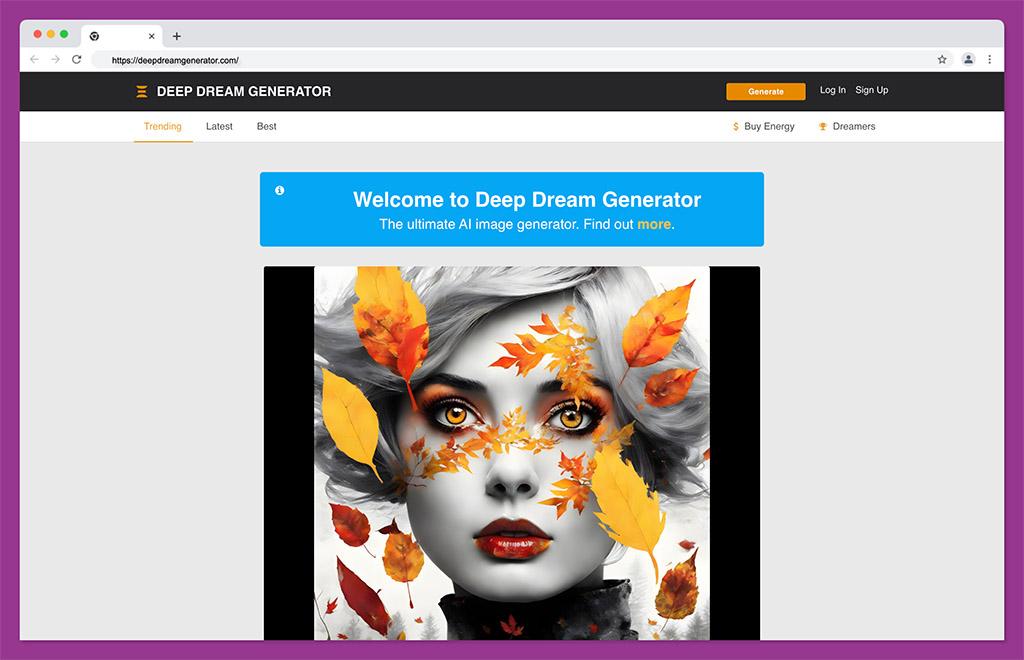 DeepDream Generator is an AI tool and social media platform combined. The tool allows you to transform simple text descriptions into unique, photorealistic images in just seconds. But what sets it apart is its community features.
You can share your artwork, like others' creations, and even follow interesting AI artists within the DeepDream Generator network. The platform offers three distinct art-generating modes: Text 2 Dream, Deep Style, and Deep Dream, each catering to different artistic needs.
Pricing
DeepDream Generator offers a free trial where you can generate around 10 images, depending on the quality settings you choose. After the trial, there are three premium plans available:
Advanced: $19/month
Professional: $39/month
Ultra: $99/month
Who is It Best for?
DeepDream Generator is ideal for anyone interested in generating AI art, but it's especially beneficial for those who also want to engage with a community of like-minded artists. The platform's social features make it a unique offering in the AI art generator space.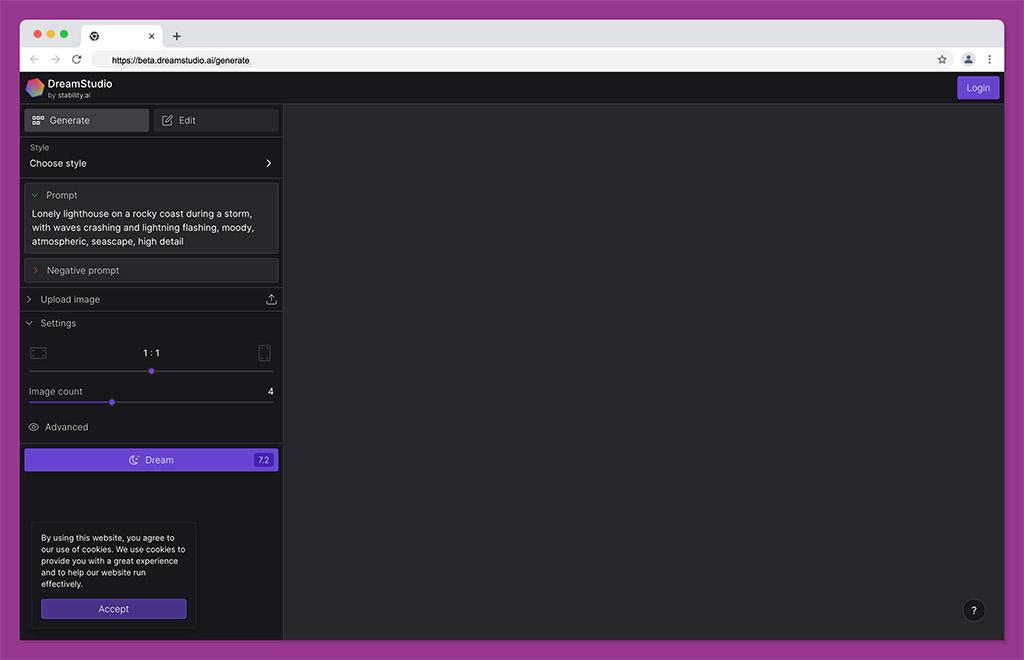 DreamStudio is an online creative tool designed to generate images using artificial intelligence. Developed by Stability.ai, this platform aims to be a one-stop shop for creators who want to bring their imaginations to life. The service offers a range of features, including:
Generate Mode: Create art, photographs, and illustrations in any style you can imagine.
Edit Mode: Work across multiple images at once with an improved canvas.
Inpainting and Outpainting: Replace, add, and edit elements within your images.
StableDiffusion Models: Get early access to the latest and greatest StableDiffusion model.
Community Features: Keep track of your creations, try new models, and explore different creative variations of your image.
Canvas and Layers: An infinite workspace for endless ideas, complete with layers for more complex creative workflows.
Pricing
Pricing is credit-based, and quite honestly, confusing. You get 25 credits free to try out the platform then can purchase 1000 additional credits for $10. This translates to about 500 images.
Who is It Best for?
DreamStudio is a good choice for those who want a versatile platform for generating and editing images. Creatives, marketers, and digital artists would likely appreciate its toolset best.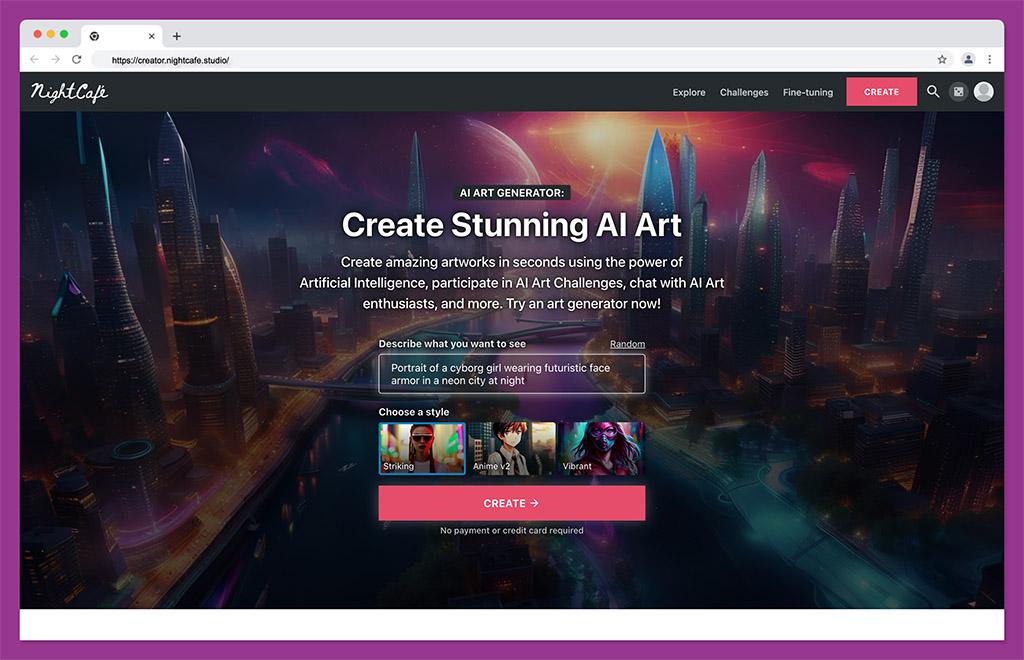 NightCafe Studio is an AI art generator that's on a mission to democratize art creation. Founded in 2019, this platform has already served up over 35 million AI-generated artworks. It offers a variety of technologies for art creation, including Stable Diffusion, DALL-E 2, CLIP-Guided Diffusion, VQGAN+CLIP, and Neural Style Transfer.
The platform also features a public AI art gallery where users can share their works and engage with the community.
Pricing
NightCafe Studio operates on a credit-based system for its pricing. The platform offers a subscription plan called NightCafe PRO, which provides a monthly credit pack and other benefits. Pricing starts at $5.99 per month.
For a limited time, new subscribers receive an extra 50% bonus credits in their first month. Payments are secure and PCI compliant, powered by Paddle and PayPal.
Who is It Best for?
NightCafe Studio is perfect for both novice users exploring the world of AI art and experienced artists looking for something new. With its comprehensive suite of options, user-friendly interface, and active community, NightCafe offers a complete and accessible platform for artists of all skill levels.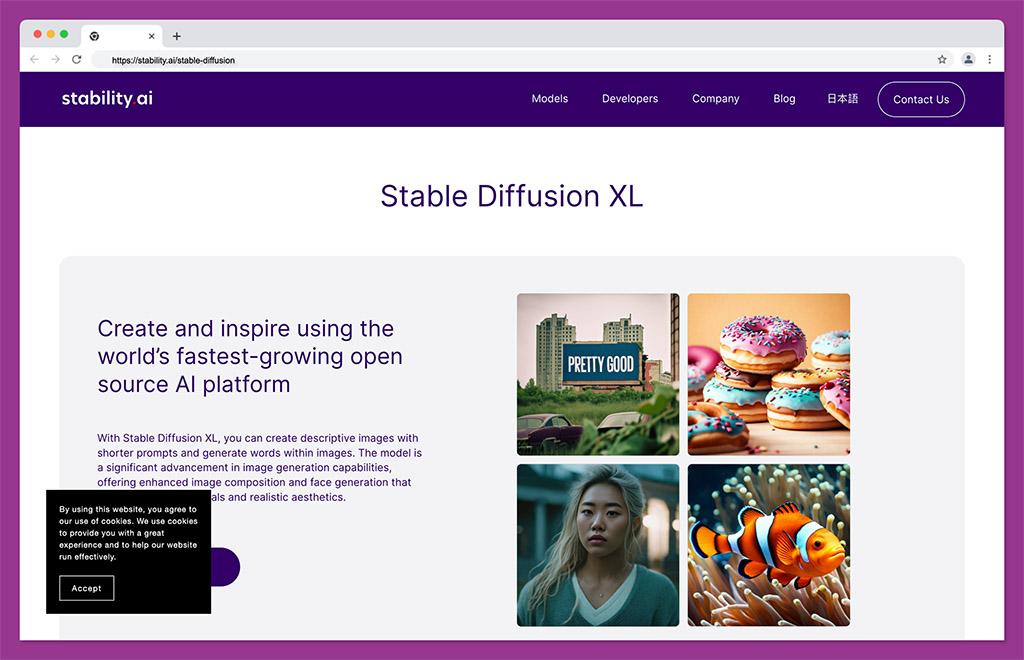 Stable Diffusion is an open-source machine learning model that works as an AI text-to-image generator. You can also modify existing images based on text or enhance low-resolution images.
The model was developed by researchers at Google Brain and it is designed to generate photorealistic images that are stable and consistent. Stable Diffusion also offers tools such as a free image editor, advanced filters, and an AI-assisted content search.
Pricing
Stable Diffusion is completely free to use, although they do offer a commercial license for those who wish to use the model for their own projects.
Who Is It Best For?
Stable Diffusion is best suited for developers, researchers, and creative professionals looking to generate photorealistic images quickly and consistently. It's also great for someone who doesn't have the time or resources to manually create high-quality images themselves.
Conclusion
We hope you've enjoyed this comprehensive look at some of the best AI image generators out there. From the community-focused Midjourney to the versatile StarryAI, the advanced DALL-E 2, and the user-friendly Jasper's AI Art, each platform offers a unique set of features tailored to different needs and skill levels.
Whether you're a professional artist, a marketer, or just someone who loves to dabble in digital art, there's likely a tool on this list that's just right for you.