Until recently, I'd never really explored Snap's impressive catalogue of Lenses. It's truly an endless-seeming scroll of incredible, otherworldly, and hilarious face warpers, background replacers, and ground shifters, to name just a few.
You can discover some of the best, brightest, and most prolific Lens Creators highlighted on Lens Studio's Official Creator page.
One Creator that's recently captured my attention, especially in light of the Halloween season, is JP Pirie, a long-time UX designer and creative who's made hundreds of immersive Lenses.
And…they're just the kind of Halloween creepy that gets me into the season.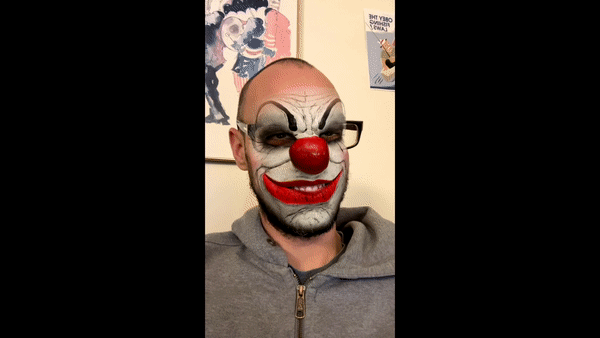 I was very curious to know how a prolific Snap Creator like JP (with 300,000+ subscribers and more than 2 billion Lens views) feels about the recent addition of SnapML to Lens Studio, which we've been covering in depth in recent months.
JP was kind enough to take a bit of time to answer a few questions about his experience building Snapchat Lenses, and a bit of his perspective on the potential—and challenges—of working with SnapML and its new capabilities inside Lens Studio.
Q: Tell us a bit about your experiences creating Lenses — what about them appeals to you, and what kinds of Lenses do you like creating?
A: I create every kind of Lens, but I'm known for my Face Lenses — I try to use every variety, and I'm known as the most prolific Lens Creator alive (over 2000 Lenses to date).
Q: In what ways do your Lenses currently use machine learning?
A: ML is pretty new to me. I've recently started training my own models, but to date I have used Snap's pre-trained models: Foot Tracking, Eyebrow Removal, Ground Segmentation, Sky Segmentation, Object Recognition, Pet Segmentation…I'm trying to focus on this, but a resource that provided trained ML models would really make this easier for 'designers'.
Q: If your Lenses do use machine learning, did you build those ML models yourself? If you didn't, what did you do to find or otherwise create them?
A: I'm just figuring out how to get my trained models exported out of Colab—driving me a bit NUTS, but for now I'm playing with the preset templates.
Q: As a Lens Studio Creator, what opportunities do you think a tool like SnapML provides?
A: I'm impressed and astonished by the variety and scope of what is possible with ML. I'm a designer who likes to push the bounds of possibility; I like doing what others don't create (esp. horrible scary lenses 😄). This ML feature is mind-boggling in terms of what I can now create, once I get a handle on it. It's expanded the possibilities like no other feature released in the two years I've been using [Lens Studio].