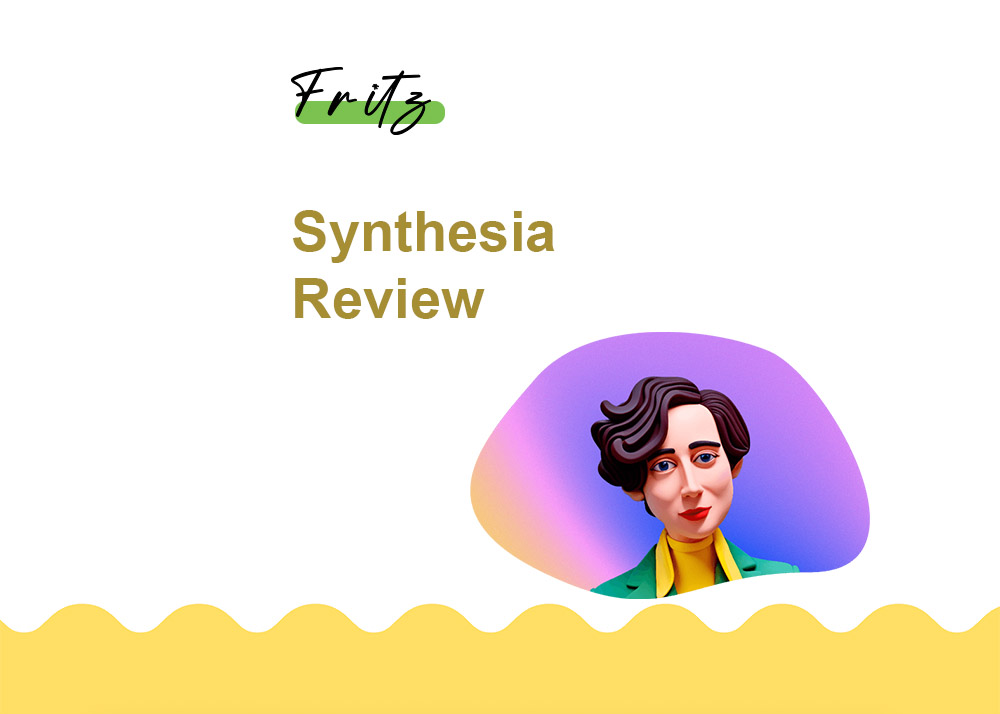 In this Synthesia review, we'll discover how this extremely popular AI tool can help you create engaging videos without putting in a lot of effort.
The quick verdict
Synthesia is the most popular AI avatar based video making tool. It helps you create videos with an AI presenter. The AI-based avatar looks and acts like real humans and reads the script with human-like gestures.
And since Synthesia has over a hundred avatars, language, and template options, you can create a unique video even though there are thousands of Synthesia users.
While Synthesia avatars look pretty real, if you pay attention to their speech and patterns, you'll get to know that it's artificial intelligence. That's one downside. However, as AI improves, the avatars become more and more realistic.
In all fairness, if you want to create presentation or training videos without much effort, Synthesia is among the best tools out there.
Visit site
Text to speech generator
Custom AI Avatars
Voice cloning
AI Script Assistant
Synthesia Pros and Cons
Let's discuss some Synthesia pros and cons.
Pros 👍
Provides the ability to create lifelike videos without the need for hiring actors or renting studios.
Offers several avatars, languages, and accents
Easy to create videos without prior video editing skills
Cons 👎
While the avatars are highly realistic, if you look closely, you can get to know they are artificially generated.
The Personal Plan offers only 120 minutes of videos per year, which is very restrictive.
Custom AI avatar creation is a bit expensive.
Our Research Methodology
We tested Synthesia and created training and educational videos with it. It scored 4.8/5 in our tests, which was the highest in its category. We compared it with other similar tools such as HeyGen and Visme.
Synthesia scored the highest in terms of ease of use and range of options. It offers hundreds of avatar and language options.
Our team used Synthesia to create videos of different types, trying different avatars, languages, and accents. We even asked other users how they felt about Synthesia.
We discussed its pros and cons to create this Synthesia review and we have tried to include all the relevant details to help you make the right decision.
Let's Begin with Our Detailed Synthesia Review
If you're shying away from video creation because of the costs associated with renting a studio, getting actors, and buying expensive cameras and lighting, there's good news for you.
Synthesia is a tool that will help you create perfect videos without all those costs. In this Synthesia review, we'll discuss how this tool works and how it can help you.
What is Synthesia?
Synthesia is an online tool that uses artificial intelligence to create lifelike avatars. Feed your script to the avatar and they'll read it with human-like expressions. So you don't have to hire a professional actor anymore.
You can create a video in minutes and the output is absolutely perfect. There are different avatars, accents, and voices. All you have to do is write the content. And if you don't want to do that, it will also help you write a script with the help of AI.
Synthesia is pretty easy to use and you can create a video in just minutes. And if you want to use your own voice, you can record a message and use that on the video.
With these capabilities, you might think Synthesia would be an expensive tool. But it's actually pretty affordable.
Who is Synthesia Best for
If you want to create a video but don't want to be in it AND you don't want to spend money in renting equipment and place and hiring actors, Synthesia is for you. You could be a YouTuber, a marketing expert, a blogger, an entrepreneur, or just about anyone who needs professional videos.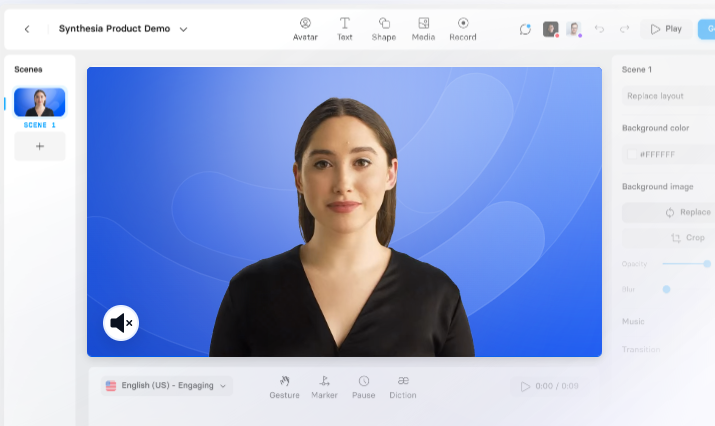 It's ideal for learning, development, sales enablement, customer service, information security, marketing, etc.
With Synthesia, you can say goodbye to PDFs and PowerPoint presentations, and switch to engaging videos. Get a human touch, except it's with artificial intelligence.
Not only does it help you create a video, but it also lets you edit it so it's exactly according to your specifications.
Synthesia Features
Let's discuss the prominent features of Synthesia.
AI avatars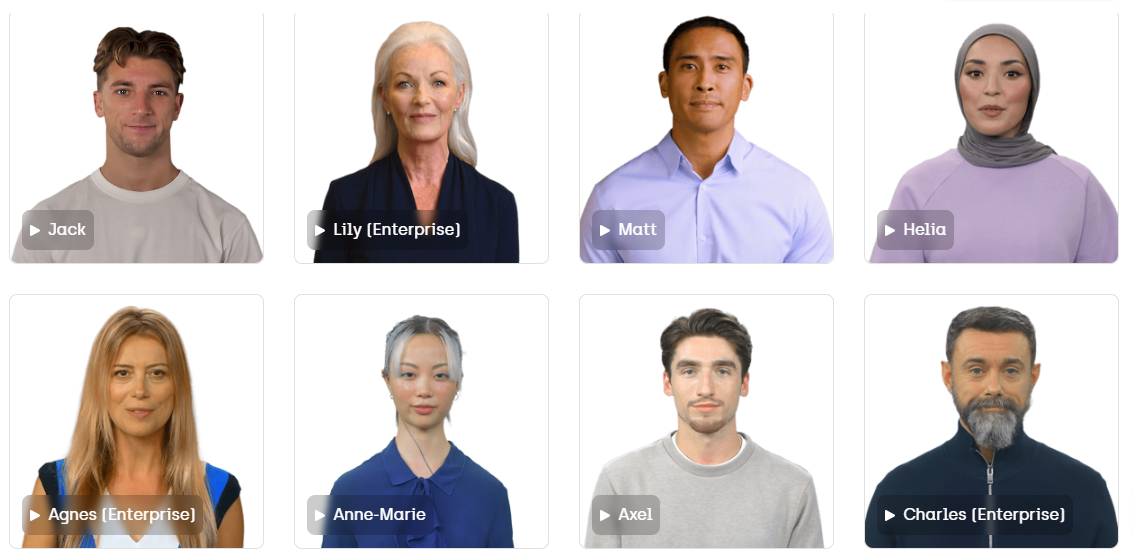 Synthesia offers ethnically and culturally diverse avatars that can professionally present your video. There are more than 140 avatars and they all have different voices, accents, and expressions.
Languages, Voices, and Accents

There are different types of voice tones, accents, and languages supported by Synthesia. There are 120+ options when you create a video. If English is not your primary language, no worries. Synthesia supports many languages including Chinese, German, Korean, Dutch, and others.
Ease of Video Creation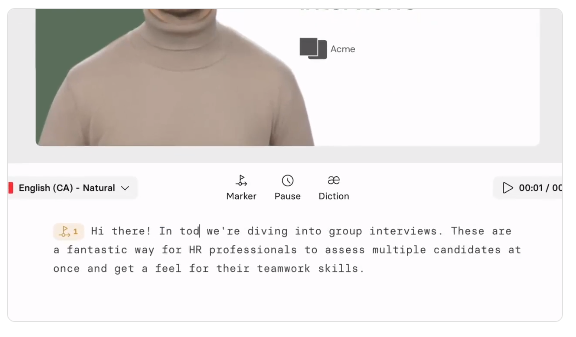 Just select an avatar and enter your script in the text-to-speech box. Your avatar will read it out with human-like expressions and body language.
Custom Avatars
If you want an avatar that looks like you and sounds like you, Synthesia lets you do that. By paying a one-time add-on fee, you can create your own avatar to feature in your videos.
Micro Gestures
You can add micro gestures to your videos. While the avatars use human-like expressions, you can add specifics such as raising their eyebrows or nodding their head in between. These micro gestures make the avatars even more realistic.
Voice Cloning
You can clone your voice and use it with your avatar. The AI will capture the tone and accent and clone the voice accordingly.
How to Create Videos with Synthesia
Let's get started with this amazing tool that lets you create videos with over 120 language options and more than 140 AI avatars. In fact, you can clone your voice and create your own avatar that looks like you!
Here are the steps to get high-quality AI videos.
1. Select a template
There are over 200 free templates and you can choose the one that best fits your needs. Once you've selected a template, you can edit it according to your needs. If you don't like any of the existing templates, you can build your own template from scratch.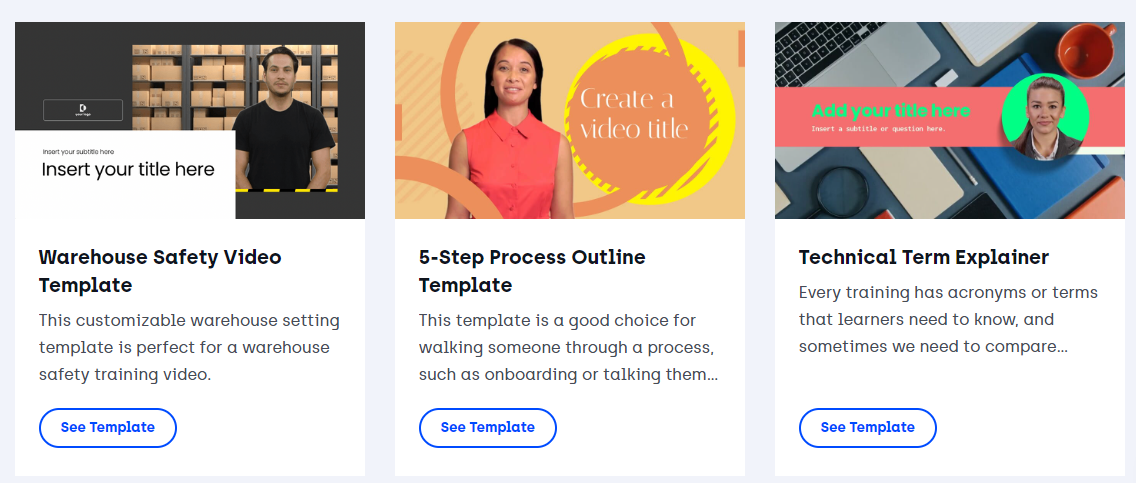 2. Edit the script
Whether you want to train your employees or explain your product to prospective customers, you'll need a script. If you don't have a script ready, Synthesia will help you generate an automated script with the help of AI.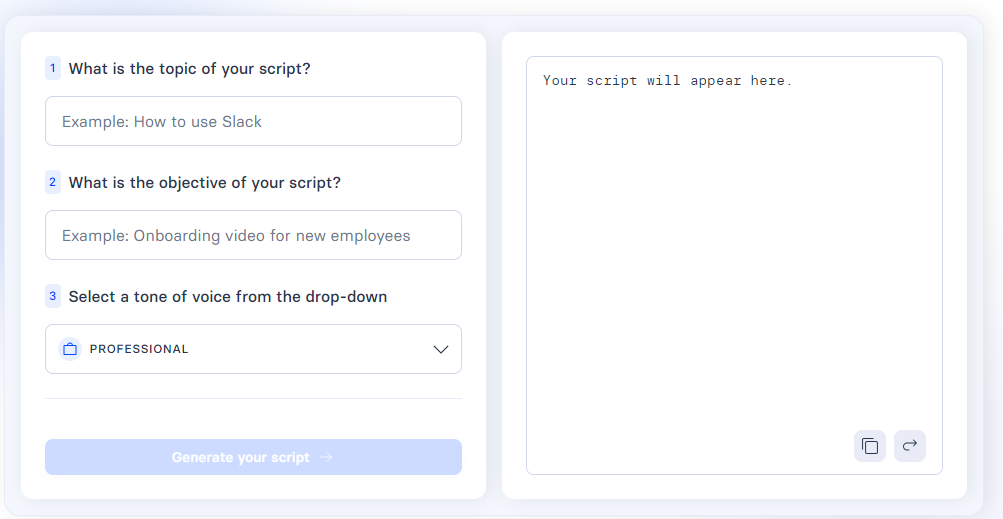 Since Synthesia supports multiple languages, you can generate a video in your local language.
3. Select an avatar
You can stick with the avatar in the template or pick a different one. If you want your digital twin (an avatar that looks like you and sounds like you), you'll need to purchase that as an add-on.
To create a custom avatar, you'll need to record a 10-15 minute video in front of a green screen and submit it to the team. Your custom avatar will be ready in 10 days with features and body movements that mimic yours.
This long process is only for custom avatars. You can choose an existing avatar and your video will be ready in no time.
That's it
Your video will be ready! Once you've created the video, you can upload it on your website or social media platforms.
Simplicity of the Video Generation Process
It's super easy to create head videos with Synthesia. If you need one presenter to talk about something, Synthesia offers the perfect solution. It's best for entrepreneurs who want to generate appealing content without having to spend a lot and dedicate extra time to the video creation process.
While Synthesia creates captivating videos, it does lack realism. In one look, the avatars look pretty real. But if you take a closer look, you'll get to know that it's AI-generated and not a real human. But as artificial intelligence is evolving, you'll find more realistic avatars.
In any case, Synthesia lets you create AI videos effortlessly, even if you don't have any prior video editing skills.
Synthesia Studio
Synthesia Studio is the place where you put it all together and create high quality professional videos.
When you open the studio, you'll see your chosen avatar with a script box. Your video script will go in this box. There are many other elements in the studio and you can drag and drop them in your video. You can also change the background of the video.
You can select whether you want the full body of the avatar or they should appear as a commentator in a circle on the side of the video. There's a whole range of options you can play with.
Synthesia Pricing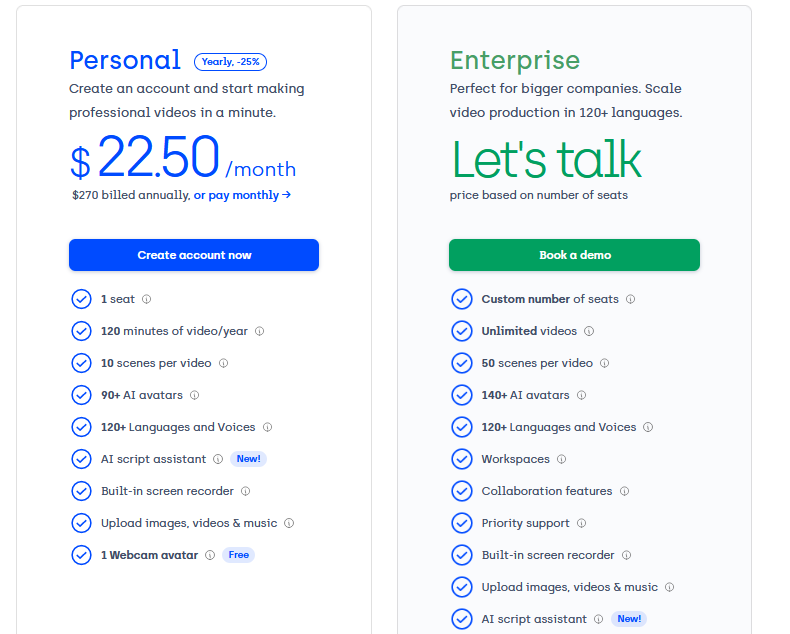 There are two pricing plans in Synthesia. The Personal plan will cost you $270 for an annual subscription. That would be $22.50/month. And if you want to go for a monthly subscription, it will cost you $30/month.
In this plan, you can create 120 minutes of videos per year. You can use over 90 avatars and more than 120 voices.
The Enterprise plan is a custom plan that will cost you depending on the number of users you have. With this plan, you can create unlimited videos and use over 140 avatars.
If you want to have a custom-made avatar, you'll need to buy it at $1000/year per avatar.
For an Enterprise plan, you can schedule a 30-minute demo. The company will ask you basic details about your video expectations and requirements. Accordingly, you'll get a demo and a quotation.
How Secure is Synthesia?
The operations and processes at Synthesia are independently examined, audited, and certified. It uses content moderation in videos to ensure that artificial intelligence is being used ethically.
If you want to create a custom avatar, you'll need to create a special video according to Synthesia specifications so nobody else can get a custom avatar made but you.
Detailed Security Features
If you're a security conscious individual, here are the detailed security features of Synthesia. All its processing is done in the cloud infrastructure by Amazon Web Services (AWS). The data centers are in Ireland with multiple availability zones.
Video processing of Synthesia is done in North Virginia, US and all data transfer from the EU to the US is safeguarded by Standard Contractual Clauses (SCCs) approved by the EU.
Synthesia is SOC 2 Type II compliant and GDPR compliant. They perform regular penetration testing and their reports can be downloaded on request.
They support SAML 2.0 based SSO and Google authentication for their corporate customers. They store data with AES-256 bit encryption, which is almost impossible to hack.
Media Integrations with Synthesia
Apart from an AI-based script generator, Synthesia offers many other media integrations. For example, it comes with a screen recorder that lets you record videos on your screen. It also has a media library that contains royalty-free videos, images, and icons.
It also has a music library so if you want to upload a music track, it's super simple to do. Synthesia also lets you import PowerPoints so you can give a presentation with your avatar. It also lets you add animations to your videos.
Examples of Synthesia Uses
Let's take a look at some places where Synthesia can be used.
Learning and development
Whether you want to train your employees or a batch of students, an AI avatar can do it perfectly. You can also tag your teammates and communicate with them easily over Synthesia.
Sales enablement
It's difficult to train sales reps with PowerPoint presentations. These presentations are often dull and boring. Instead, you can use Synthesia to create engaging videos to enhance the skills of your sales reps.
Information security
Synthesia is GDPR compliant and SOC 2 Type II compliant, which means their systems are independently examined, audited, and certified. Also, you own the intellectual rights of the content you generate.
A Quick Recap
Synthesia lets you create high quality videos with avatars to generate more engagement. And you don't need to go overboard with actors and setup and studio. Just open the browser and create a video within minutes. Even if you don't have a script!
Let's quickly cover why Synthesia is creating a revolution:
Saving money: Shooting a video is a long process. The actors, the setup, the lighting, the voiceovers, and all that editing! With Synthesia, you can create the perfect video without spending a lot.
Saving time: Without Synthesia, you'll have to hire an actor, arrange for a studio, and hire a video editor. Apart from money, these processes take time. However, with Synthesia, you can do all that in a matter of moments.
High quality videos: With Synthesia, the audio and video output is exceptional. With its artificial intelligence technology, you can have human-like avatars that present the video and give crystal clear output with no background noise.
Lots of applications: Synthesia videos can be used by almost anyone. A student, a YouTuber, a blogger, a journalist, an entrepreneur, a marketer, or just about anyone. Create how-to tutorials, sales pitches, university presentations, and so many other types of videos in just a matter of moments.
Extra features: You get to choose from among 140+ avatars and 120+ language and accent options. Select the right avatar according to your audience and get higher engagement without going the extra mile.
Synthesia
Rating:
4.5
- Review by
Fritz.