Tyleeseeuh seems to have endless lenses. And endless creativity. I went from a sunflower field to a virtual beach vacation before I'd finished my coffee (while wearing a crown of dinosaurs, of course). The creator said she uses lenses as her art form — from makeup looks not possible in reality to neon filters that mimic a sunset. She's spent the past two years creating all sorts of lenses and filters and I managed to get a firsthand account of her journey.
Q: How long have you been using Snapchat? When did you start making your own lenses?
A: It's hard to remember exactly when I started using Snapchat. I distinctly remember using the LOL face lens. I've been creating lenses since 2018. Initially, I was using Lens Studio to continue my self portrait series "Me Me Me." When I first started [it] in college, it was an experiment with repurposing Snapchat for art. Adding lenses allowed me to go beyond experimentation to an exploration of autonomy and social media. I continued to create lenses outside of "Me Me Me" because I found new ways to express myself through augmented reality.
Q: Which lens is your current favorite?
A: Currently my favorite lens that I've created…is "Purple Makeup." I love the contrast between my real and augmented features.
Q: What do you like about creating lenses?
A: I create lenses for my art and recreation. Lenses are convenient because, as an artist, my lenses have more reach and it's cheaper to print a Snapcode. For fun, I enjoy creating makeup, color effects, and experimenting with post effects.
Q: Did you build your lens ML models yourself?
A: My ML lenses are made using the style transfer and eyebrow templates, [but] with the style transfers, I made my own models using Colab. I'm still learning about machine learning.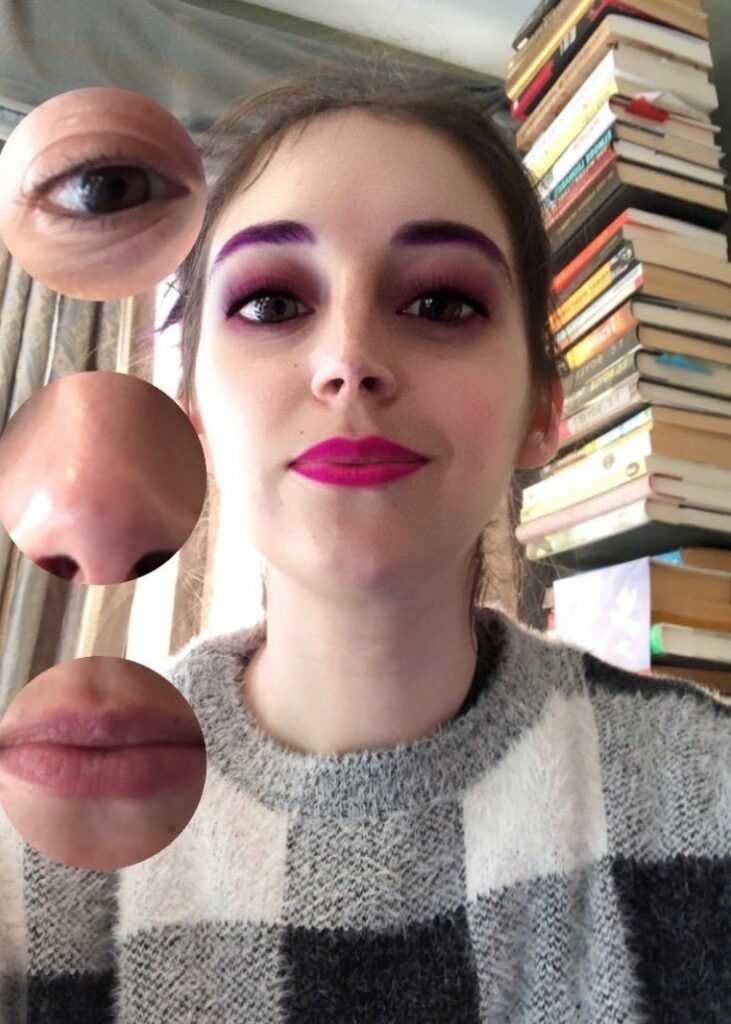 Q: As a Lens Studio Creator, what opportunities do you think a tool like SnapML provides?
A: SnapML makes machine learning accessible for creatives like myself. I'm looking forward to finding ways SnapML can further my art. So far, I've used it to create another "Me Me Me" lens [called] "Amber."
Q: Do you think Snapchat will only increase in popularity in the future or die off like other social media platforms have?
A: I can see Snapchat progressing instead of ending. I think about how it makes AR social and accessible. The first thing that stood out to me about Snapchat was the ability to use AR on my Android. It was my first introduction to AR. Snapchat encourages its users to be creative through the lenses.