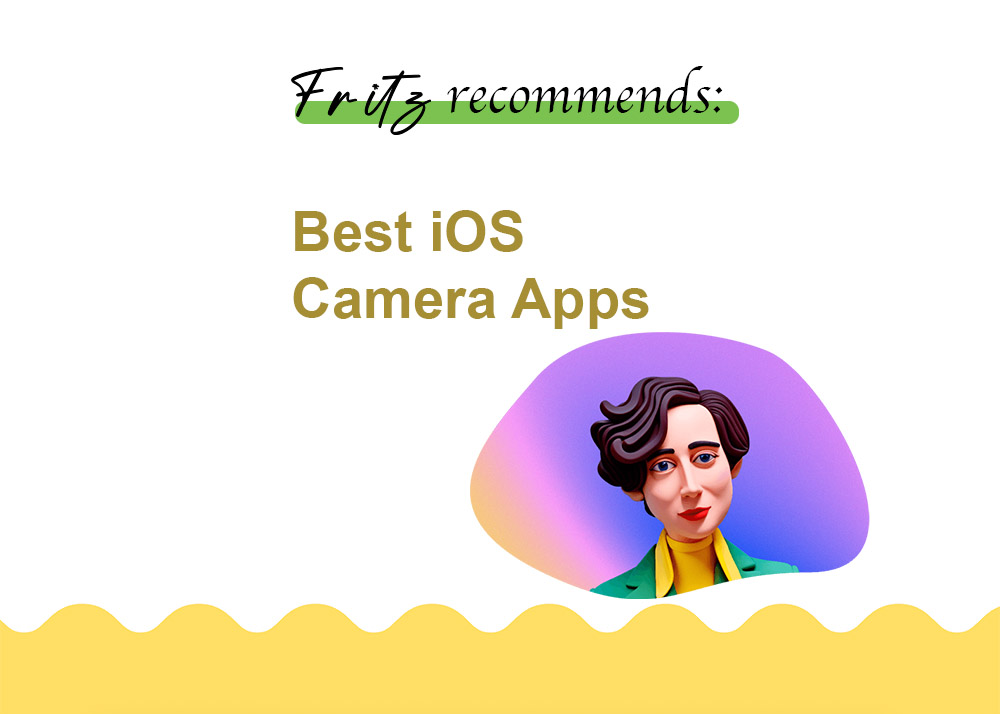 This article highlights the best photo editing, video editing, and GIF-making apps currently available in the App Store.
From basic contrast and brightness settings to advanced deep learning-based filters, these apps have it all covered.
Best Camera apps for Photo Editing
Enlight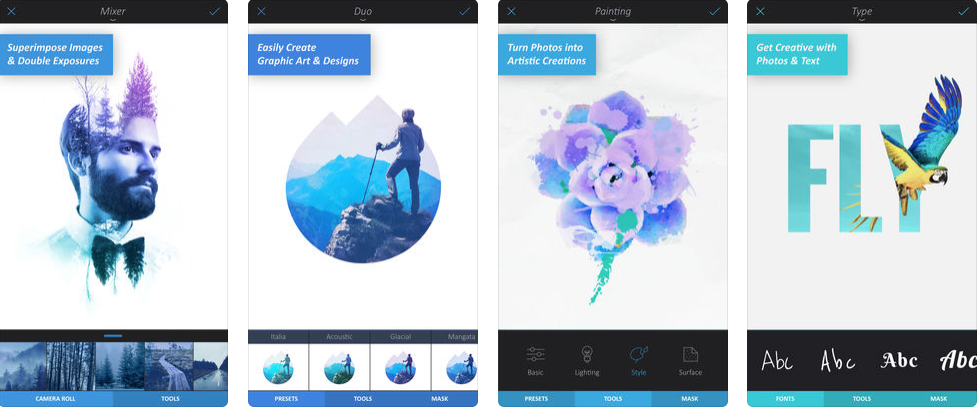 Enlight is one of the best photo editing apps on the store right now. It strikes the right balance between advanced features and basic filters to appeal to users with different needs, and it's also very easy to use with a simple user interface. The best features include the photo mixer to produce double exposure effects and the intelligent photo correction.
Enlight on the App Store. ($3.99)
ProCamera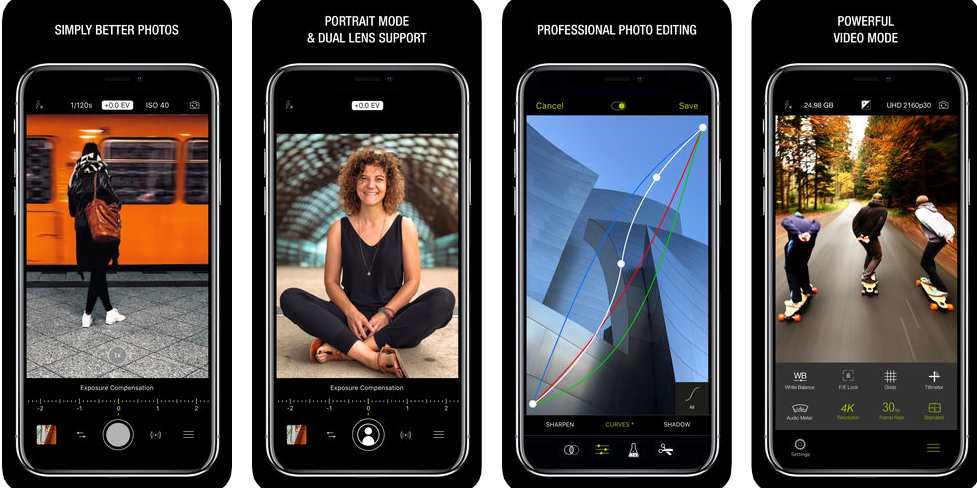 ProCamera is a camera and photo editing app that lets you take complete control of your phone's camera. It puts you in control of parameters like white balance, exposure time, and ISO sensitivity, and it also includes an editing studio with many useful tools and filters. The support for dual lens camera and the low light mode is what makes this app stand out from the rest.
ProCamera on the App Store.($5.99)
Facetune2: Selfie Editor & Cam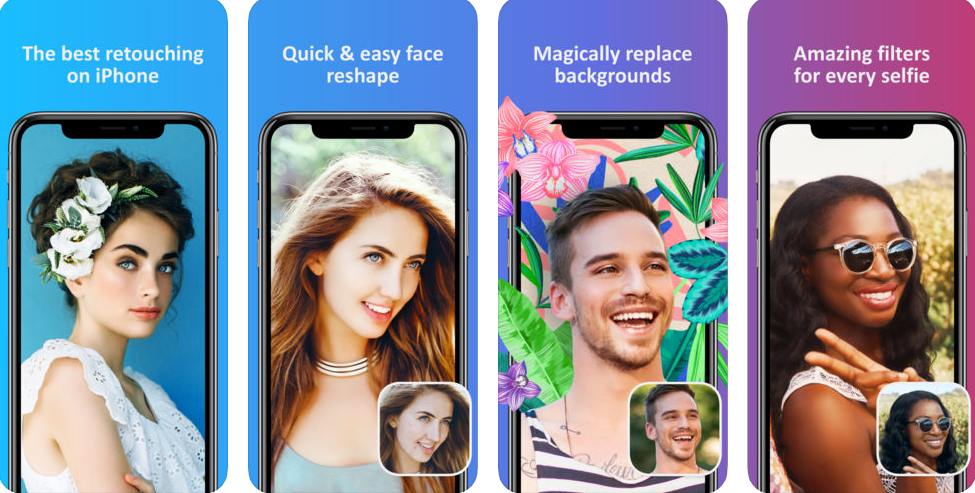 Facetune 2 is a photo retouching app mainly for selfies. It doesn't have advanced photo editing features like the other apps featured here but what makes this app amazing is how well the retouching filters work. It has features like teeth whitening and blackheads remover which work pretty well and might be of use to a lot people However the features are limited to retouching only.
Filterloop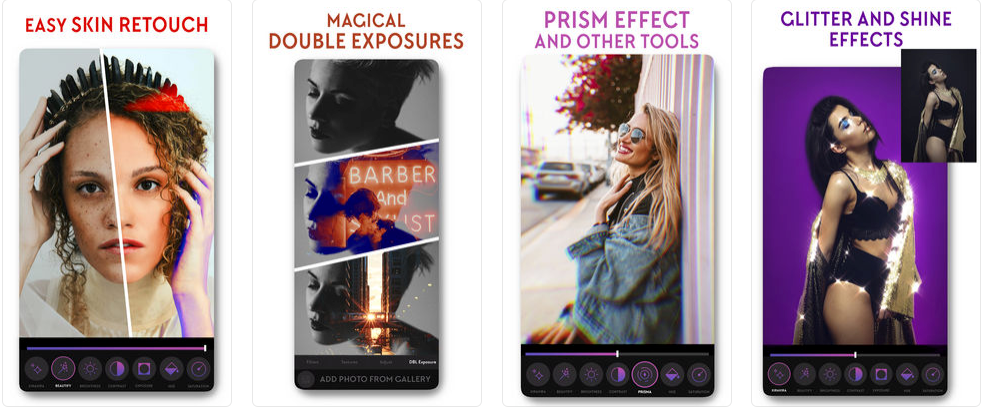 Filterloop is an app with some cool editing features. It lets you make beautiful double exposure pictures, apply art effects and also recreate analog effects like light leaks and emulsion effects along with adjusting basic parameters like brightness, contrast and hue. The app is good for basic users but more advanced users might find this app a bit limited.
Deep Art Effects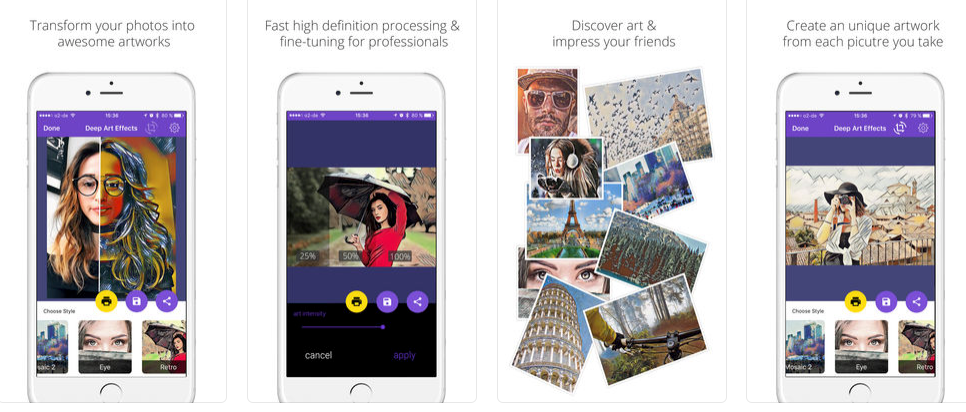 Deep Art Effects allows you to convert your photos into pieces of art using style transfer. The app is simple to use and the quality of the images after style transfer is really good. The app offers a lot of options for the styles and if you buy the premium version you'll get new styles at regular intervals.
Deep Art Effects on the App Store.
Video Editing
Editing professional videos on the go or simply recording stuff for your Instagram? These apps will help you do it all.
LumaFusion

LumaFusion is one of the most powerful video editing apps ever. It has loads of features to meet your video editing needs and is used extensively by professionals. It supports multi-track editing and also a live audio mixer, which makes this app a complete tool for editing on the go. The app also has tutorial videos that make it really easy to use.
LumaFusion on the App Store.($19.99)
Cute CUT Pro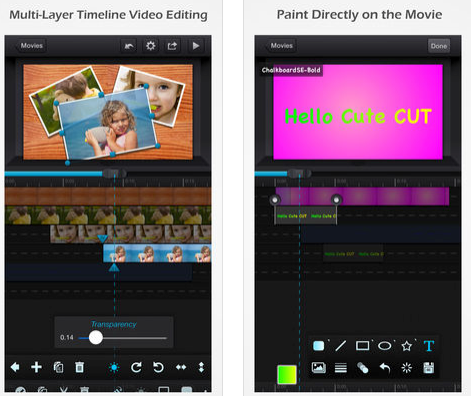 Cute CUT Pro is a video editing app with some unique features. Along with basic features like transitions and borders, Cute Cut Pro gives users the ability to write and draw on videos with more than 30 tools. One of the best features is the PIP (Picture in Picture) mode, which allows users to simply put one movie on top of another. The UI is user-friendly and the app is pretty good for basic video editing on the go.
Cute CUT Pro on the App Store.($5.99)
InShot Video Editor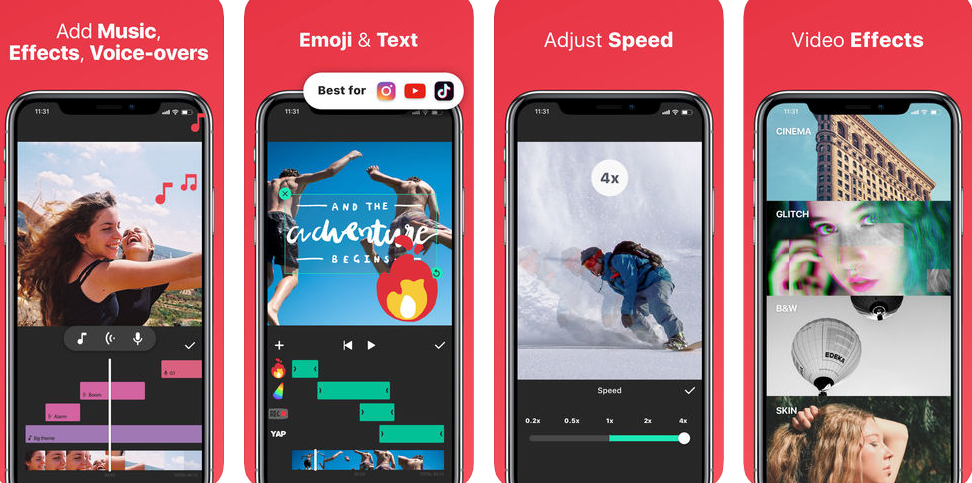 InShot is an easy-to-use video editing app that lets users trim and merge videos, adjust speed, and also export them in square frames ready to be posted on social media. The app also allows users to apply filters, music, and voice overs to videos. It's extremely easy to use and is a must have for people who post videos regularly on social media.
InShot Video Editor on the App Store.
Spark Camera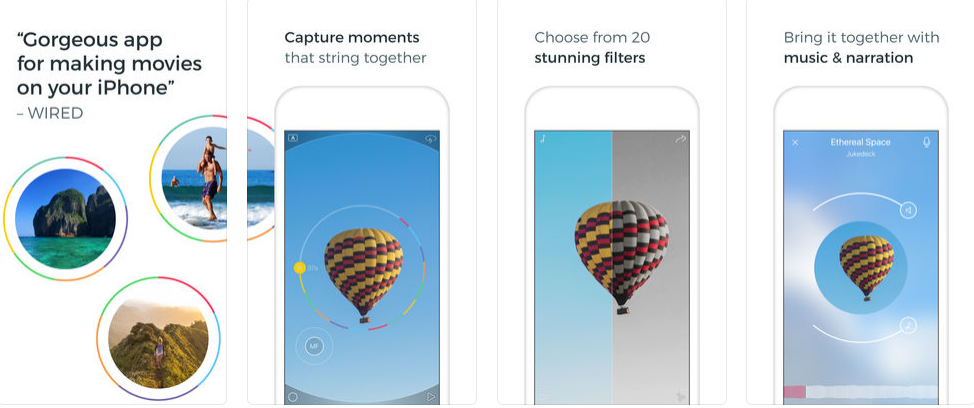 Spark Camera is a simple video app that lets you capture moments of your life in 1080p and 4K. It enables easy access to controls like FPS and stabilization, and it also provides basic video editing features like trimming, reordering, adding music and voice-overs and video filters. The long format and vertical videos are perfect for sharing on platforms like IGTV and Snapchat.
Spark Camera on the App Store.($2.99)
Noizz – Music Cam & Video Editor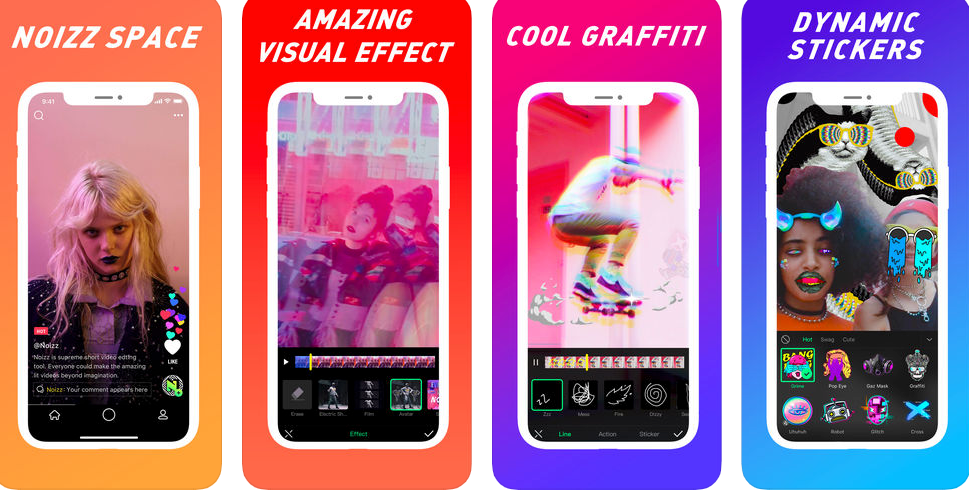 Noizz is a short video editing app with some cool and unique features. It has some amazing visual effects like digital glitches and dynamic stickers that make your video stand out from the rest. The best feature has to be the various graffitis, which help make your videos more expressive.
Bets Out of the Box Apps
From glitch effects to flowing water in your images, DSLR-level photography on mobile to symmetrical reflection videos, these apps provide out-of-the-box features no other apps on the store have.
Enlight Pixaloop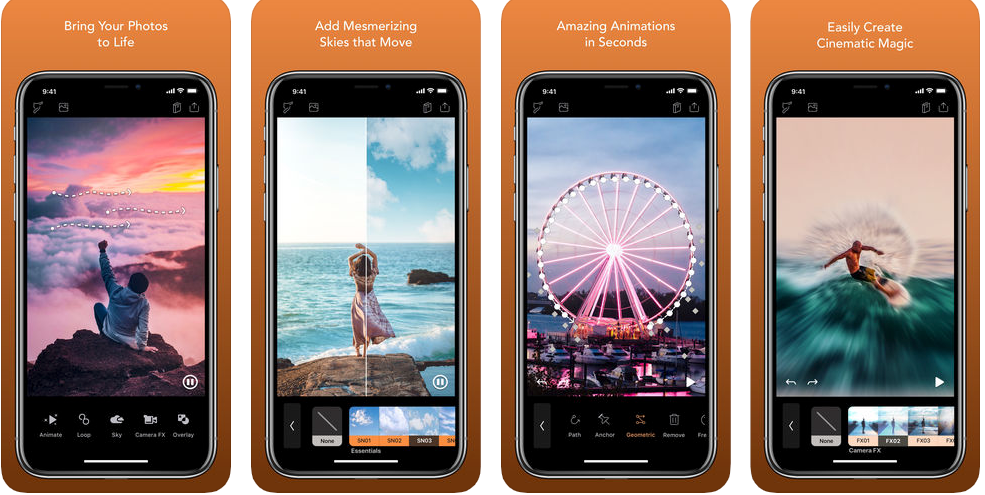 Brought to you by Lightricks, the developers of the chart-topping Enlight app, Enlight Pixaloop helps you to animate certain elements of your photos, making them come to life magically. Be it strands of hair, waves, clouds, or clothing, Pixaloop tools give you precise animation control so you can perfect your idea. The app also has an AI-powered auto tool that works very well. The simple and intuitive UI makes it very easy to control the animations.
Enlight Pixaloop on the App Store.
Glitché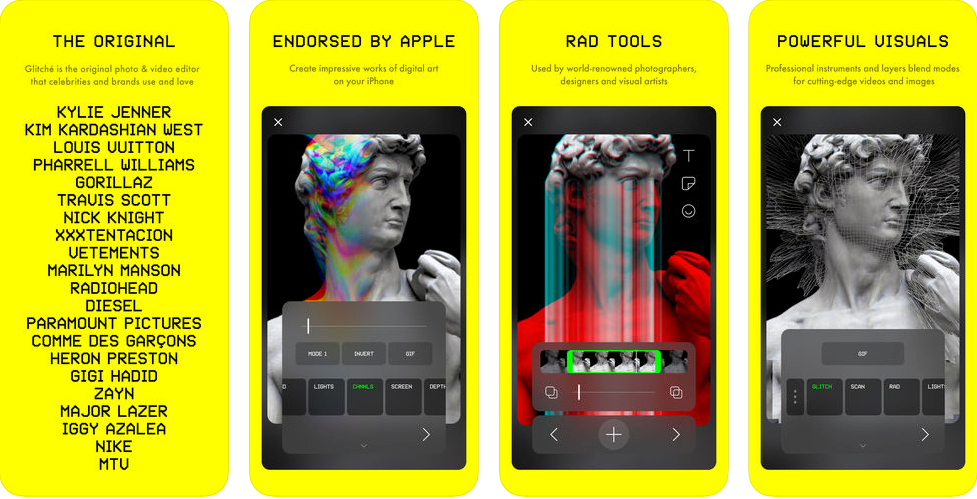 Glitché lets you transform your images using professional tools for digital glitches, 3D-transformations, color distortions, crusty VHS looks, and more. It supports real-time filters for your photos and videos and also has a simple and beautiful design. The app has been endorsed by some of the most famous celebrities and will surely make your photos and videos attract a lot of attention.
Glitché on the App Store.($0.99)
Focos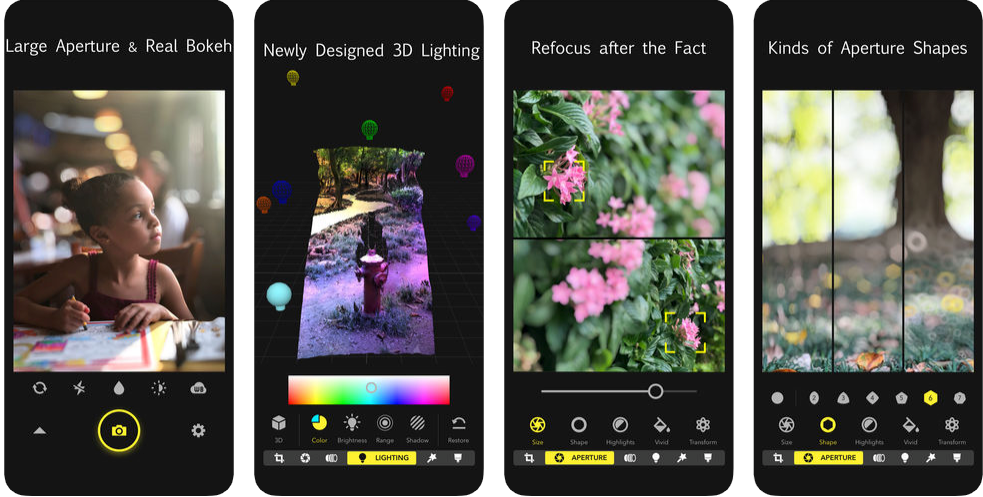 Focos brings DSLR-like photography to your dual-camera iPhone with beautiful bokeh effects that were until now only possible on high-end large aperture cameras. It lets you simulate large apertures to create real bokeh effects, re-focus portrait photos already captured, visualize depth, apply depth filters, and also add multiple lights in a 3D space in your photos. Focos is truly an essential photography tool for all dual camera devices.
nception

nception helps you create surreal videos with inception-like reality distortion effects. The app has more than 20 symmetrical reflection presets that give your videos a unique look. The app also has a slow motion feature and beautiful color filters to enhance the effect. These out-of-the-box effects combined with the easy-to-use interface make this app a must-have.
nception on the App Store.($1.99)
KiraKira+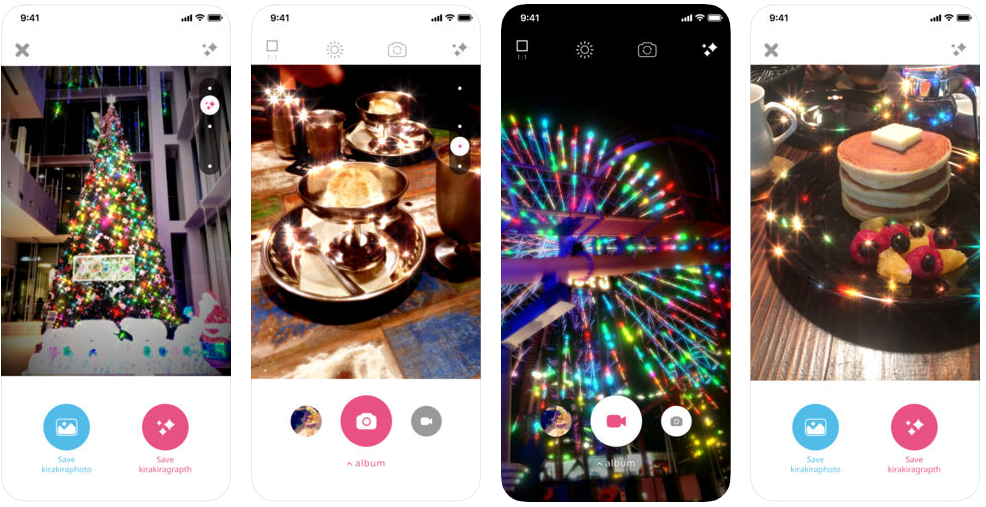 KiraKira+ lets you take photos with a unique glitter effect. This effect makes reflective objects in your photos appear shinier, giving them a magical feel. Sometimes, it can be difficult to take the perfect shot due to excess light, but the power slider helps you take control of the intensity of the effect, making this app a fun tool for capturing unique pictures.
KiraKira+ on the App Store ($0.99)
Best iOS camera Apps for creating GIFs
Create short, fun videos for your social networks.
Momento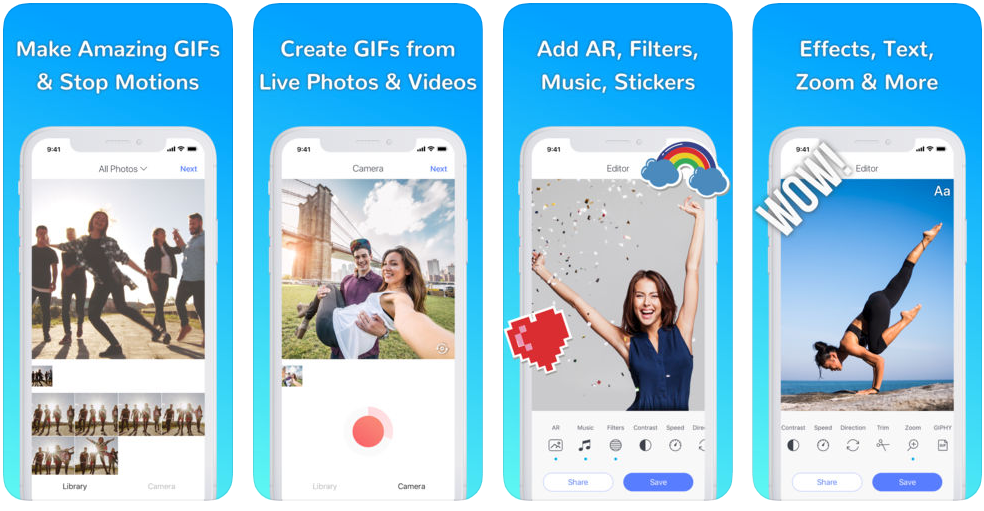 Momento helps you create amazing GIFs and stop motions using photos, live photos, and videos in your camera roll. It allows you to supercharge your GIFs with AR stickers, music, text, direction effects, and other basic tools like contrast and brightness and directly share them to different platforms.
It also has a premium version that gives you unlimited access to all effects and also removes the watermark from your GIFs.
GIF X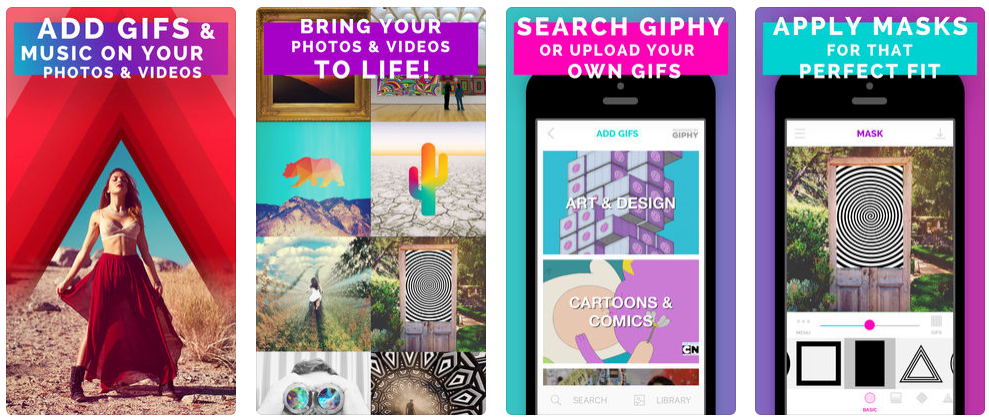 GIF X helps you bring your photos and videos to life by adding GIF effects straight from GIPHY or your camera roll. It helps you customize your GIFs by changing the size, opacity, and various other parameters along with adding music and masks. The app has more 300 effects for you to experiment with and come up with some amazing GIFs.
GIF Maker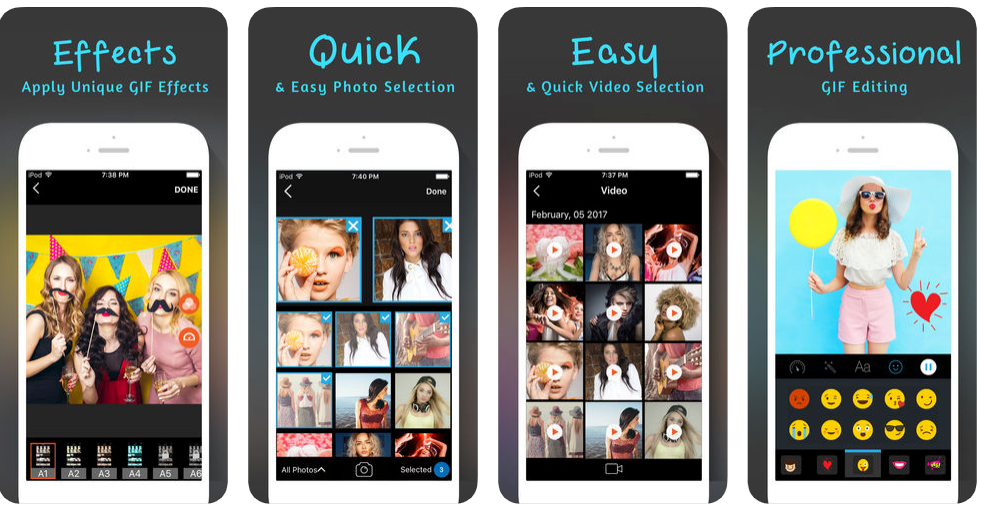 GIF Maker helps you create GIFs from the videos and images on your phone. One unique feature is that you can use up to 100 different images in a single GIF. The app lets you crop and trim your video, add stickers, and even apply some cool filters before sharing it on various social networks.
Loop Vid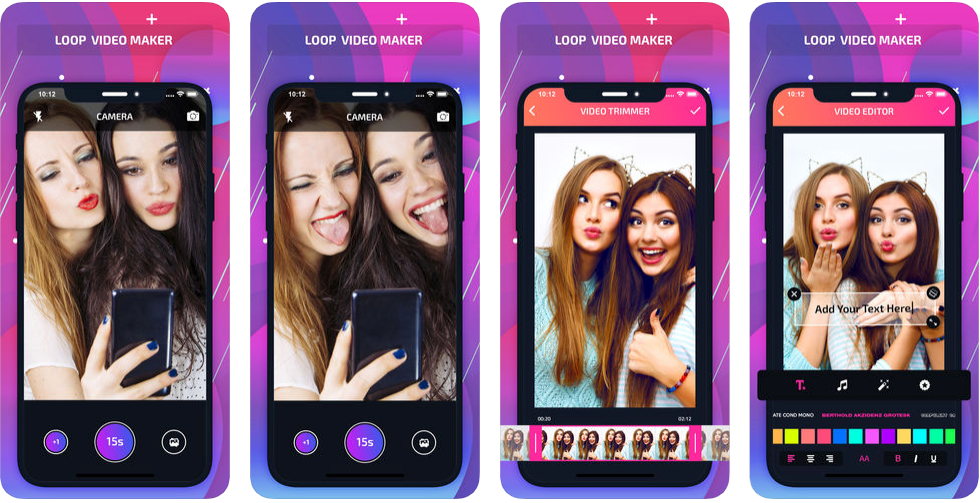 Loop Vid is an app that allows you to create captivating mini videos and GIFs looping back and forth. It's somewhat similar to Instagram's Boomerang but with better editing features and more filters. It's a simple, easy-to-use app that's great for making fun, short videos. Loop Vid on the App Store.